< strong>

▎WuXi

Contex Content Team Editor
Today, Eli Lilly and Company announced that its investigational glucose-dependent insulin-stimulating polypeptide (GIP) and glucagon Tirzepatide, a dual agonist of the peptide-like peptide-1 (GLP-1) receptor, met the co-primary endpoint in the first registrational global Phase 3 clinical trial in the treatment of obese or overweight individuals. The subgroup receiving the highest dose of tirzepatide lost an average of 22.5% (~24 kg) body weight, and 63% of subjects lost at least 20% body weight! This is the first investigational drug to reduce body weight by more than 20% on average in a Phase 3 clinical trial, according to the press release.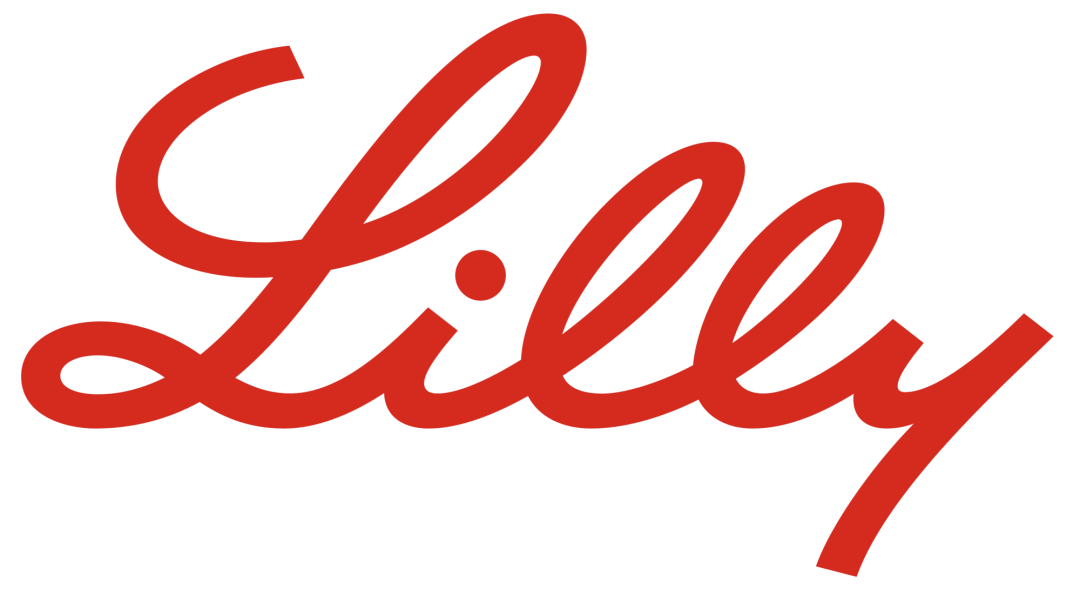 Obesity increases the risk of diabetes and various metabolic diseases. Eli Lilly has stated at last year's investor event that treating obesity is one of the emerging directions of biomedical innovation, and it is also an area that the company focuses on. . By treating obesity, people's health can be improved by reducing the chances of developing metabolic diseases and related complications. The company's GIP/GLP-1 receptor dual agonist tirzepatide can activate both GLP-1 receptor and GIP receptor-mediated signaling pathways, possibly Weight loss is achieved through a variety of mechanisms, including decreased appetite, increased energy expenditure, and improved insulin-secreting beta cell function, etc.. It has shown significant weight reduction in multiple phase 3 clinical trials in patients with type 2 diabetes, and its regulatory application for the treatment of patients with type 2 diabetes It is currently under review by the US FDA.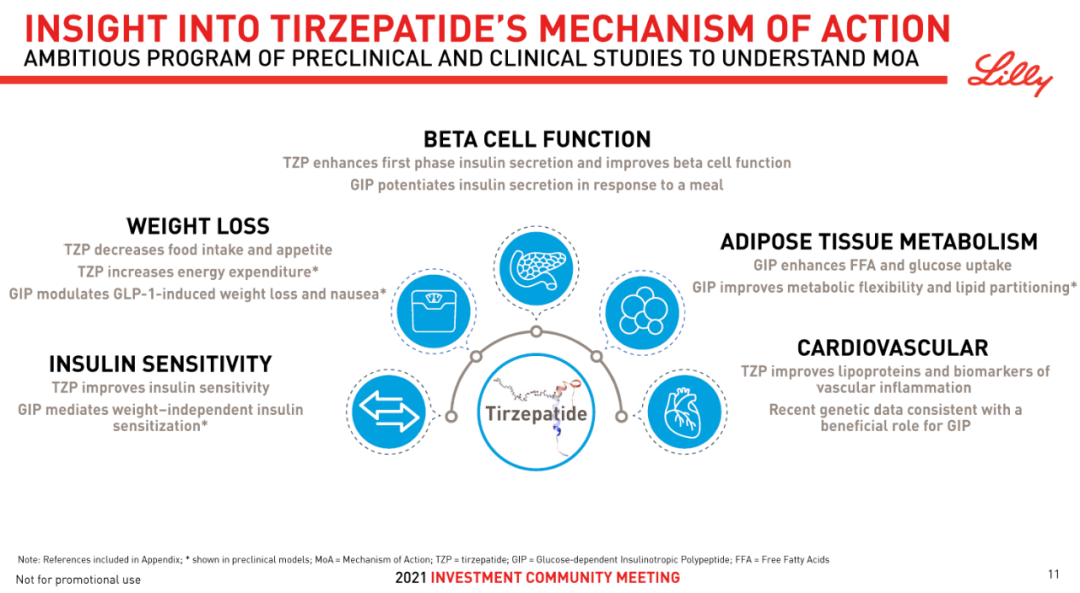 ▲ Potential mechanism of action of Tirzepatide (Image source: Eli Lilly's official website)
In this randomized, double-blind, placebo-controlled Phase 3 trial called SURMOUNT-1, people with obesity (without type 2 diabetes), or those with hypertension, dyslipidemia, obstructive sleep apnea or The overweight population with at least one comorbidity of cardiovascular disease received either placebo or tirzepatide (at a dose of 5 ​​mg, 10 mg, or 15 mg). They simultaneously received diet control and increased exercise. Trial results showed tirzepatide met the trial's co-primary endpoint, received< The mean weight loss in the subgroup treated with tirzepatide at a dose of 5 mg was 16.0%, compared with 21.4% in the 10 mg group and 22.5% in the 15 mg group. The value in the placebo group was 2.4%.
▲Tirzepatide significantly reduces body weight in obese individuals (Image source: Lilly official website)
span>In addition, 89% (5 mg group) and 96% (10 mg and 15 mg group) of the groups receiving tirzepatide achieved a weight loss of at least 5%, respectively, compared with the control group 28%. Thirty-two percent of individuals in the 5 mg group lost more than 20 percent of their body weight, compared with 56 percent in the 10 mg group and 63 percent in the 15 mg group.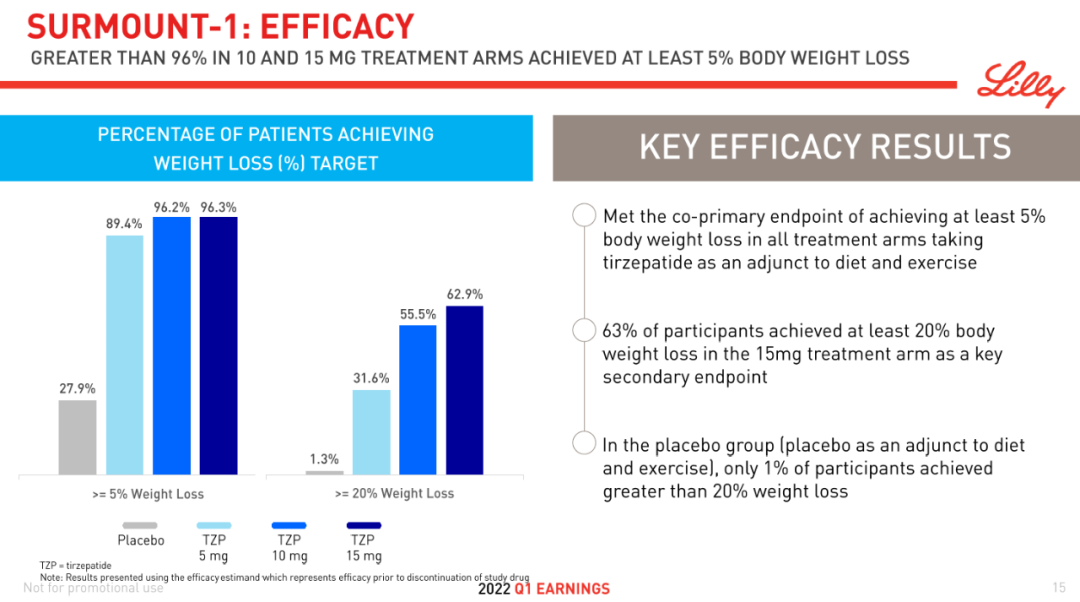 ▲Tirzepatide enables more obese individuals to achieve weight loss The weight exceeds the standard of 5% or 20% (Image source: Eli Lilly's official website)
In terms of safety and tolerability, tirzepatide's Features were similar to other incretin-based weight loss therapies. The most common adverse event was gastrointestinal reactions, usually mild to moderate. In the 5 mg, 10 mg, and 15 mg groups, nausea (24.6%, 33.3% , 31.0%), diarrhea (18.7%, 21.2%, 23.0%), vomiting (8.3%, 10.7%, 12.2%) and constipation (16.8%, 17.1%, 11.7%) were the most common adverse reactions. The placebo group The proportions of these events were 9.5% (nausea), 7.3% (diarrhea), 1.7% (vomiting) and 5.8% (constipation). Treatment discontinuation due to adverse events was 4.3% (5 mg), 7.1% (10 mg), 6.2% (15 mg) and 2.6% (placebo)."Tirzepatide is the first in a Phase 3 clinical trial to reduce body weight by an average of more than 20% With the drug in development, these results strengthen our confidence in its potential to help people with obesity. said Dr. Jeff Emmick, Lilly's vice president of product development.Lilly is currently testing tirzepatide in various other phase 3 clinical trials for the treatment of different types of obesity. Results from these trials are expected next year.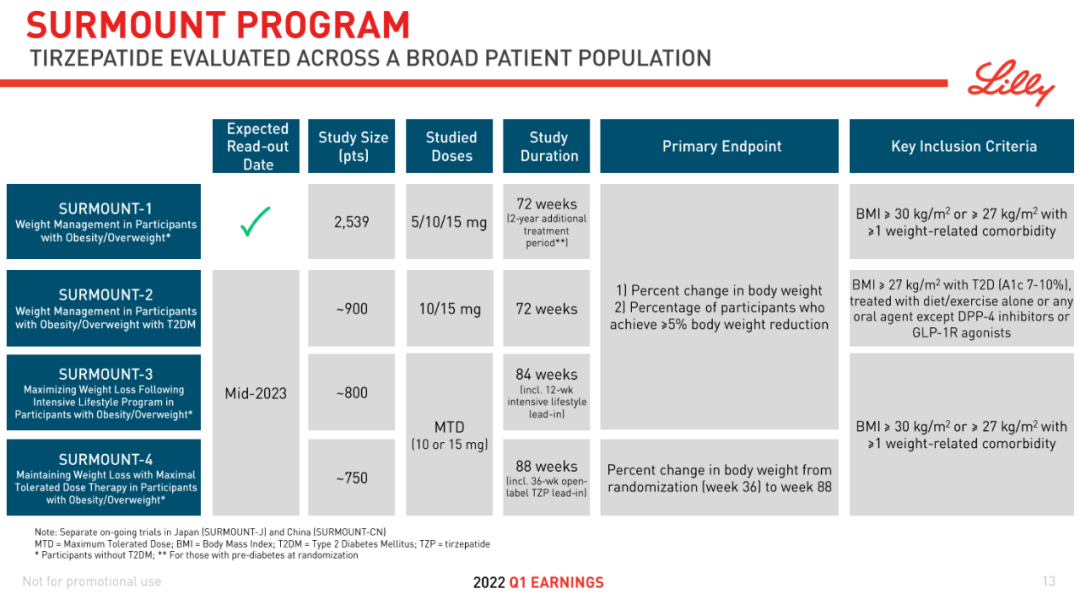 ▲Clinical development plan for Tirzepatide (Image source: Lilly official website)

Historically, most weight loss drugs can only reduce body weight by 5~10%, and there are many safety concerns. In June last year, the GLP-1 agonist semaglutide received US FDA approval span>, the first new drug approved by the FDA for the treatment of common obesity or overweight since 2014. Several weight loss therapies with innovative mechanisms are currently being tested in clinical trials, and we wish them success in their development and bring more benefits An effective and safer weight loss option.Related reading:Safely lose 15% of your body weight! What is the next breakthrough in weight loss therapy?

References:

[1] Lilly's tirzepatide delivered up to 22.5% weight loss in adults with obesity or overweight in SURMOUNT-1. Retrieved April 28, 2022, from https://investor.lilly.com/news-releases/news-release -details/lillys-tirzepatide-delivered-225-weight-loss-adults-obesity-or

[2] Lilly Q1 2022 Earnings Call. Retrieved April 28, 2022, from https://investor.lilly.com/static-files/4564bcc0-f719-47d4-a40e-989b1befcaf6

Disclaimer : WuXi AppTec's content team focuses on introducing global biomedical health research progress. This article is for information exchange purposes only, and the views expressed in this article do not represent WuXi AppTec's position, nor do they represent WuXi AppTec's support or opposition to the views expressed in this article. This article is also not a treatment plan recommendation. For guidance on treatment options, please visit a regular hospital.

Copyright note: This article is from WuXi AppTec content team, you are welcome to forward it to the circle of friends, declined Unauthorized reprinting by media or institutions to other platforms in any form. For reprint authorization, please reply to "Reprint" on the WeChat public account of "WuXi AppTec" for instructions on reprinting.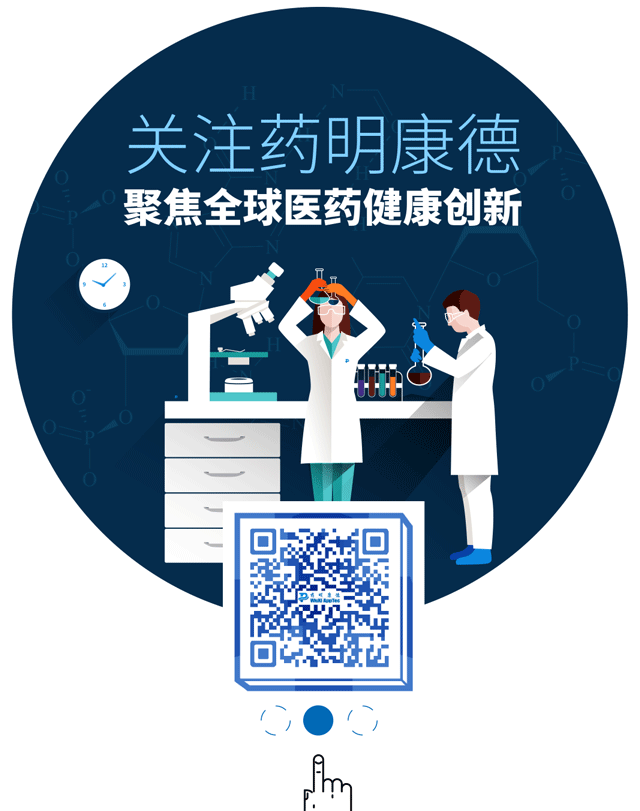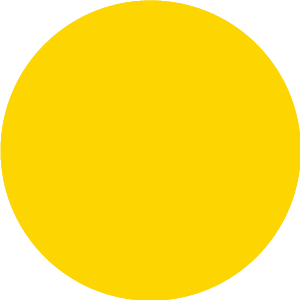 >
Share
,
Like
Like
,
Watching
, focusing on global biomedical health innovation