Contraception is an essential life skill
Writing |Yan Xiaoliu
Source | "Medical Community" Public Account
Having a baby is a two-person affair. But contraception often relies on the woman doing her best.
This is the mainstream contraceptive attitude in China for nearly 50 years.
This is also common in most countries around the world, according to The Lancet's latest "Global Contraception Report", published in July 2022.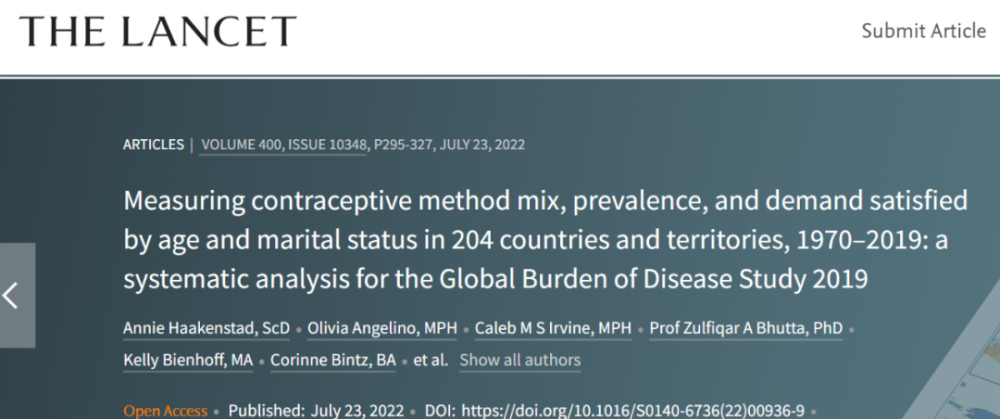 This report systematically includes 1,162 population-based surveys in 204 countries and territories around the world from 1970 to 2019. The respondents were all women of childbearing age between 15 and 49 years old, and self-reported their personal and partner contraceptive methods.
The article says this is the latest and most comprehensive global survey on contraception to date. "It combs and expands the evidence base on contraceptive choices over the past 50 years. For the first time, it breaks down the coverage of traditional and modern contraceptive methods by age group, region, and marital status, and investigates contraceptive demand satisfaction."
A quick look at the report results:
1. Over the past 50 years, global contraceptive method coverage, especially scientifically valid modern methods, has increased significantly.
2. Global male contraceptive methods are lacking, and contraceptive initiative is generally "not high".
3. In China, the use of intrauterine devices and female sterilization accounts for more than 70% of all contraceptive options.
4. The 43 million women aged 15-24 worldwide have an unmet need for contraception. These are precisely the people who need fertility protection the most.
Professor Cheng Linan, chairman of the sixth committee of the Family Planning Branch of the Chinese Medical Association, told the "medical community" that the above-mentioned article in The Lancet is very important. Contraception and birth control are the most important measures to protect women's reproductive health and fertility, and are related to the overall health level of a country and the sustainable development of population health.
In his opinion, the topic of birth control is never out of date.
Contraception in China, how's it going?
From the data in the article, the status of contraception in my country has almost reached the level of high-income countries.
In 2019, China's contraceptive prevalence rate (CPR) and modern contraceptive method prevalence rate (mCPR) reached 79.2% and 78.4%, both higher than the global average (51.9%, 47.7%) , even more than some high-income countries and regions.
According to the article, modern methods of contraception include male or female sterilization (vasectomy/tubal ligation), oral contraceptives, male/female condoms, vaginal diaphragms, spermicides, IUDs, subcutaneous Implants, injectable contraceptives, contraceptive patches, emergency contraceptives, etc.
Other measures are "traditional contraceptive methods", such as lactation amenorrhea, external ejaculation, ovulation contraception, douching, periodic abstinence, and some regionally popular contraceptive methods. They generally have problems such as low contraceptive effectiveness.
In the same period, only 2.9% of the Chinese population had an unmet need for contraception. This is well below the global average of 8.3%.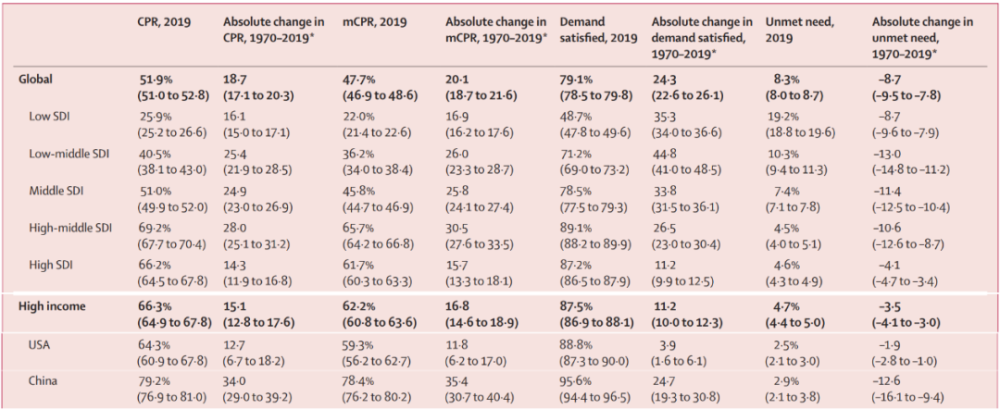 70% of Chinese contraceptives mainly rely on two methods
The Lancet article shows that as countries and regions increase income levels, men's awareness of contraception increases. It is manifested by increased rates of male sterilization (vasectomy) and condom use.
But on a global level, female sterilization (tubal ligation), IUDs, and oral medications are the top three options.
This underscores the global state of "contraception depends on women."
This is similar to the previous UN report on 162 countries and territories. It shows that in 2015, the global female contraceptive use rate reached 47.1%, while the male-dominated contraceptive use rate was 10.1% in the same period.
In China, the IUD is the most widely used contraceptive method, accounting for 44.2%. This was followed by female sterilization (30.5%) and condoms (9.0%).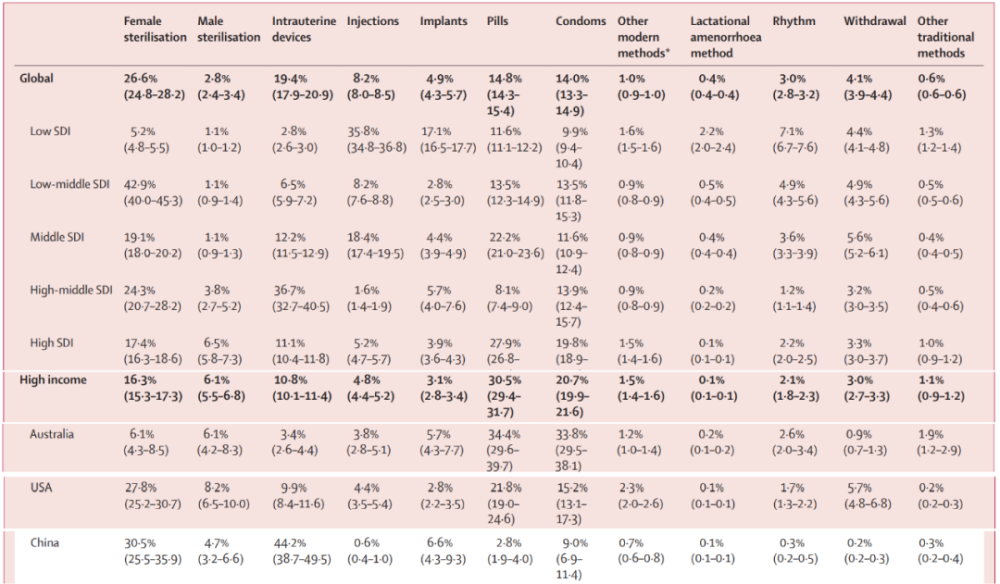 Professor Cheng Linan believes that the Chinese data listed in the article may not be accurate. "The data on contraception and birth control in my country mainly come from married couples who have children. Foreign statistics are for people of all sports age. There are differences in comparability between the two."
Actually, according to 2017 data from the National Health Commission, intrauterine contraceptive devices accounted for 52.2% of contraceptive choices, and condom use was 18%. These are significantly higher than the Lancet article.
The sterilization rate of females in my country according to The Lancet may be higher than the actual situation. According to the China Health Statistical Yearbook, from 1980 to 2009, there were 99 million cases of female sterilization in China, an average of 3.3 million cases per year. By 2019, there were more than 230,000 female sterilization cases, a significant decrease from the previous period.
In addition, Professor Cheng Linan believes that the data in the Lancet article on the use of oral contraceptives in my country are not very reliable. Such drugs are over-the-counter drugs in China, and people can easily buy them in pharmacies. It is very difficult to calculate the real data.
Watch out:
The contraceptive needs of women aged 15-24 are far from being met
The Lancet article points to a dire situation: There is still a large unmet need for contraception worldwide. In 2019, the relevant data reached 162 million people.
Breaking down by age group, women aged 15-24 had the highest "unmet" rate at 26.5% (about 43 million people). This may lead to a large number of unintended pregnancies. Nearly half of pregnancies among 15-19-year-olds were "unplanned," the article said.
An unintended child may not be born.
Professor Cheng Linan pointed out that in China, although induced abortion is a relatively safe gynecological outpatient surgery, its harm is seriously underestimated. About 10%-15% of women will experience various complications due to induced abortion, and even lifelong infertility.
The 2021 article in the Chinese Journal of Practical Gynecology and Obstetrics pointed out that in the past five years, the total number of induced abortions in my country has been hovering around 9.5 million annually.
In the same period, the infertility rate among women of childbearing age in my country increased from 3.5% in 1997 to 16.4% in 2019. It may increase to 18.2% in 2023.
Since 2009, the Family Planning Branch of the Chinese Medical Association has been advocating and promoting "scientific contraception and avoiding human flow". That is to say, before the abortion operation, health education should be given to the person undergoing the operation, explaining the dangers of the abortion operation, and discouraging women who are likely to have children not to undergo the operation and continue the pregnancy. For those who are determined to undergo surgery, long-acting and reversible contraceptive methods should be implemented as soon as possible after surgery.
Recommendation: Doctors should pay attention to providing quality contraceptive services
With the release of second and third births, many people of childbearing age, and even some clinicians, feel that "family planning" is outdated and it is no longer necessary to advocate contraception.
Professor Cheng Linan admitted that, in fact, according to the World Health Organization (WHO), family planning means "having the ability" to achieve the expectations of individuals and couples through the use of contraceptive methods, etc. birth interval and timing, and the number of children expected to be born.
WHO states that ensuring access to suitable contraceptive methods for all people helps promote several human rights, including life and liberty, freedom of opinion and expression, work and education, and bring about significant health and other benefits. It also promotes sustainable population growth and economic development in countries.
The Lancet article also emphasizes that meeting the contraceptive needs of women aged 15-24 can effectively prevent them from being burdened by unwanted pregnancies and losing education and employment opportunities.
"According to WHO standards, there are 3 major indicators to measure the health level of a country's people, including life expectancy, infant mortality and maternal mortality. If contraception is used well, unintended pregnancy will occur. It will reduce the maternal mortality rate, especially the teenage pregnancy mortality rate." Professor Cheng Linan pointed out.
Effective contraception also reduces perinatal mortality. According to WHO data, when births are separated by less than two years, infant mortality is 45% higher than when births are separated by 2-3 years, and 60% higher than when births are separated by four or more years.
"Protecting women's reproductive health and fertility is our plan to advance women's reproductive health and fertility by providing them with access to safe, effective and comprehensive contraceptives when they are unwilling, unwilling, or unable to have children. The goal of fertility." Professor Cheng Linan introduced.
Nowadays, some stigma against contraceptive methods persists. For example, domestic people still have misunderstandings about hormonal contraceptive methods.
In Europe and the United States, the use of oral contraceptives is very high. Many teenage girls are told by their mothers when they get their period. The Netherlands has a high degree of sexual openness, but due to the high rate of oral contraceptive use, abortions are less than 5 per 1,000 and teenage pregnancies are rare.
Professor Cheng Linan lives in Shanghai. In the past few months, the number of induced abortions she encountered in the outpatient clinic has not decreased but increased. Many people answered her that the pregnancy was purely accidental. "Because of the epidemic prevention and control at home, the condoms ran out."
Professor Cheng Linan believes that contraception is an eternal topic. Everyone encounters them in their lifetime. Mastering and using efficient and scientific contraceptive methods is a basic life skill.
"Scientific contraception and avoiding crowds are a healthy way of life." This is a phrase repeatedly mentioned by Professor Cheng Linan.
References:
[1]Measuring contraceptive method mix,prevalence,and demand satisfied by age and marital status in 204 countries and territories,1970–2019:a systematic analysis for the Global Burden of DiseaseStudy 2019.Lancet.2022;400:295–327.doi.org/10.1016/S0140-6736(22)00936-9
[2]Contraceptive mix and informed choice.Lancet.2022;400:255-257.doi.org/10.1016/S0140-6736(22)01282-X
Source: Medicine
Editor in charge: Zheng Huaju
Proofreading: Zang Hengjia