Text/Yangcheng Evening News All Media Reporter Zheng Da Correspondent Xue Shan
October 4th (September 9th of the lunar calendar) is the Double Ninth Festival. In order to carry forward the traditional virtues of the Chinese nation of loving and respecting the elderly, creating an atmosphere of respecting the elderly and loving the elderly, and allowing patients to spend a warm and happy Double Ninth Festival in the hospital, on the morning of September 30, the Medical Social Work Department of Zhuhai Hospital of Guangdong Provincial Hospital of Traditional Chinese Medicine joined forces with Spleen and Stomach Diseases The Department of Hepatology jointly carried out a series of themed activities for the Double Ninth Festival of "Nine-Nine Double Ninth, Love in the Ward" to send holiday blessings to patients and their families.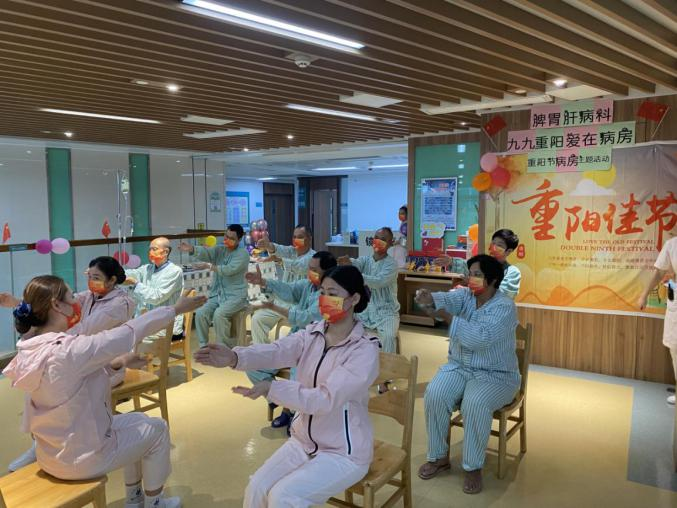 Photo courtesy of interviewees at the event site
The medical staff prepared a variety of health programs for the elderly. The nurses led everyone to learn Paida exercises for strengthening the spleen and clearing the internal organs and meridians. The patients were very enthusiastic about learning. Acupoint Paida is easy to learn and suitable for all ages.
The doctors and nurses also made traditional sachets with the patients, and introduced the Chinese medicinal materials and effects of making the sachets in detail, so that the patients could feel the unique charm of traditional Chinese medicine culture; at the same time, the doctors and nurses also The patients were brought together to make non-woven bouquets to express their best wishes to the patients. Finally, the Department of Spleen and Stomach Diseases and Liver Diseases prepared a surprise question-and-answer session with prizes. Everyone participated in one after another.
"The doctors and nurses are so caring, thank you very much." Uncle Zhao, the patient, couldn't help but sigh, and felt a loving atmosphere in the ward. "Being hospitalized in a Chinese medicine hospital can not only treat the disease with peace of mind, but also participate in such activities that heal the soul. As the saying goes, always maintain a good mood, and all major and minor illnesses will recede. The service of the Chinese medicine hospital makes people feel very warm!" Patient Aunt Yang He expressed his gratitude to the medical staff for their support.
Source | Yangcheng Evening News·Yangcheng Pie
Editor | Zhu Guangyu
Proofreading | Xie Zhizhong