Go to the mountains, set the sun and starry sky
Put up a tent and put up an oven
Wild fun together, forest breathing
Embrace the bright starry sky in summer
"The blowout of exquisite camping is an inevitable product of the development trend of the industry, not an accidental hot spot…" A professional camping brand said in an interview and dialogue before. . It is reported that Glamping, that is, exquisite camping, has developed into an outdoor leisure lifestyle in the era of experiential economy.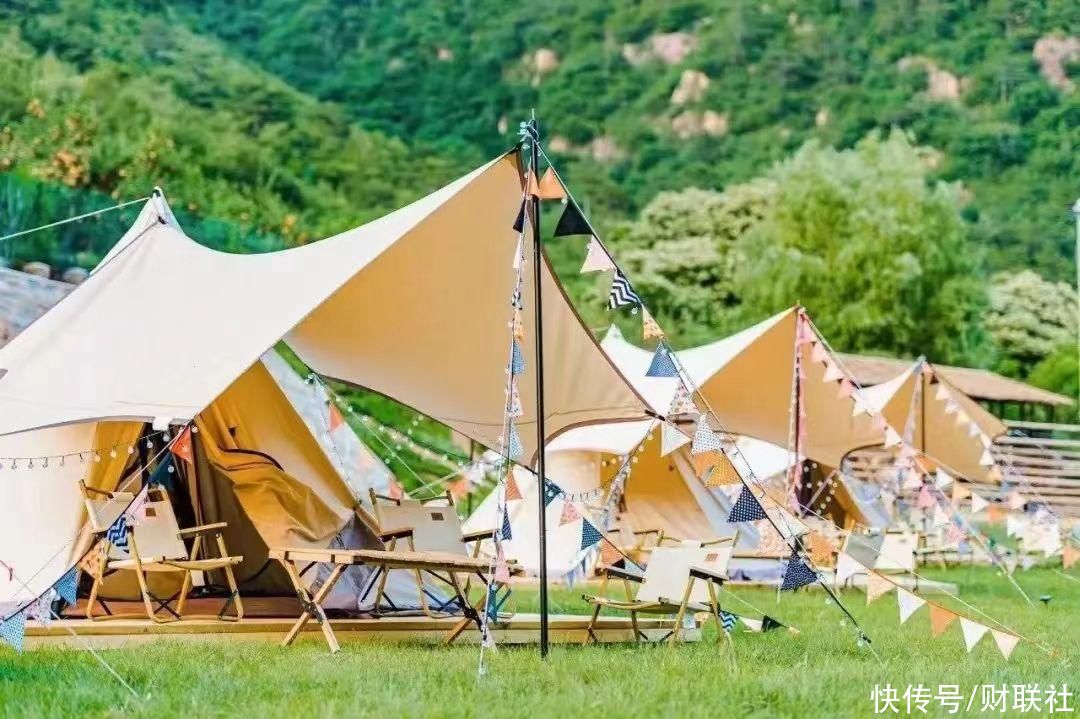 Exquisite camping, deep integration with life aesthetics
epidemic Under this circumstance, cross-border travel and out-of-province travel are restricted, which encourages outings. For young people who are pursuing a trendy lifestyle, exploring new ways to travel around (camping, picnic, etc.) has become a rigid need. According to the survey data analyzed by Analysys, the proportion of users who choose to camp in parks and urban suburbs is 69.7% and 50.9% respectively; the main purpose of people choosing camping is to relax, get close to nature, follow trends, and satisfy social interaction. Under the general trend of lifestyle changes, user travel pursues socialization and fashion, and the epidemic factor further guides users to shorten the travel radius. Camping has become a combination that meets both objective reality and users' subjective needs.

The industry generally positions 2020 as the "first year of camping", which is also the rapid development of China's camping market one year. Some people believe that the popular camping in China after 2020 is a new type of camping that is deeply integrated with life aesthetics.
Previously, when Wang Jigang, the founder of the domestic designer tent brand "Soul of Freedom", participated in the GO OUT Camp in Japan, he faced thousands of tents stationed neatly at the foot of the mountain, and camping with different styles. Form, without exclamation "there is a feeling of a hundred flowers blooming, especially beautiful". In the past, hiking camping was very hard, and it was more reflected in the pursuit of spirituality; while "style camping" allows more family users to experience a new way of life.
At the same time, according to relevant statistics, the size of China's camping market in 2020 is about 700 billion, with an annual growth rate of 40%. It is expected that the market size will reach 2 trillion in 5-10 years. The number of campers in China has reached 360 million, of which exquisite camping accounts for 20% of the total number of campers. The crowd is concentrated in the 21-45 years old, dominated by the younger generation and young families.
Why is camping consumption "out of the circle"
The popularity of the camping economy is attributable to the changes in the camping products themselves and the lifestyles of today's young people. The social content platform promotes the spread and breaking of camping culture with content-driven, strategy sharing, etc. According to the research data of relevant institutions, 56.9% of users participate in camping because of the sharing of expert content on social networks, and 86.0% of users will use social content platforms as the preferred platform for obtaining camping-related information. Among them, Xiaohongshu has become the preferred platform for users to obtain camping information and share their camping experience.

In addition, the "camping +" gameplay will appear, which will expand more new kinetic energy for camping consumption in the future. According to the survey of relevant institutions, camping has stimulated more young people's enthusiasm for outdoor participation, and camping food, camping photos, parent-child education, nature exploration, and creative markets will further expand the breadth and depth of camping.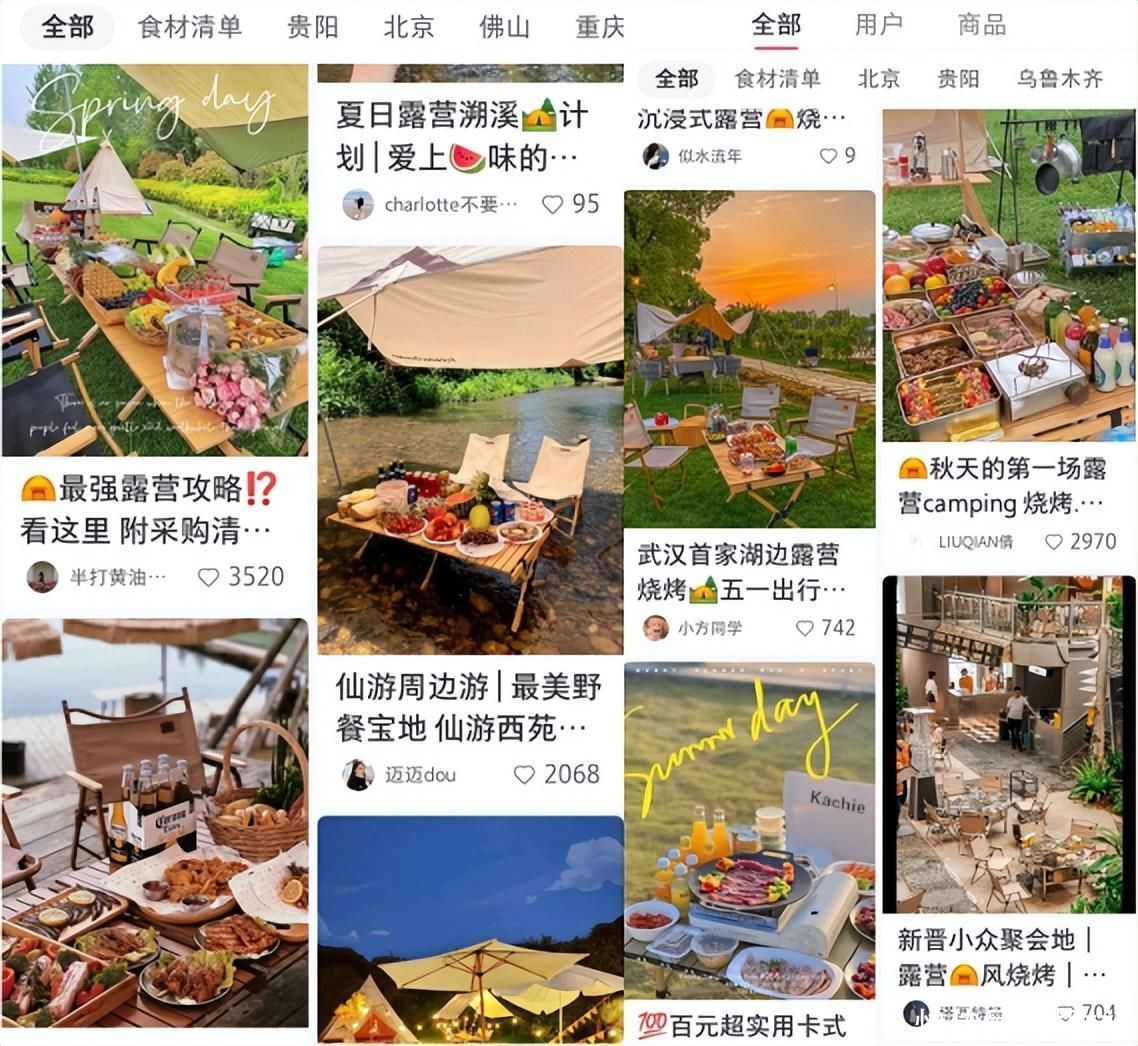 Image source: Xiaohongshu
Under the boom of camping consumption , many catering companies are laying out new outdoor consumption scenarios.
It is reported that in March this year, Haidilao announced the launch of the barbecue food delivery business. Currently, barbecue ingredients have been launched in some delivery stores such as Beijing and Chengdu. Products, including raw meat kebab products, grilled tinfoil dishes, barbecue ingredients, barbecue tools, etc. In April, Dalongyi Hotpot launched a camping-themed gift box package, and sold this package on official WeChat and live broadcast rooms. In addition, Pizza Hut and outdoor sports brand MOBIGARDEN have launched three co-branded packages. As long as you buy a pizza package designated by Pizza Hut, you will have the opportunity to get camping equipment from LINE FRIENDS…
As a community Guoquan Shihui, a new catering retail brand, also relies on a strong supply chain system and diversified products to lay out new scenarios for camping consumption, providing a variety of products such as bake-out bags, flavored pasta, and co-branded drinks, making the camping experience more enjoyable. .

Picture source: Xiaohongshu
Some industry insiders believe that "the catering industry is competing for the layout of camping. Meals are actually the topic of camping, trying to combine with the things that young people are concerned about today, so as to keep the brand young. Especially with the rise of takeaway and the uncertain impact of the epidemic, dine-in is gradually becoming more and more popular. This also forces catering companies to seek new growth opportunities."
At the same time, in the face of problems such as homogenization in the development of camping meals, China's food industry analysis Shi Zhu Danpeng believes that at the moment when the competition in the camping catering market is becoming more and more fierce, in order for catering companies to stand out among similar competing products and achieve sustainable development, the focus is on the following core elements: First, the entire industry chain should also Continuous improvement; secondly, for catering companies, it is necessary to ensure food safety and ensure product quality is stable; thirdly, catering companies must also carry out scene innovation and serviceSystem upgrade to enhance customer stickiness. Only by making a brand effect can we go a long way on this track.
Taking Guoquan Shihui as an example, it currently has nearly 9,000 stores covering the whole country, and its business scope covers hot pot, barbecue, lo-mei, instant food, fruit and other categories. The SKU has exceeded 700+, relying on offline The store and the online pot circle APP are integrated and coordinated to serve hundreds of millions of families. And strictly control the supervision and review process to ensure the "safety and deliciousness on the tip of the tongue" for consumers.
In the product matrix of Guoquan Shihui, the most popular items for campers are barbecues and pre-made quick dishes. Consumers only need to perform simple processing or reheating to enjoy delicious food. At the same time, Guoquan Shihui has also developed a self-developed rotary grill. The design of no open flame and no oily smoke has also been well received by campers. From tableware to ingredients, whether it is purchasing from offline stores or online APP ordering, Guoquan Shihui can meet the various needs of users for "one-stop" camping consumption, and truly provide ordinary people with healthy, green and delicious food. Ingredients.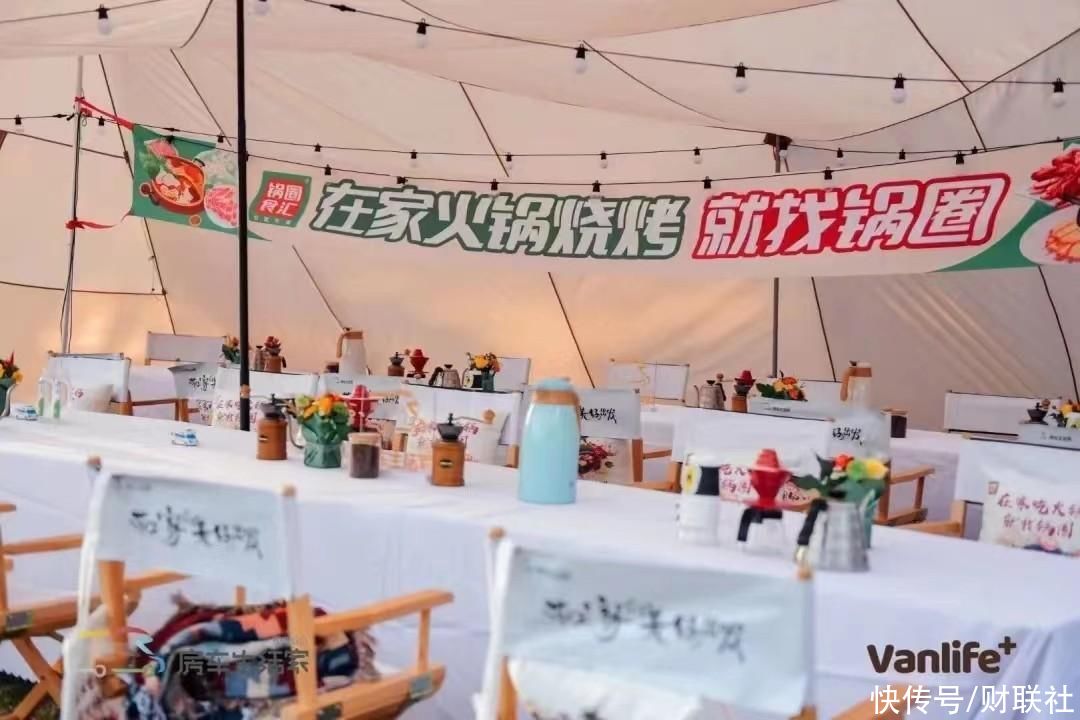 In general, the catering industry has maintained a recovery growth under the normal state of the epidemic, and online catering has shown strong performance. The recovery speed of digitalization has further improved the development efficiency of the overall industry. On this occasion, "camping + catering" adds more possibilities and development momentum to new consumption scenarios.
Professionals say that the popularity of camping meals is a result of the rapid development, rapid growth and rapid expansion of the catering market. With the deepening of consumption upgrades, this type of subdivision track will surely usher in a new wave of growth, and this is also a core reason for catering companies to enter the camping catering track…