Wearing helmets and getting on their bicycles, a group of elderly people appeared among the canal cyclists in the city's sub-center. Dou Wanxing, president of the Tongzhou District Cycling Association, said that among the nearly 10,000 members, 80% are over 60 years old.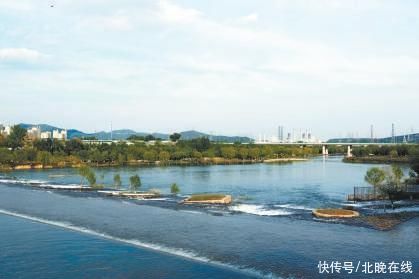 Pictures and texts provided by the Municipal Water Affairs Bureau are irrelevant
"Tongzhou old fish" Yu Heli< /p>
27,700 km of national cycling in 252 days
Age: 64 Age: 10 years
Yu Heli is the "big fairy" in the team. On the one hand, he has a snow-white beard and flutters in the wind while riding. An insider character. Therefore, the riders respectfully called him "Tongzhou old fish".
In 2012, after Lao Yu retired from the printing factory, he only used cycling for exercise. "Before I retired, I was diagnosed with diabetes. I heard that cycling can lower my blood sugar, so I decided to ride a bike to lower my blood sugar," he told reporters.
In the beginning, Lao Yu only rode around Tongzhou, but soon the scope expanded to Tiananmen Square, and later he rode around Beijing all over. After careful preparation, he decided to ride around the country. Starting in 2014, he spent two and a half years riding almost every province in the country. "The first national ride was divided into several stages. The coastal ride went to Sanya and then came back. The second leg ran to the northeast and then came back, followed by Tibet and Xinjiang." After returning from the first ride, Lao Yu set a new plan for himself. Goal: To ride the country in one year. In 2017, he rode 27,700 kilometers in 252 days, completing his second national ride.
On the road, Lao Yu has tasted the ups and downs, both surprises and emotions. To this day, Lao Yu still treasures his cycling map, which is covered with postmarks collected in post offices all over the country, leaving him full of memories.
"Tongzhou Living Map" Wang Qijun
Bike to every village and town in Tongzhou
< strong>Age: 70 years old Car age: 53 years
Joined work in 1969, 17-year-old Wang Qijun was assigned to the Tongzhou District Post and Telecommunications Bureau as a postman, and he had a permanent license plate as soon as he went to work. Twenty-eight great bars".
Wang Qijun is young and in good health, willing to work hard and endure hardships, and likes the postal work very much. In the meantime, all the staff implement big replacement shifts, that is, when others ask for leave or temporarily have something to do. Wang Qijun took the initiative to sign up. Xiji was short of people and he went to work for two or three months. Niubaotun was short of people to help send letters for half a year.
In 1980, Wang Qijun began to work in management, and no longer needed to ride a bicycle to deliver letters. However, when he went to the countryside for inspection, his colleagues drove there, and he still insisted on cycling. "I have a kind of curiosity. If a colleague says that there is a route I have never ridden, then I will go with it during the rest time. I have to figure it out myself." Wang Qijun said.
After working for more than 40 years, Wang Qijun has broken down 5 bicycles in the urban and rural streets and country roads of Tongzhou, and the accumulated mileage has reached more than 50,000 kilometers. He has been to every village in the district. After retiring in 2012, he joined the Cycling Touring Association. Now, seeing the rapid changes in the sub-center of the city, and the villages that he rode in the past have become parks and green spaces and high-rise buildings, Wang Qijun came up with an idea – to plan a "Tongzhou Postal Cycling Tour Route", so that everyone can revisit the postal service in the past. The route of sending letters, feel the changes and development of the sub-center while riding.
"Spring" Wang Yanchun
Leading all the way to Beidaihe
Age: 52 Driving age: 6 years
Don't look at Wang Yanchun, who is over 50 years old, wearing a racing suit, looking tight and slender, without a single piece of fat on his body. And as his name suggests, his cheerful personality gives people a spring-like feeling. "After my child went to school, I often went out to play shuttlecock and dance square dance. Later, a friend tried to ride a bicycle. Looking back now, riding a bicycle is really addicting." Wang Yanchun said.
Not only is the bike addicting, but the gear is constantly upgraded. Wang Yanchun's first car was just an entry-level model. After riding for 5 months, it felt too slow. So, she originally just wanted to ride a bike for fitness, she spent more than 10,000 yuan to buy an aluminum frame bike, and then replaced it with a carbon frame bike…
"In the past, I liked to wear high heels and all kinds of fashion. Since I got on a bicycle, I was wearing sportswear, and all my money was spent on the equipment." Wang Yanchun said.
If you pay, you will be rewarded. "Maybe because of my family's inheritance of obesity, I was not thin before. If I didn't insist on cycling and exercising for so many years, I would definitely be quite fat now. This is the result of my 'muscle replacement of fat'." Wang Yanchun said, cycling The car makes a huge difference.
Source: Beijing Evening News reporter Sun Yunke
Process editor: U022