Today, the #30-year-old National People's University Master's tag rushing to the hot search for studying medicine and retaking the college entrance examination#.
July 25, Ji Sixuan, who is about to turn 30, posted her college entrance examination admission letter on social platforms.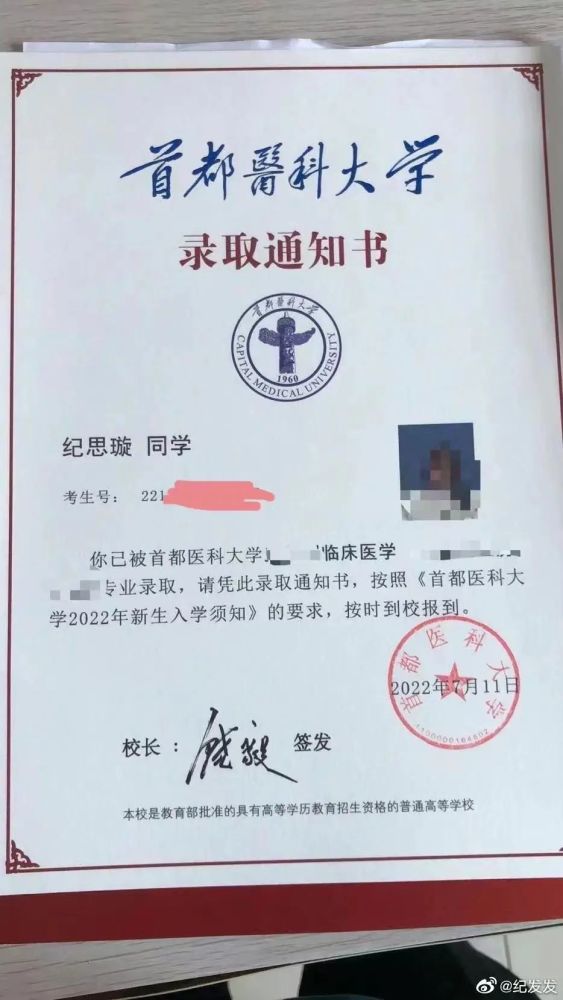 Ji Sixuan's (Weibo ID: Ji Fafa) admission notice published on Weibo
In 2010, Ji Sixuan took the college entrance examination for the first time and was admitted to China Agricultural University to study business administration. After graduating from her undergraduate degree, she opened her own self-media account. In 2021, she will be admitted to Renmin University of China as a postgraduate in Communication Studies (part-time).
This year, at the age of 30, she is admitted to the full-time clinical medicine program at Capital Medical University and will become a freshman medical student in September.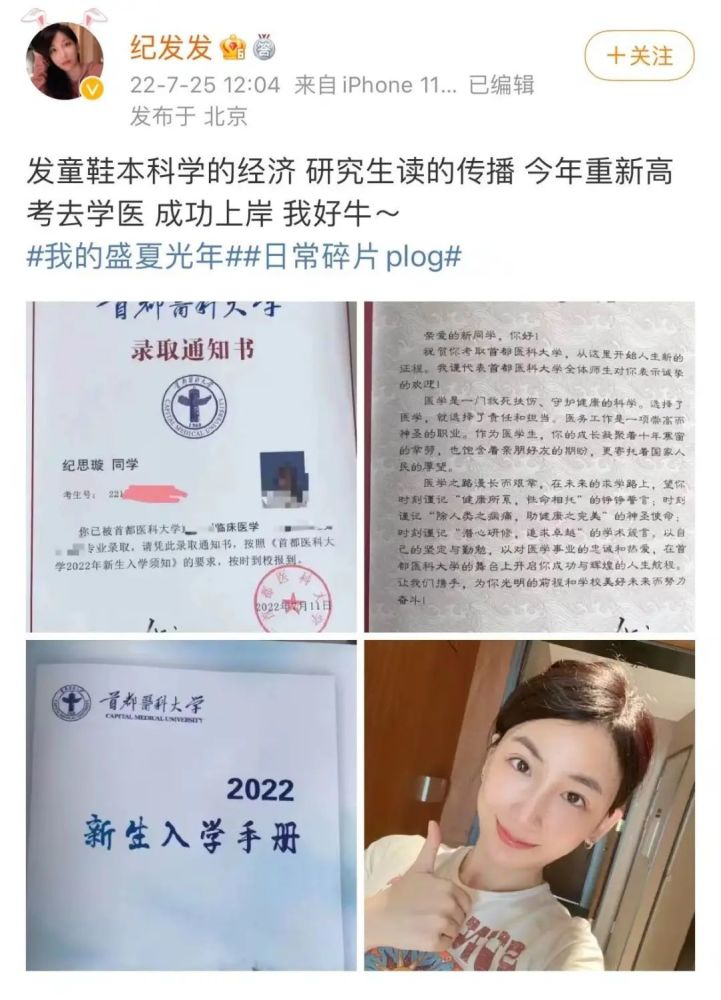 After getting the admission letter, Ji Sixuan posted a Weibo
To this end, Lilac Garden contacted the client Ji Sixuan. Faced with the questions raised by everyone, she said that there are multiple considerations for "re-gaokao".
DingXiangyuan:What inspired you to retake the college entrance examination?
Sixuan Ji: Because my mother is a doctor, she has been running a community general clinic in Fangshan, Beijing for 28 years. I have been fascinated since I was a child, and I also hope that I can save lives.
When I took the college entrance examination for the first time, because I was a liberal arts student, I couldn't study medicine. Now that my mother is old and unable to do anything, there are many patients, and she is worried that no one will be able to take over the clinic in the future, so I hope I can share the burden. In order to retake the college entrance examination this time, I taught myself physics, chemistry and so on for half a year.
Lilac Garden:Some netizens suggested that studying medicine starts in 8 years, and it may take longer if you study for a master's or doctoral degree . Have you estimated this time?
Ji Sixuan: My major is different. It is a suburban orientation major of clinical medicine jointly initiated by Beijing Health Commission and Capital Medical University. Only for students with hukou in the suburbs of Beijing, after 3 years of graduation, they will get a higher vocational degree after graduation.
This major was signed by me, the Beijing Fangshan Health and Health Commission, and the school. In the end, our career direction is rural doctor. In theory, it takes 5 years to become a doctor after 3 years of internship and 2 years of training.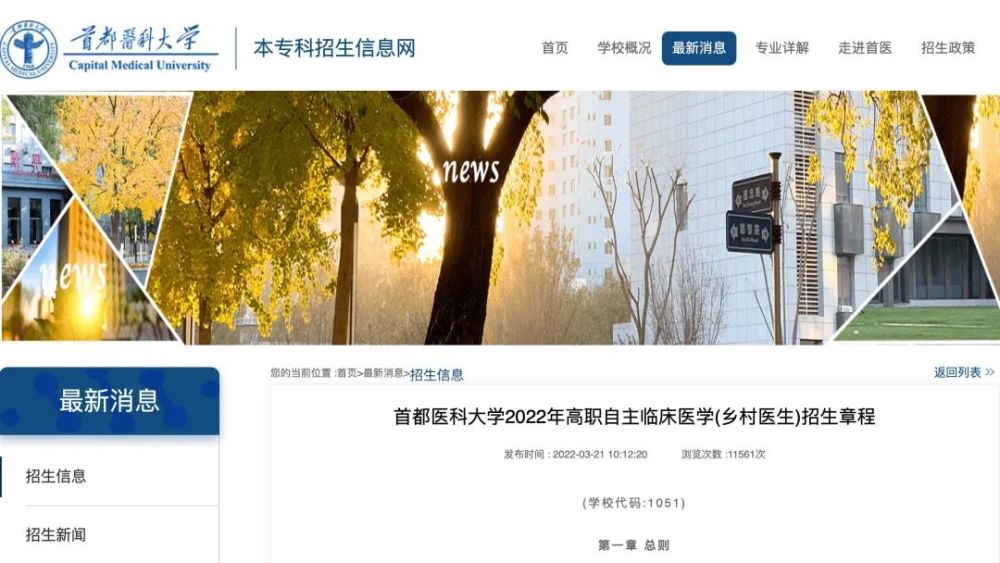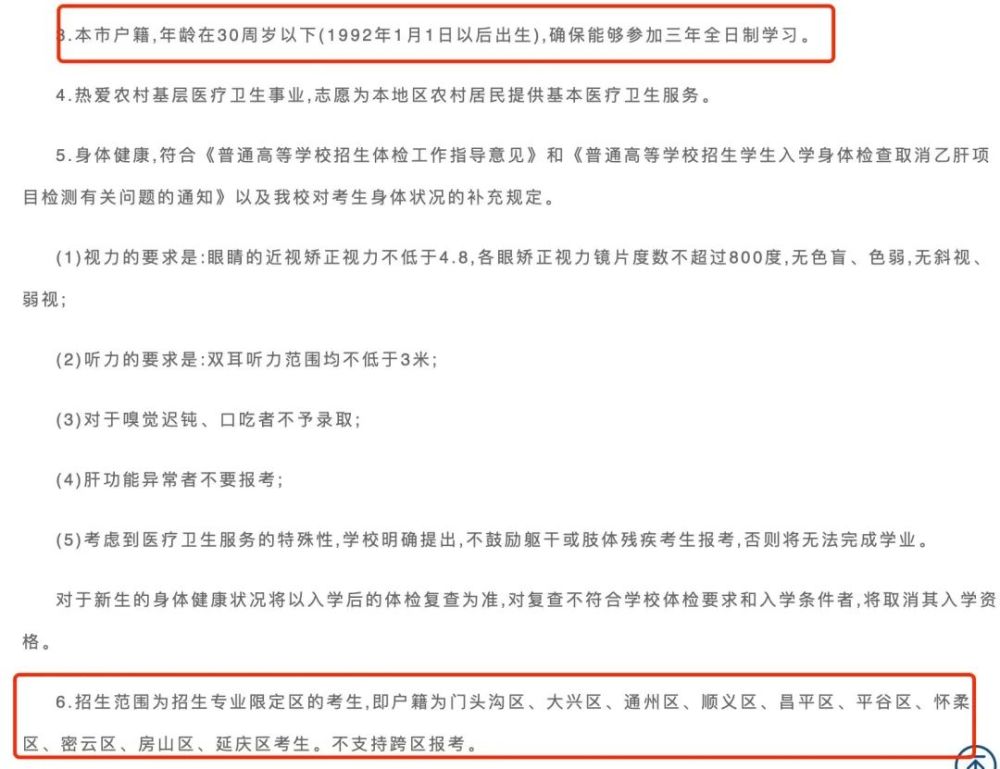 Image source: Capital Medical University official website
Lilac Garden: Some hospitals have age restrictions for recruitment, have you considered age?
Ji Sixuan: After graduation, I was oriented. After graduation, Fangshan District Health and Health Commission designated our students to serve a community hospital for 10 years.
So the age limit for practicing medicine is not considered. Instead, this major requires students born in 1992 and later to apply. I was born in 1992, and this year is my last year. Part of the reason why I want to apply for the exam this year.
When my service expires, I'll go back to my mom's clinic and continue working as a doctor.
Lilac Garden:Do you have any information about the study status of this major in the next 3 years?
Ji Sixuan: At present, this major is a project that only started in 2019, and there are no students officially practicing medicine, so there are not many samples for reference. I don't know if there is a need to publish papers, and I didn't understand. As for the status of the students after graduation, I am not too sure.
Lilac Garden: What is your future career plan?
Ji Sixuan: From the point of view of studying medicine, I will continue to study for a bachelor's degree in medicine, then take a master's degree and a doctor's degree, because of my personality, since I decided to be a villager Doctor, it will be better in the future. I have seen many patients in my mother's clinic, and the medical infrastructure in the suburbs is much worse than in the cities, so society also needs good rural doctors.
From the perspective of my other current work, the part-time master's degree takes classes on weekends, and my studies are workdays, so there is no conflict, including my blogger career time is relatively free, So I will plan.
Planning: yxtlavi | Producer: gyouza
Image source: Ji Sixuan Weibo