A few days ago
City Housing and Urban-Rural Development Commission
Work with the Municipal Human Resources and Social Security Bureau
to draft the "Chongqing Cultivation New Era p>
Construction enterprises have their own workforce
Pilot work plan (draft for comments) 》
(hereinafter referred to as the "Draft for Comments")
< span>Open for comments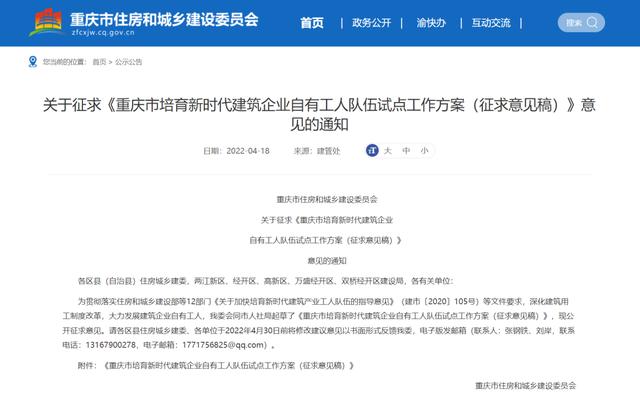 Chongqing housing and urban-rural construction Screenshot of the Committee's official website

What is a construction company's own worker?
Self-owned workers of construction enterprises are those who have a certain level of professional skills and sign labor contracts with construction enterprises in accordance with the law,< span>Social rights and interests are guaranteed, safe production is guaranteed, and there is a relatively good economic income. The affiliated company provides continuous training and management to its workforce.

Why develop
span>
Construction companies own workers?
In view of some of the outstanding problems in the construction field in Chongqing, deepening the reform of the construction employment system and developing the own workers of construction enterprises can effectively solve such problems.

How to cultivate construction enterprises< /span>
Own workers?
Construction general contracting and professional contracting enterprises implement project organization and management responsibilities, focus on major tasks such as construction safety, quality, and progress, and establish their own team leaders and main workers such as "artisans" and "pulse-taker" that can meet the basic needs of construction. Cultivate self-owned backbone workers with high skills such as survey workers and testing sample workers, and establish a relatively stable team of core technical workers.
Draft for Comments " proposed that efforts should be made to cultivate a knowledge-based, skilled and innovative new-era construction enterprise's own workforce. By 2025, the employment mode that conforms to the development characteristics of our city's construction industry will be basically established, and the skill level of construction workers will be greatly improved. Construction workers with professional skill levels account for more than 90%.
Among them, intermediate workers Skilled workers and above accounted for more than 80%, and senior workers and above accounted for more than 10%. Over 50% of the city's construction enterprises have their own workers.
Draft for Comments It is clear that the pilot projects include construction projects invested or led by the government in the central urban area of ​​the main city, as well as rail transit, road, bridge, and tunnel projects; and technically complex projects that meet the requirements of the "Chongqing Housing and Urban-Rural Development Commission Notice on the Standards and Procedures for the Recognition of Technical Complexity in Housing Construction and Municipal Infrastructure Engineering".
The pilot mainly includes seven Contents:
● Deepen the reform of construction labor employment system;
● Guide the transformation and development of labor service enterprises;
< span>● vigorously cultivate the company's own workers;
● comprehensively strengthen quality and safety management;< /span>
● Continuously improve the skills of construction workers;
● Continue to strengthen the protection of construction workers;
● explore other incentives for innovation mechanism.
Draft for Comments " emphasizes that professional operating enterprises should sign labor contracts with construction workers, and pay social insurance for construction workers in accordance with the law; On the basis of all participation, prioritized to ensure 100% participation rate of construction workers' work-related injury insurance, to further improve the working environment of construction workers.
Draft for Comments "It also proposes that from 6 months after the implementation of the plan, the pilot projects included in the pilot scope and all engineering projects in the pilot districts and counties will all cancel the labor subcontracting (the general contracting and professional contracting enterprises should be subcontracted when the labor subcontracting is cancelled. Restrictions on Qualified Labor Service Enterprises). The number of self-owned workers in the construction project should reach 10%, 30%, and 70% of the total number of workers on the construction site in the first, second, and third years of the pilot program, respectively.
Source: Chongqing Publishing
Text: Chen Hua