On July 24, the Hunan Provincial Department of Education issued the "Notice on the Introduction of Doctors in Shaoyang College". After investigation, it was found that Shaoyang College had improper practices in the introduction of doctoral talents. Comrade Peng Xilin, secretary of the school party committee, has the main leadership responsibility.
The Provincial Department of Education instructed Shaoyang College to correct its inappropriate practices. At the same time, the Provincial Party Committee has dismissed Comrade Peng Xilin, Secretary of the Party Committee of the school.
Image source: Hunan Provincial Department of Education
Previously, the official website of Shaoyang College of Hunan announced a "Announcement on the Treatment of the List of Doctors Going Abroad after Graduation and Returning to School and the List of Doctors to be Introduced in the Same Type" (the publicity period has expired and has now been withdrawn).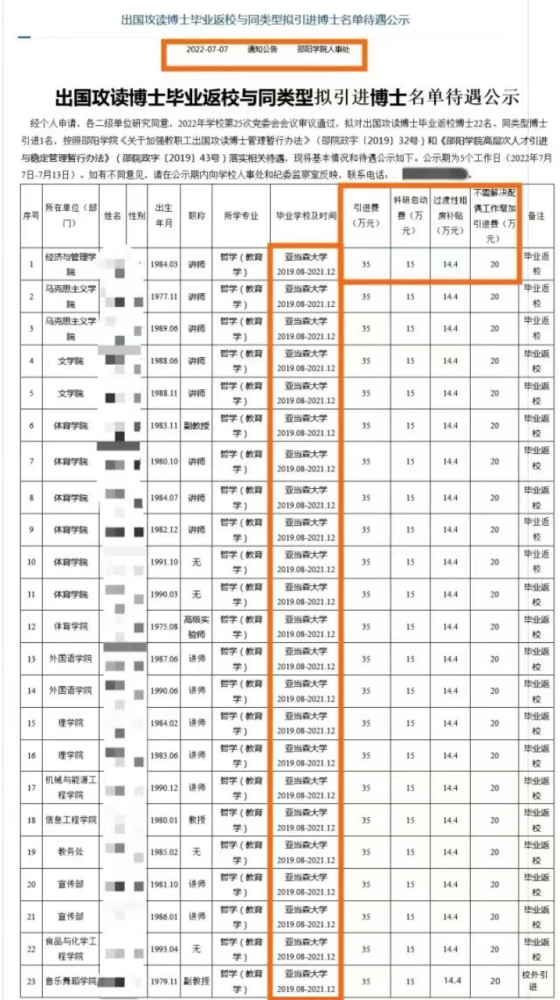 Swipe down to view the list (click for larger image)
Image source: Shaoyang College official website
It is worth noting that the 23 Ph.Ds in this list are all Philosophy (Pedagogy), despite their work in different majors, departments, and ages; And they all obtained degrees from Adamson University in the Philippines from August 2019 to December 2021; they were finally introduced to Shaoyang College with a "worth" of about 844,000 yuan per capita.
The announcement pointed out that the plan to introduce doctors this time is based on the notice issued by Shaoyang College on June 6, 2019, "Notice on the Recruitment of Masters to Study in Foreign Cooperative Universities of Shaoyang College for Ph.D." relevant regulations are implemented.
Image source: Shaoyang University News Network
Information sources: Hunan Provincial Department of Education, Shaoyang University official website, Shaoyang University news website
Planning: Fruit