On April 19, Foreign Ministry Spokesperson Wang Wenbin answered a reporter's question on the death of Philippine Ambassador to China Romana.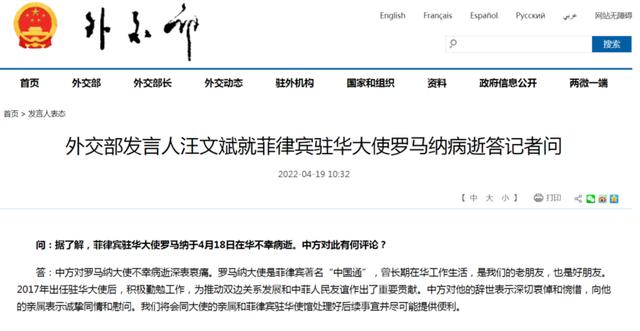 Q: It is understood that Romana, the Philippine Ambassador to China, passed away unfortunately in China on April 18. What is China's comment?
A: China is deeply saddened by the unfortunate death of Ambassador Romana. Ambassador Romana is a well-known "China Hand" in the Philippines. He has worked and lived in China for a long time. He is an old friend and a good friend of ours. After serving as ambassador to China in 2017, he worked diligently and made important contributions to the development of bilateral relations and the friendship between the Chinese and Philippine peoples. China expresses deep condolences and regrets for his passing, and sincere sympathy and condolences to his relatives. We will handle the follow-up matters with the relatives of the ambassador and the Philippine Embassy in China and provide convenience as much as possible.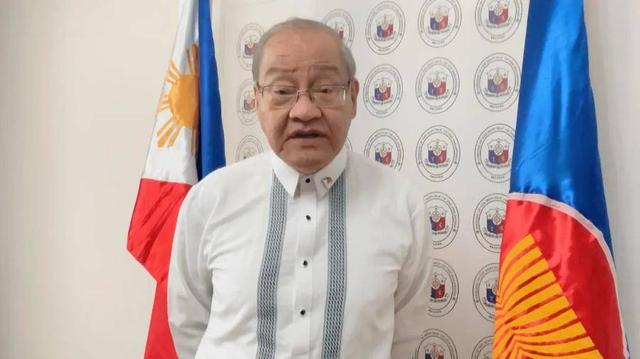 Public information shows that Romana was born in 1948 and has lived and worked in China for nearly 40 years. research experts. In March 2017, he was appointed as the Philippine Ambassador to China.
According to previous reports from Overseas Network, as a "China Hand", Romana plays a special role in the Philippines' affairs with China, and he can be seen in many major events in China-Philippines relations. Romana served as a senior adviser to the delegation during an "ice-breaking trip" to Hong Kong by former Philippine President Ramos in August 2016. As a witness and participant of the turnaround in China-Philippines relations, Romana has high expectations for the continued development of bilateral relations.
(Comprehensive Ministry of Foreign Affairs website, etc.)