This article is from: Xinhua News Agency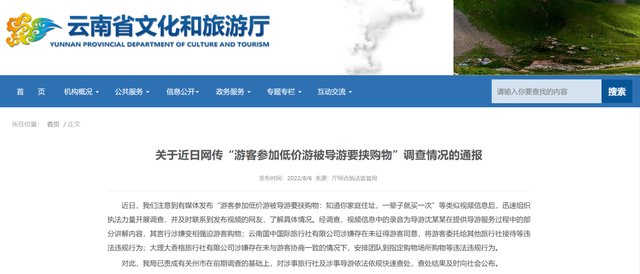 Screenshot of the webpage
On August 6, the Comprehensive Law Enforcement Supervision Bureau of the Yunnan Provincial Department of Culture and Tourism notified :
Recently, we noticed that some media released similar video messages such as "Tourists participating in low-cost tours are coerced by tour guides to shop: Know your home address and buy once in a lifetime" and other similar videos. , quickly organized law enforcement forces to carry out investigations, and promptly contacted the netizens who posted the video to learn about the specific situation. After investigation, the recording in the video information is part of the content of the tour guide Shen Moumou's explanation in the process of providing tour guide services. His words and deeds are suspected of forcing tourists to shop in disguise;Yunnan Guozhong International Travel Agency Co., Ltd. is suspected of entrusting tourists to other travel agencies for reception without the consent of tourists and other violations of laws and regulations;Dali Shangge Travel Agency Co., Ltd. is suspected of < strong>In the case of not reaching an agreement with the tourists, arrange the team to go shopping at designated shopping places and other violations of laws and regulations.
In this regard, our bureau has instructed the relevant municipalities to quickly investigate and punish the travel agencies involved and the tour guides involved in accordance with laws and regulations on the basis of the previous investigation, and the results of the investigation and punishment shall be reported to the relevant authorities in a timely manner. social announcement.

div>