September 20, 2022 marks the 34th National Teeth Day. On the morning of September 19, the Guangzhou Center for Disease Control and Prevention and the Guangdong Provincial Dental Disease Prevention and Guidance Center held a free clinic activity to provide oral examinations and health consultations for the masses, and guide children and adolescents to do oral health care.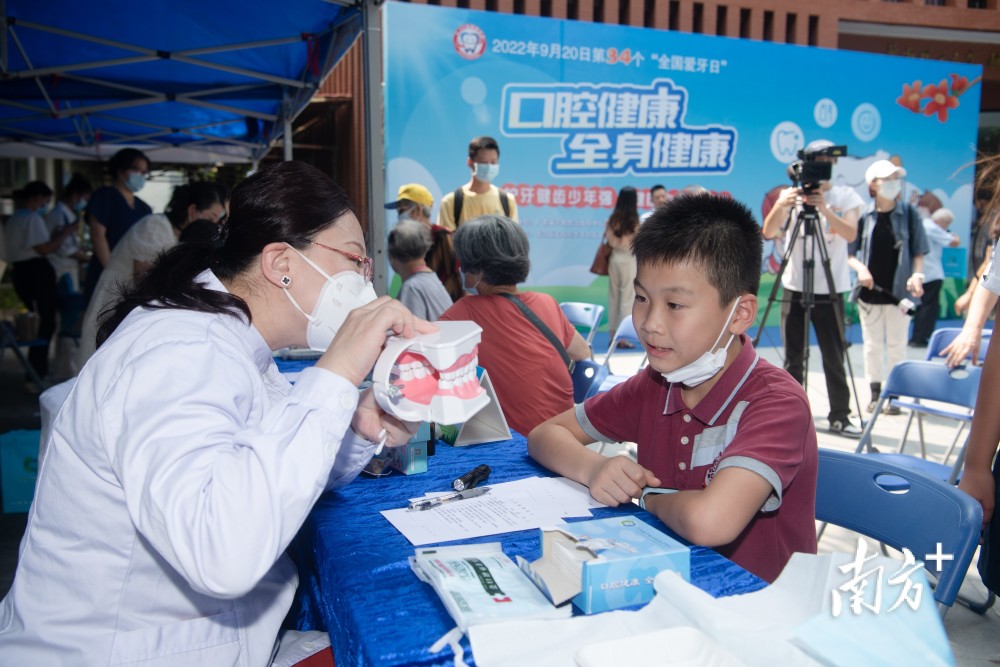 The reporter learned from the event site that the free pit and fissure sealing project for 6-year-old children in Guangzhou has completed pit and fissure sealing for more than one million children in the past 11 years. At present, Guangzhou is gradually increasing the promotion of appropriate technology for topical fluoride use in preschool children, and the pilot program of comprehensive intervention for deciduous tooth caries in preschool children will achieve citywide coverage in 2022.
Over 70% of Guangzhou 5-year-old children have deciduous teeth
"The toothbrush is not very clean, and there are things hidden between the teeth. Usually, you should pay attention to cleaning it with dental floss in time." At the free clinic, Yang Junying, a doctor from the First Affiliated Hospital of Sun Yat-sen University, patiently treated the 5-year-old Lele (pseudonym) checked his mouth and found that he had dental caries.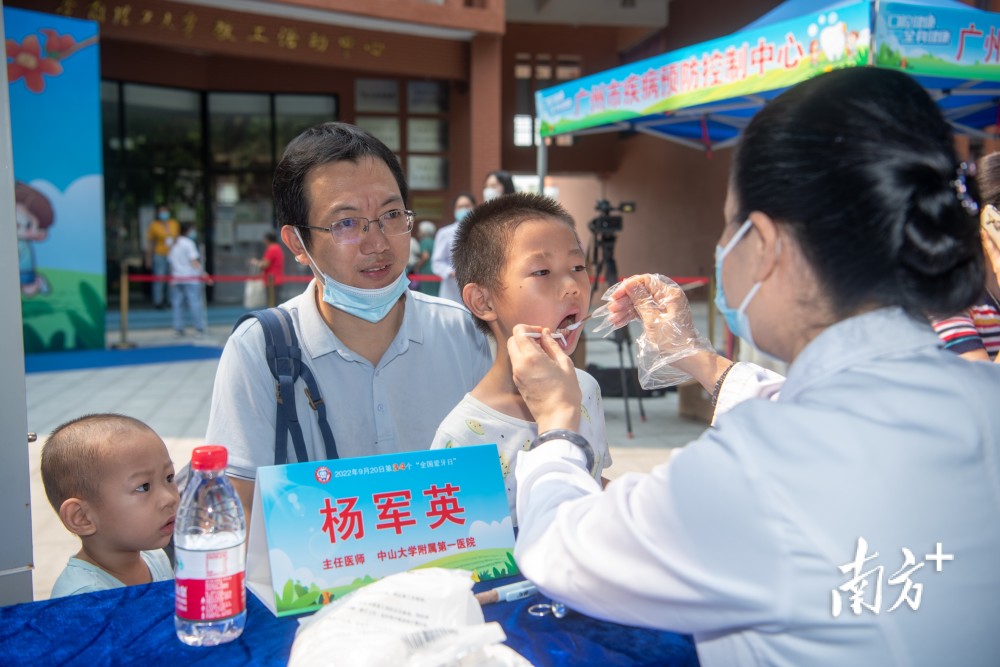 She suggested that parents should urge their children to brush their teeth carefully, instead of giving their children too "fine" meals at every meal, and to eat some hard foods such as corn and carrots properly, which will help the teeth development.
Caries is the main oral disease suffered by children in Guangzhou. According to the second oral epidemiological survey of children in Guangzhou in 2015, the dental caries rate of 5-year-old children in Guangzhou was 76.78%, and the caries rate was 5.47, which was significantly higher than the results of the first epidemiological survey in Guangzhou in 2008 (the incidence of dental caries was 5.47). The caries rate was 56.11%, and the average caries rate was 3.04); the caries rate of the permanent teeth of 12-year-old children was 29.87%, and the caries rate was 0.63.
"Caries is what we often call tooth decay and rotten teeth, which are more common in children. With the growth of economic level, now everyone eats more sugar and sweets, so caries also High incidence." Huang Shaohong, president of the Stomatological Hospital of Southern Medical University, said that children and adolescents should pay attention to protecting oral hygiene in their daily life, eat less sugary food, drink less carbonated beverages, control the total amount of sugar intake, and clean the mouth before going to bed at night. Eat again.
In addition to eating sweets, the natural structure of teeth is fragile, which also makes people prone to tooth decay. Using fluoride on teeth is a safe and effective anti-caries measure. "After the teeth absorb fluoride, it can enhance the anti-acid ability and reduce the occurrence of caries. There are two ways, one is to brush your teeth with fluoride toothpaste daily, and the other is to go to the hospital to apply fluoride to the teeth locally." Huang Shaohong said.
He reminded that the amount of fluoride toothpaste used by children should be reasonably controlled. Children under 5 years old are recommended to use toothpaste the size of a grain of rice at a time. Children about 5 years old can use about the size of a grain of soybeans. And adults are not too limited, according to the daily dosage of about 1 cm.
Over 1 million children in 11 years with pit and fissure sealing
Aiming at the frequent occurrence of caries in children's deciduous teeth, in order to reduce the rate of caries in children, since 2011, Guangzhou Municipal Health Commission has launched a free pit and fissure sealing project for children's six-year-old teeth throughout the city , provides free oral examinations, 6-year-old pit and fissure sealing and oral health education for more than 200,000 school-age children every year.
Six-year-old teeth refer to the four permanent teeth in the mouth. They are named after they usually erupt around the age of six. They are also the most prone to tooth decay. Pit and fissure sealing is to use polymer material to fill the fissures and fissures of the teeth after the child grows six-year-old teeth, so that the tooth surface becomes smooth and easy to clean, and bacteria are not easy to retain, thereby preventing pit and fissure caries.
In the 11 years since the project was implemented, oral examinations have been carried out for 1,806,100 school-age children in Guangzhou, 1,050,600 children have been sealed with pit and fissures, and 3,044,800 teeth have been sealed. The treatment rate of children's caries is also obvious. improve.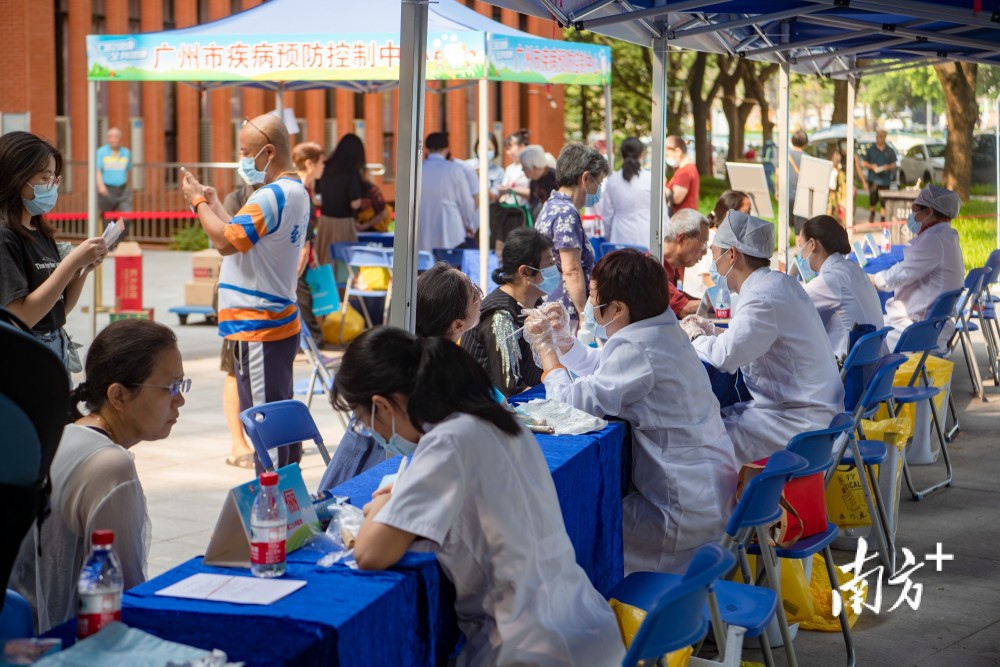 The reporter learned from the activity site that Guangzhou is gradually increasing the promotion of appropriate technology for topical fluoride use in pre-school children. prevalence. In 2022, the pilot work will be expanded from the original 4 districts (Yuexiu, Haizhu, Liwan, Huadu District) to the remaining 7 districts in the city, and the pilot program of comprehensive intervention on deciduous tooth caries for preschool children has achieved citywide coverage.
Experts said that teenagers can choose to go to the hospital every six months to receive fluoride on their teeth, especially teenagers who have multiple caries and are undergoing orthodontic treatment. Topical fluoride measures should be taken.
[Reporter] Chen Yichun
【Photography】Xu Hao
[Correspondent] Sui CDC
【Author】 Chen Yichun; Xu Hao