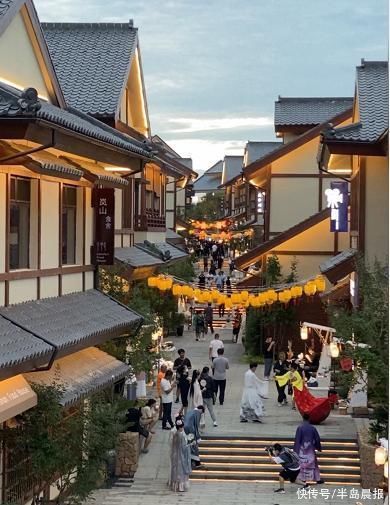 On August 8th, the opening ceremony of Shengtang·Lanshan Hot Spring Resort Smart Town was grandly held in Dalian Jinshitan National Tourism Resort, marking Jinshitan. A new landmark for cultural tourism check-in has been added.
The Tang Dynasty·Lanshan Resort Complex Project brings together the multi-dimensional functions of "complex" cultural tourism, creates a new "all-age" cultural tourism lifestyle, and mainly builds hot spring resort hotels Clusters, cultural and tourism projects, cultural life centers, creative farm children's parks, and hot spring towns have four major sections, integrating five dimensions and seventeen scenes. On July 15, 2021, the foundation stone was laid for the Shengtang·Lanshan Resort Complex Project, and the construction started in September. In less than a year, the Shengtang·Lanshan Hot Spring Resort Smart Town, which is the first phase of the project, was officially opened.
At the ceremony site, Tang Feng Commercial Street opened simultaneously. Sea Sunrise Hotel with high service standards, Yinxi B&B with hot springs, the first houseboat-style B&B in Northeast China, Chinese Medicine Hall, and the first Starbucks in Golden Pebble Beach were launched one after another. Prosperous Tang·Lanshan project is another great addition to Jinshitan's vigorous development of high-quality, personalized and refined leisure and vacation products.
Peninsula Morning News, 39 Degrees Video Reporter Xiao Weiyi, Photojournalist Zhou Lei