Recently, the Henan Provincial Medical Security Bureau issued the "Notice on Issues Concerning the Procurement of Drugs and Medical Consumables", which involved failure to collect payment within the specified time limit, use of non-selected drugs more than selected drugs, and individual Medical institutions cooperate with pharmaceutical enterprises to supplement drugs on the Internet in violation of regulations, including eight major problems.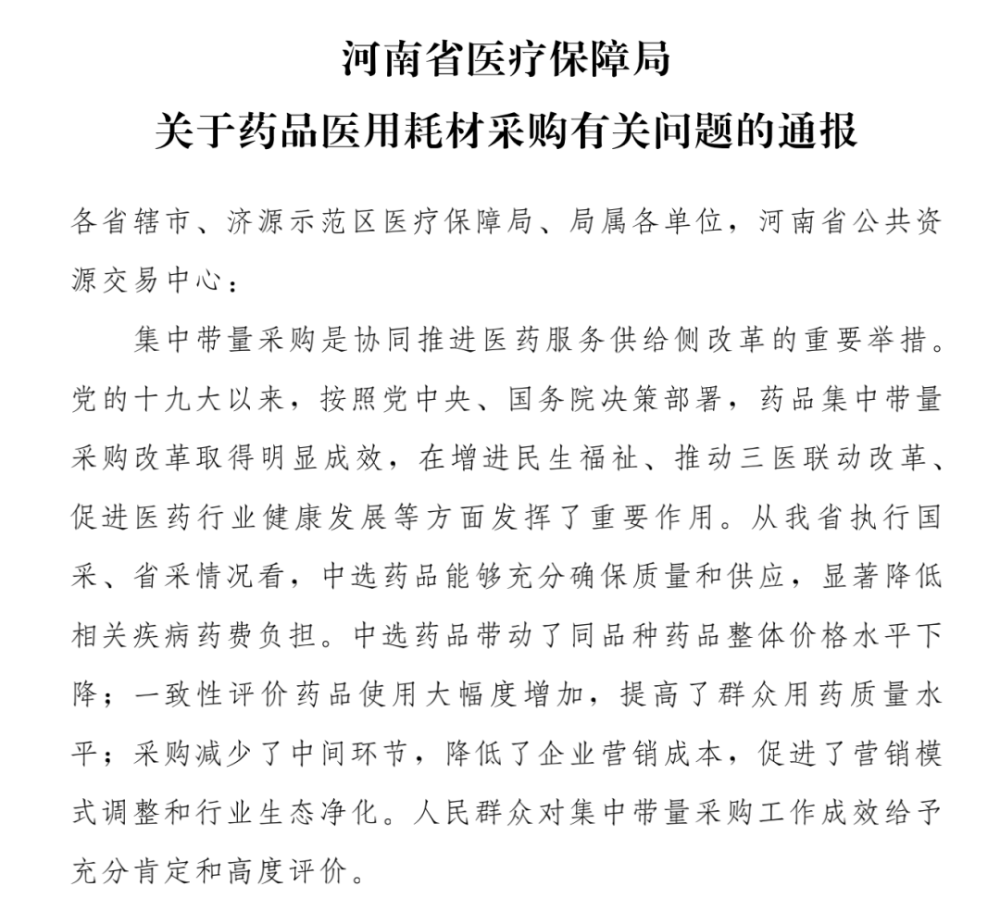 "Notice on Procurement of Drugs and Medical Consumables"
Among them,In 2021, a total of 96 public medical institutions in Henan Province will only purchase non-selected medicines or alternative medicines; 1,820 medical institutions will purchase some medicines whose prices are 3 times higher than the average price Above; Henan Province recovered a total of 13.9 million yuan of illegal funds.
According to the Shangqiu Municipal Medical Insurance Bureau, Henan Mobile News and other news, the municipal medical insurance bureaus in Henan have begun to conduct intensive interviews with some medical institutions regarding the centralized procurement of medicines and medical consumables.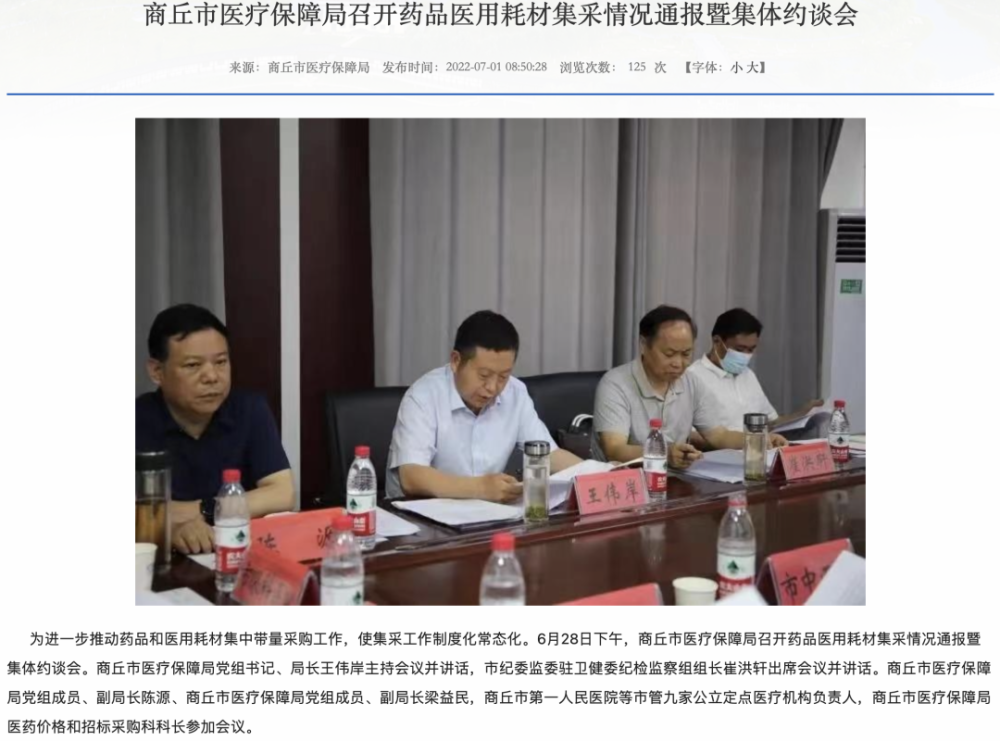 Image source: Shangqiu Medical Insurance Bureau
What happened between collection and landing?
Victory for non-selected products?
A notable feature disclosed in this notification is the extensive use of centralized procurement of "unselected products" in public medical and health institutions.
Henan Provincial Medical Insurance Bureau has notified a total of 96 public medical institutions that only purchase non-selected drugs or alternative drugs, most of which are primary and secondary primary medical institutions, and some cities and counties. CDC, etc.
Among them, the non-selected hospitals with the largest purchase amount reached 7.35 million. In contrast, the minimum non-selected purchase amount reported in this document is only $53.
According to the procurement data of the Henan Provincial Pharmaceutical Procurement Platform from February 1st to May 31st, 2022, 28 medical institutions have not implemented the policy requirements for preferential use of selected products, and 39 public medical institutions The member units of the alliance violated the commitment of the "Letter on Entrusting the Centralized Procurement of Related Consumables with Quantity", and still purchased and used the unselected products.
Image source: "Notice on Issues Concerning the Procurement of Drugs and Medical Consumables"
Take "02-Anti-adhesion material as an example", from February 1st to May 31st, 2022, the proportion of non-selected products used by many public medical institutions reached 100%.
In contrast, Henan Province announced the province's online drug transactions in the first half of 2022. In the drug transaction in Henan Province, the top ten drugs in online transaction amount also include drugs that were not selected by centralized procurement.
Image source: Henan Provincial Public Resources Trading Center
Unstoppable Cage
Why are "non-selected products" so widely used in medical institutions?
One ​​of the reasons is the strong market inertia of large varieties of drugs. Take "Lipitor", which ranks ninth in online transaction value in Henan, as an example. It was once known as the "King of Medicine". According to data from Minet, the drug's sales in 2018 reached 9.2 billion yuan, ranking among the best-selling products. Top of the list.
In 2018, the first generic drug "Ale" passed the consistency evaluation, and then centralized procurement was implemented, but Lipitor has always maintained a huge market. Until 2021, the report on the ranking of drug storage amounts on the Zhejiang Pharmaceutical Equipment Procurement Platform still shows that Lipitor is the third-ranked product in Zhejiang Province in terms of storage amounts.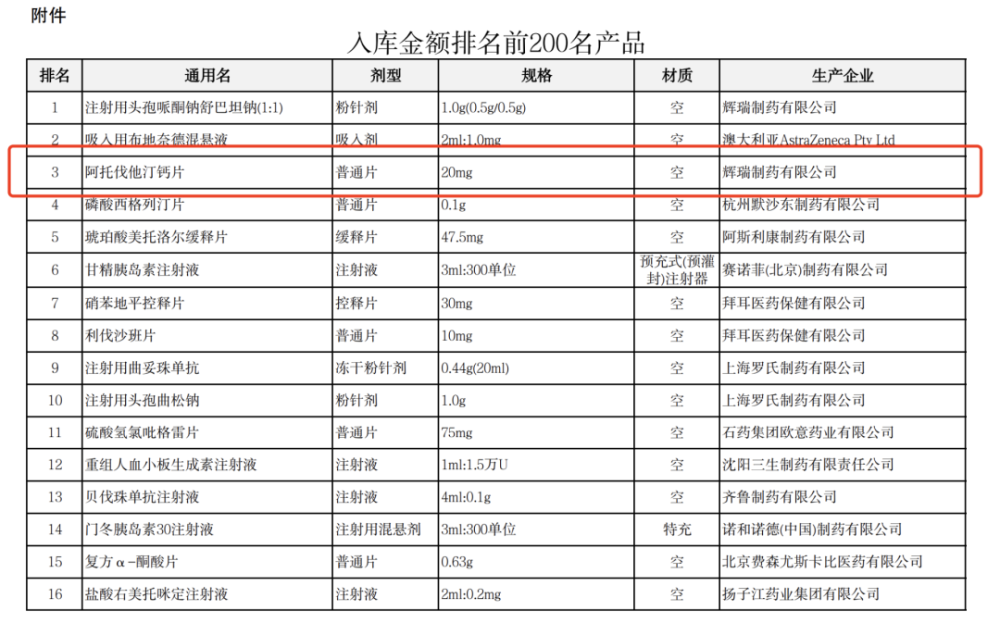 Image source: Zhejiang Province Pharmaceutical Equipment Purchasing Platform
On the other hand, the stable supply of selected products is also a difficult problem between centralized procurement and clinical practice.
Combing through the news, it can be found that since 2019, the supply of centralized drugs has been cut off due to various reasons such as "insufficient raw material supply" and "insufficient production capacity".
In a complex market environment, the relationship between supply and demand is often changing. For clinical purposes, it is a basic requirement for enterprises to complete the order, but even if the order is completed, the demand for medication may not be realized. Taking acarbose as an example, there were feedbacks of "can't buy" and "can't buy" on the message boards of leaders in many provinces.
Photo source: People's Daily Online Leader Message Board
p>
According to this notification from Henan Province, in the first half of 2022, the supply of medicines supplied by national procurement was not stable. The supply rate of acarbose was 65.56% and the supply rate of dutasteride was 48.48%.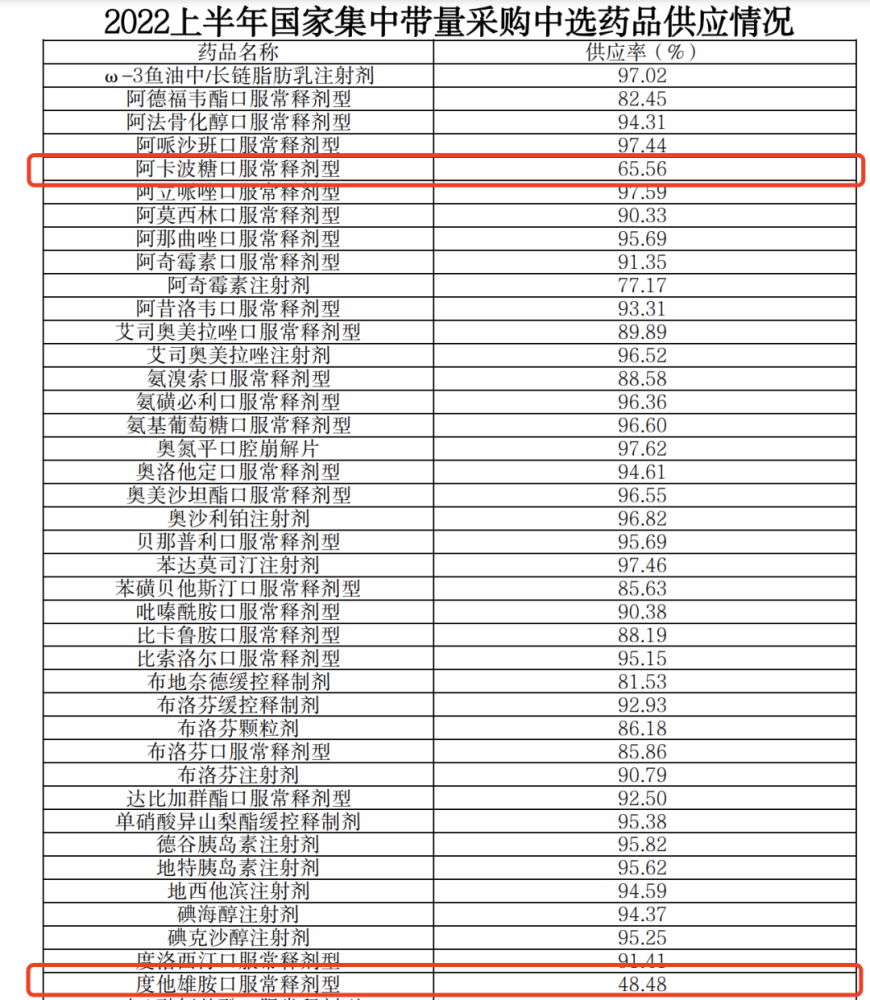 Image source: Henan Provincial Medical Insurance Bureau
2021 China News Weekly "How to See a Doctor After Drug Prices Are "Excessively Cheap"" also reported that Baitangping (acarbose) was in short supply: "In 2020, Shandong "Qilu Evening News" once reported that a large number of drug dealers and sugar lovers came to Shandong to snap up Baitang Ping, and then sold it at different prices such as 3 boxes of 50 yuan and 50 boxes of 600 yuan."
"On June 29, the Yunnan Provincial Government Procurement and Transfer Center issued the "Declaration Announcement on the Increase of Some National Centralized Drug Supplement Supply Enterprises", targeting irbesartan, acarbose , Metformin hydrochloride, and amoxicillin 4 varieties, and make supplementary supply enterprise declaration. That is to say, the supply of Baitang Ping in Yunnan cannot meet the demand."
Back to the event itself, the introduction of a large number of non-selected products is also a violation of the rules by medical institutions.
The notification mentioned that since 2021, in order to cooperate with the listing of medicines, some medical institutions have made false purchases such as purchasing first and then returning them in the process of supplementing the listing of medicines, as well as false purchases that are higher than the declared price. Procurement and other issues, involving 99 kinds of drugs and 116 medical institutions.
Image source: Cooperate with pharmaceutical companies to supplement the list of public medical institutions with illegal drugs on the Internet
Image source: Henan 2021 Supplemental Drugs on the Internet
How far is the collection to the clinic?
At the end of 2021, the first and third batches of drug purchase agreements organized by the state will expire. Shandong Provincial Medical Insurance Bureau has carried out the renewal and purchase of some drugs. The results of the renewal show that, More than half of the medicines centrally purchased at the national level have been "replaced" in Shandong Province, with a turnaround rate of 53.2%
——The basis for this election is "voting by medical institutions".
Shandong Province's announcement of continued procurement shows that after the quotation is decrypted, if there are two or more companies applying for the lowest price of the inquiry drug, or there are two or more companies with the same lowest price for the bidding drug The province's public medical institutions will evaluate and vote based on the company's supply and distribution, product quality, and clinical feedback.
It is not difficult to see a trend that the proportion of "clinical application" is being strengthened by centralized collection.
In the centralized procurement of the Yangtze River Delta Alliance in February 2022, the previous Shanghai bid renewal rules were also referred to, and a comprehensive evaluation index system was introduced, emphasizing the clinical applicability and the comprehensive capabilities of the enterprise , rather than simply "winning on price".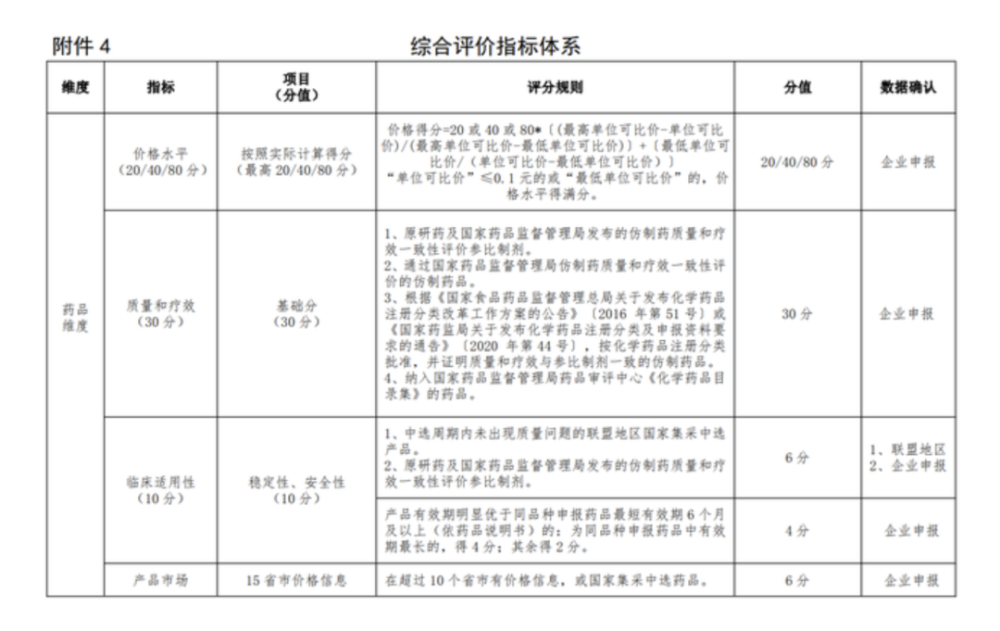 Image source: Yangtze River Delta Alliance Collection
And whether you choose quality, price, or supply chain, you still have to "vote with your feet" when it falls back to clinical practice. (planned by: Leu.)
The source of the title map: Figure Worm Creative
Lilac Garden is a professional platform for medical practitioners, with the mission of "helping Chinese doctors". Download the "Lilac Garden App" to discuss cases with peers, study open classes online, use clinical decision-making tools such as medication assistants, and find reliable medical positions in Lilac Talents.