Zhangjiajie News Network, April 18 (Correspondent Li Fangfang) A family is the smallest country, and a country has thousands of families. National security is not a distant "spy war movie", but is closely related to every one of us and every family. In order to strengthen the overall national security concept, further enhance the national security awareness of the people, conscientiously fulfill the obligation of safeguarding national security, and prevent and stop acts endangering national security, on the occasion of the seventh National Security Education Day for All, Miao Shi Town will use "" A series of publicity activities were carried out with the theme of establishing a firm overall national security concept, comprehending the achievements of national security in the new era, and creating a good atmosphere for the victory of the 20th National Congress of the Communist Party of China.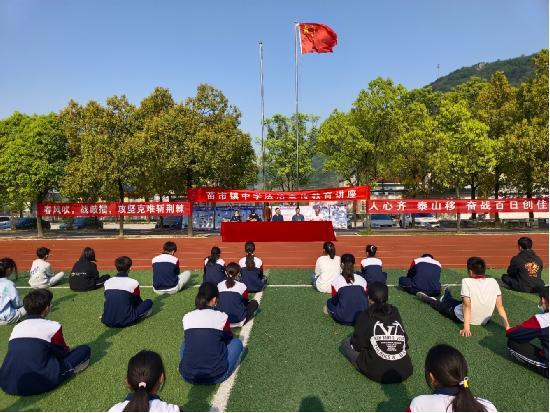 First of all, on the morning of April 11, the staff of the Miao City Judicial Office came to the Miao City Middle School to teach all teachers and students "Chinese The National Security Law of the People's Republic of China and relevant laws and regulations such as network security, remind middle school students to improve security awareness in their daily life and pay attention to protecting the privacy of personal information. After the event, all teachers and students signed and left messages on the banners.
Secondly, make full use of themed party day activities to publicize national security knowledge. Recently, cadres from the affiliated villages and the Miao Municipal Judicial Office went deep into the villages to publicize the "National Security Law", "Anti-espionage Law" and other laws and regulations to the majority of party members through lectures on the rule of law and distribution of legal brochures, and interpreted "4.15" The origin of National National Security Education Day, what is national security, what aspects of national security include, and the rights and obligations of citizens and organizations to maintain national security… Let the majority of party members and cadres develop an ideological awareness of national security.
Thirdly, according to the situation of epidemic prevention and control, Miao Town made full use of the combination of online and offline development, and used banners, LED electronic screens, WeChat groups and other media to push content related to the overall national security concept. , and carry out in-depth national security education and publicity.
Through these publicity activities, the majority of residents are further aware of the important role of national security in the country's political life and people's daily life, and the legal awareness of national security has been enhanced.
Return to column [Editor in charge: Zhangjiajie News Network]
[Source: Zhangjiajie News Network_Education News]
All rights reserved Owned by the original author, tribute to the original