This article is reprinted from: Guangming.com
At the 2nd Consumer Expo, overseas versions of Lianhua Qingwen in Russian, Thai, and English and a series of Lianhua health products appeared in the domestic boutiques together In the museum, as a pioneer in the internationalization of traditional Chinese medicine, CCTV news coverage was triggered.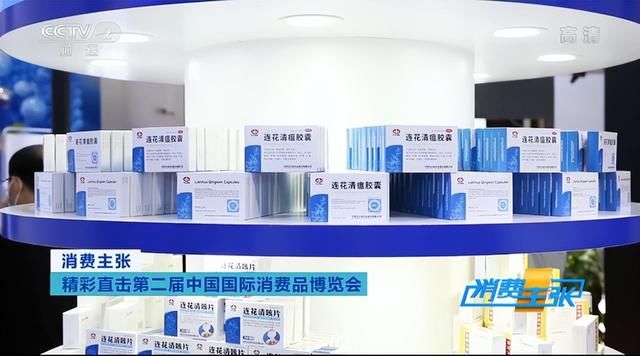 It is reported that the Lianhua breathing health products exhibited this time include Lianhua Qingwen and a series of forsythia, A big health product with honeysuckle as the main raw material. Among them, Lianhua Qingwen is a collection of famous Chinese medicine prescriptions, which is a category A in the National Medical Insurance Catalogue and a National Essential Medicine Catalogue. Lianhua Qingwen has not only been recommended by the National Health and Health Commission for many times, but has also been listed 30 times in the influenza A and B programs issued by the National Health and Health Commission and the State Administration of Traditional Chinese Medicine. It has become a representative drug for responding to respiratory virus infectious public health events.
Since 2020, the effectiveness of my country's traditional Chinese medicine in anti-epidemic has attracted global attention, and Lianhua Qingwen has also gained a good reputation internationally, becoming the first choice for epidemic prevention and anti-epidemic in many countries and regions. At present, Lianhua Qingwen has been approved for listing in nearly 30 overseas countries and regions, and has been approved for new coronary pneumonia indications in Kuwait, Laos and other countries; it has been selected into the white list of anti-epidemic drugs issued by the Ministry of Health of Uzbekistan; it has been approved to enter Thailand and Cambodia The designated hospital for COVID-19 has been selected as the home treatment plan for mild patients with COVID-19 issued by the Cambodian Ministry of Health.
Faced with CCTV reporters who came to interview, Sun Xuefei, general manager of Yiling Pharmaceutical's International Trade Department, said that in order to meet market demand, "the company has produced different versions of Lianhua Qingwen from various countries, such as Brazil, Ukraine, Uzbekistan, Singapore, Russia… The packaging elements are similar, and there are differences in details. These overseas versions of Lianhua Qingwen are exactly the same in terms of drug ingredients. But because entering overseas markets must comply with local drug regulations Departmental requirements, such as Lianhua Qingwen exported to the Arab world, use certified halal capsules to respect local cultural beliefs." With the acceleration of the company's internationalization process, Lianhua Qingwen represents the traditional Chinese medicine product. Gradually enter the mainstream channels overseas.
At the same time, the products brought to the exhibition are Lianhua respiratory health series products, which continue the advantages of Lianhua Qingwen in treating respiratory diseases, and apply the concept of Chinese herbal medicine, medicine and food homology to product research and development, Including Lianhua mask blasting beads, Lianhua throat clearing and antibacterial spray, Lianhua disposable antibacterial hand sanitizer, Lianhua air disinfection gel, etc. "Three transmission paths, multi-directional protection of respiratory health. As the designated anti-epidemic supplies for this Consumer Expo, Lianhua Respiratory Health series products are given to the on-site media, audience and volunteers for free during the exhibition. In particular, the flower-and-bead mask containing HAbO essential oil has become the "Internet celebrity" product of the exhibition due to the addition of the mascot element of the Consumer Expo, which is highly praised by the audience.
China International Consumer Goods Expo is the first national-level exhibition with the theme of consumer products and the largest consumer boutique exhibition in the Asia-Pacific region. It is hoped that through this Consumer Expo, Lianhua Qingwen and Lianhua Health products can further open up the international market and become the "pioneer" for Chinese medicine to expand overseas markets, and also allow more overseas consumers to understand Chinese medicine and benefit from Chinese medicine health products.