Jimu News reporter Ding Peng
According to the news released by Tibet, at 9 am on August 9, Lhasa held a press conference on epidemic prevention and control. 10 people traveled from Shigatse to Lhasa to express their condolences to their deceased relatives, and lived in self-built houses with 8 other local Lhasa associates. The Lhasa Municipal Government stated that it will make every effort to ensure the living materials, medical treatment, and drug supply for the residents in the medium and high-risk areas.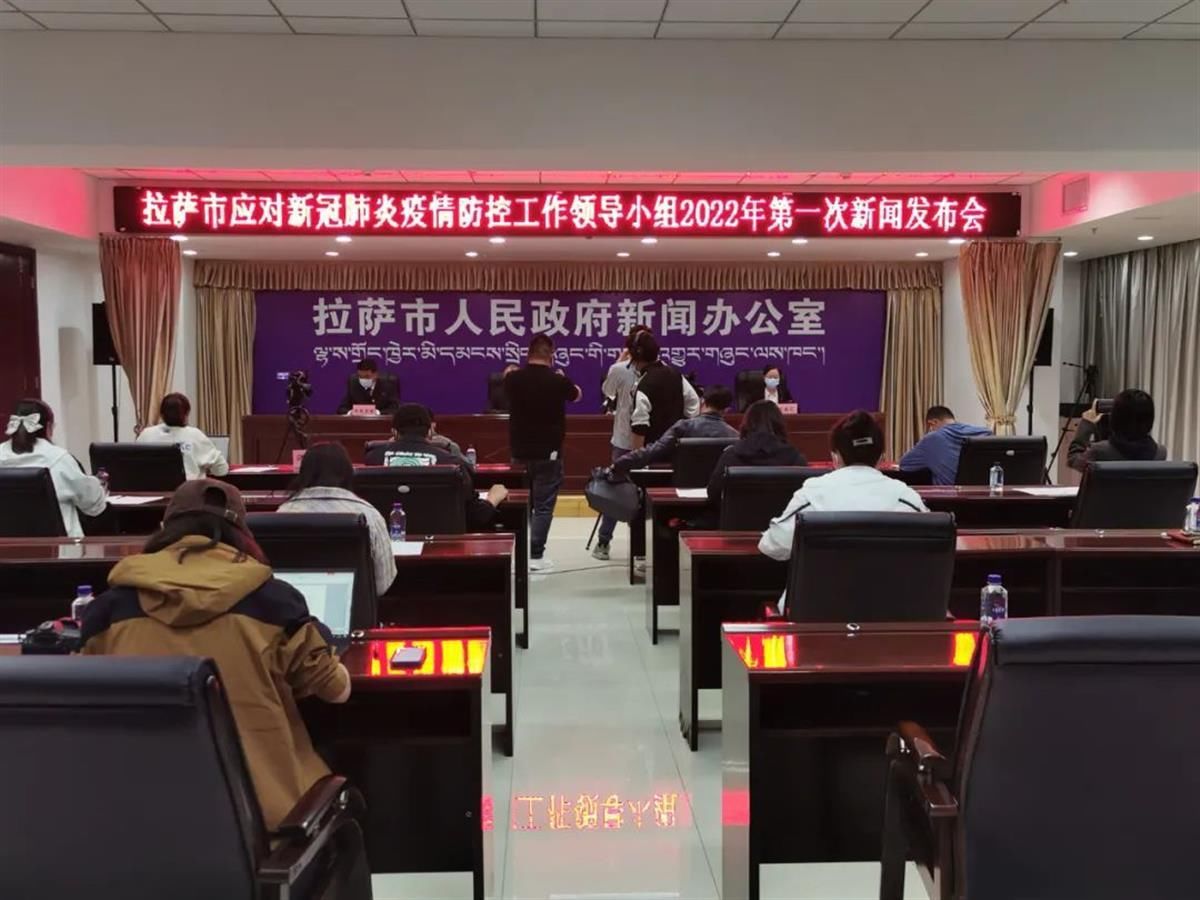 Site of the conference (Source: Lhasa release)
It is reported that the Potala Palace and 5A-level scenic spots such as the Jokhang Temple will be temporarily closed from August 9. Several tourists introduced to Jimu News reporters that because of the sudden epidemic, they could only interrupt their travel and return early.
A number of infected persons participated in condolences for relatives
In the morning of August 9, it was announced at a press conference held in Lhasa, August 7, 2022 In Lhasa, 18 people who were initially screened positive for the new coronavirus nucleic acid test were found in the nucleic acid test of key personnel in Lhasa. Among them, the first confirmed case, Dan Mou, was a 3-year-old girl, a resident of Chengguan District, Lhasa City. She took the C924 train from Shigatse to Lhasa with her mother and grandmother on August 4, and the other 7 related personnel took the C924 and C894 trains successively. The train came to Lala from Shigatse, and they lived together in a self-built house in the North Community of Najin Road, Karma Gongsang Street, Chengguan District. They offered condolences to the deceased relatives and lived in the self-built house with eight other Lhasa-related personnel. The epidemic spread due to the gathering of people. At 1:40 a.m. on August 7, Dan Mou was tested positive for two nucleic acid tests due to sore throat and fever. Dan Mou and his mother were promptly sent to the Third People's Hospital of the Autonomous Region for treatment. Relevant regulations are sent to the makeshift hospital.
Introduced at the press conference, 119 relatives and friends who have condoled with Dan have been quarantined in hotels; 90 people have been in close contact with Dan on the C924 train, and 54 people in Lhasa have been quarantined in hotels. 23 people from other cities in the district and 7 people from outside the district have been synchronously investigated to the inflow places, and 6 people who lost contact have been assigned codes. At present, the activity history of 18 personnel including Dan Mou within 7 days before the first positive sampling has been grasped, and 1 high-risk area and 15 medium-risk areas have been accurately delineated.
On the evening of August 8, Lhasa increased the number of nucleic acid testing points from 305 to 545 in the city, and carried out nucleic acid testing for all employees to ensure that all the inspections should be carried out. At the same time, we will make every effort to ensure the guarantee of living materials, medical treatment, and drug supply for the residents in the medium and high-risk areas, focusing on special groups such as the elderly, children, pregnant women, and disabled persons, so as to meet the normal life needs of the masses.
At 11:00 p.m. on August 8, Lhasa also requested that places for religious activities be temporarily closed. 5A-level scenic spots such as the Potala Palace and Jokhang Temple were subsequently announced and will be temporarily closed from August 9 until further notice. In addition, the announcement mentioned that the Princess Wencheng Reality Theater will also be closed.
Some tourists ended their trips ahead of schedule
After the outbreak of the epidemic in Lhasa, many tourists who were traveling or had traveled in Lhasa returned early.
Zhou Qing (pseudonym) from Guangzhou introduced to Jimu News reporter that she and her three friends traveled to Tibet during the summer vacation and took the train for more than 50 hours. When they arrived in Lhasa, they learned that there was an epidemic there . At about 18:00 on the 8th, they did a nucleic acid test after arriving at the Lhasa railway station, stayed at a hotel near the railway station for one night, and bought a train ticket to leave Lhasa to Xining on the 9th. "The original itinerary was to visit Tibet for 5 days, eat some local delicacies, and drink a bowl of butter tea that I have been thinking about since childhood, but now they are going to travel to Qinghai instead."
Liu Jun (pseudonym) was already on the 8th. Lhasa visited some scenic spots. On the same day, he and his friends rented some ethnic costumes at a store on Barkhor Street and went up the mountain to take pictures, but when they returned, Barkhor Street was temporarily closed, and his clothes and bags were also sealed in this store. store. After contacting the boss, the other party agreed to mail it to him only after unsealing it. Liu Jun said that he had already bought a flight ticket back to Chongqing and had done a 24-hour nucleic acid test. So far, he has not received a notice of flight cancellation, and he should be able to return normally.
Xu Lili (a pseudonym) from Ganzhou, Jiangxi Province, and her friends are still on their way to Lhasa by car. They have been driving for six or seven days on National Highway 318 from Sichuan, and the road is blocked when they arrive at Nyingchi. Turn around and return to Ganzhou via Yunnan. Xiu Lili said that they encountered many self-driving tourists along the way and also returned halfway.
Jimu reporters noticed that trains from Lhasa to Nyingchi, Xining and other places can still be purchased normally, but the 12306 ticket page no longer displays the trains between Lhasa and Shigatse. According to Air Travel, among the planned flights at Lhasa Airport before 15:40 today, except for 9 cancellations and 12 delays, the remaining 49 flights took off normally, with an on-time rate of 75.51%.