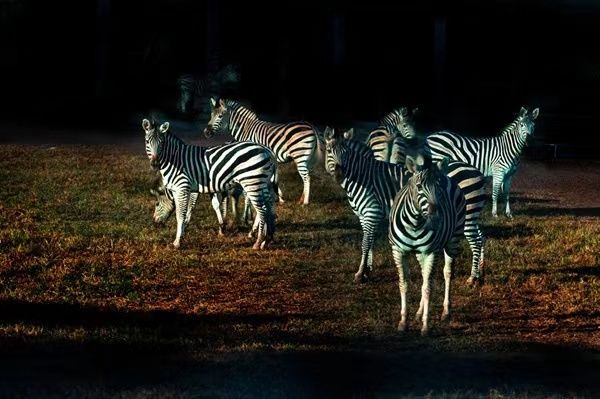 Le He Le Du has a summer night show. Photo courtesy of the scenic spot
Chongqing Yongchuan Lehe Ledu Animal Theme Park is scheduled to open the "Night Exploring Africa" ​​activity from August 6th to August 31st. It is understood that this is the first time in the 21 years since the establishment of the scenic spot that the animal world African wilderness area has been opened at night. Tourists can watch African elephants, black-tailed wildebeest, zebras, giraffes, eland, hippos and other large animals at night.
Lehe Ledu African Wilderness Night Market is open from 17:30-21:00. Visitors who purchase night tickets can take the small train (operating time: 17:30-20:30) to the African Elephant Square for free, except for watching In addition to wild animals, you can also enjoy the characteristic performances of Kenyan actors singing and dancing, strolling in the African wilderness, and experiencing the wonderful experience of hand-feeding zebras, antelopes and other people and animals in harmony. Walk to the Hippo Pavilion, and there are free battery cars to pick up tourists to the keel bridge. Visitors can enter the water park along the Hubin Road to play until 22:00. The water park projects include a clear water wave pool, a big horn, a jungle sprint slide, a Tahiti water village and an ocean fairy pool, as well as delicious snacks and special performances.
Source: Chongqing Lehe Ledu