Jiujiang is the birthplace of the August 1st Nanchang Uprising. To commemorate the 95th anniversary of the August 1st Nanchang Uprising, Jiujiang City Federation of Literary and Art Circles and Jiujiang Civil Literature and Art Association have recently edited and completed the "Red Secret – The Red Story of the Nanchang Uprising in Jiujiang". The 26 red stories excavated and sorted out comprehensively reproduce the real historical process of the Nanchang Uprising brewing in Jiujiang. Among them are not only the well-known "Gantang Lake Small Canoeing Meeting", but also "Lights in Jiujiang Customs (historically known as 'Jiujiang Talks')", "Empty Columns Sent by Zhou Enlai", and "Military Whistle Sounds at Ta Gong Temple" (He Long The 20th Army is stationed at Ta Gong Temple, now Chaisang Primary School)" and "Steel torrents converge in Jiujiang", etc.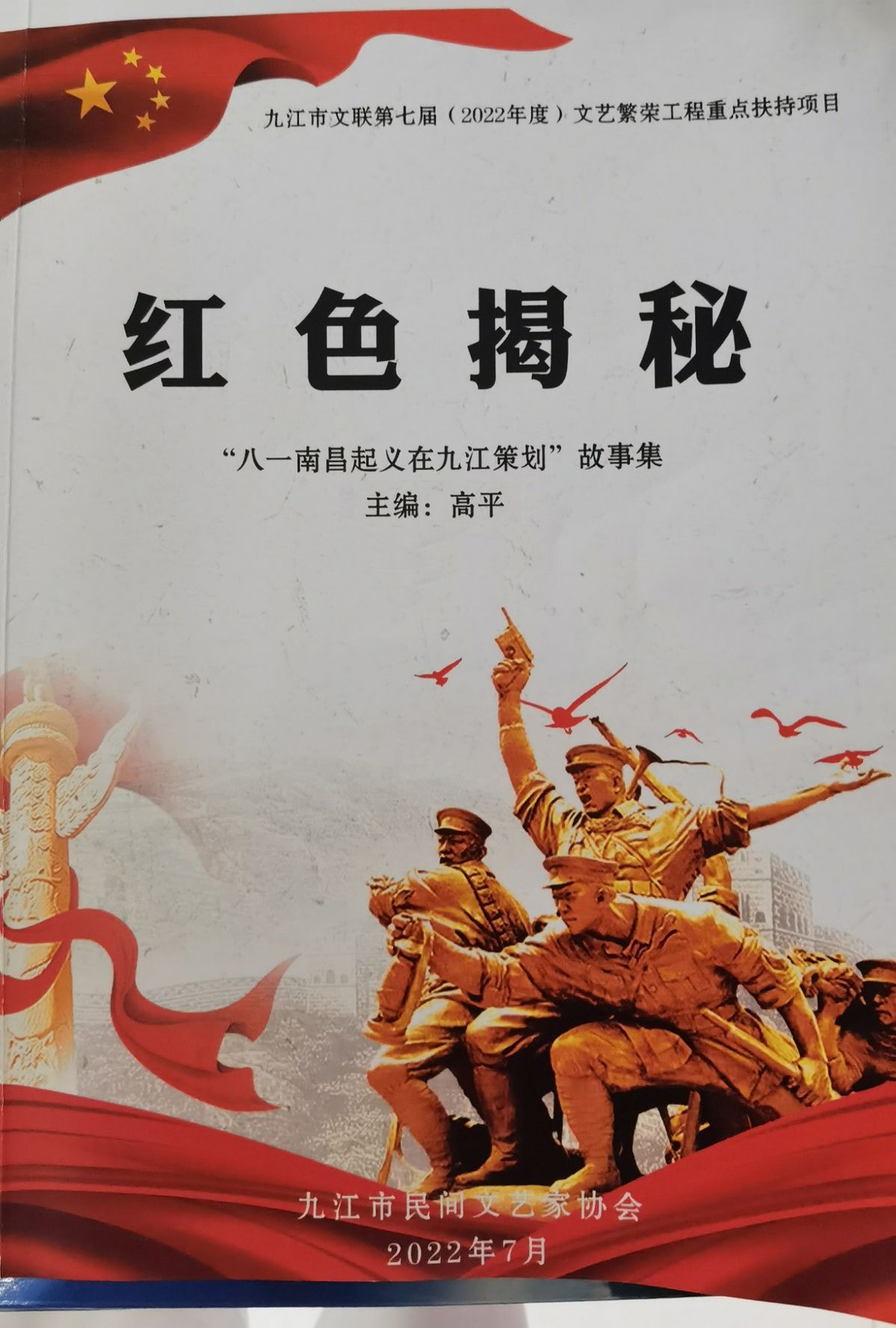 In order to complete the collection of stories before August 1st, the Jiujiang Civil Writers' Association took a year to organize more than 10 storytellers to visit Gantang Lake in Jiujiang, the former site of the Ye Ting headquarters of the 24th Division of the National Revolutionary Army, and Ma Huiling. The old railway station, as well as Lushan, Gutang, Yongxiu Tujiabu, De'an old railway station, Chaisang Primary School in Xunyang District (the former Ta Gong Temple), the old government in Xunyang District (the former Judgment Hall), Jiujiang Customs, Confucianism The relics related to the Nanchang Uprising were collected by Li Women's High School.
"Through this story creation, I personally feel the revolutionary spirit of the revolutionary martyrs who are not afraid of sacrifice and have the courage to sacrifice themselves. This precious spiritual wealth is constantly inspiring the people of Jiujiang. Today, Jiujiang is based on a new stage of development and implements new The development concept, integrated into the new development pattern, is accelerating the promotion of high-quality leap-forward development. I think this is the best consolation for the revolutionary martyrs!" Li Junrongshen, a member of the China Folk Writers Association and the Story Committee of the Jiujiang Civil Writers Association Said emotionally.
President Gao Ping of the Jiujiang Civil Writers Association said, "The red story compilation time was tight and the task was heavy. With their own perseverance, the storytellers of the association completed the compilation of the story within a year. These storylines Vivid and vivid characters, it vividly shows and inherits the dusty revolutionary stories for a long time in front of the world. At the same time, it deeply reflects the turbulent and turbulent times of Jiujiang at that time, making future generations feel that Jiujiang is a place full of revolutionary history. city."
It is reported that "Red Secrets: The Red Story of the Nanchang Uprising in Jiujiang" is a powerful witness to the history of Jiujiang's revolution, and it is a "good teaching material" for today's party members, cadres and young people to inherit the red gene, learn the party history and receive revolutionary education. It has considerable historical research value and ideological education value. (Liao Liu)
(Wang Jian, reporter from China Daily Jiangxi Reporter Station)