Yunnan Provincial Public Resources Trading Platform recently released a series of bidding plans for Xiaoqinghe Cultural Tourism Project and Snow Mountain Cultural Tourism Project in Dongchuan District .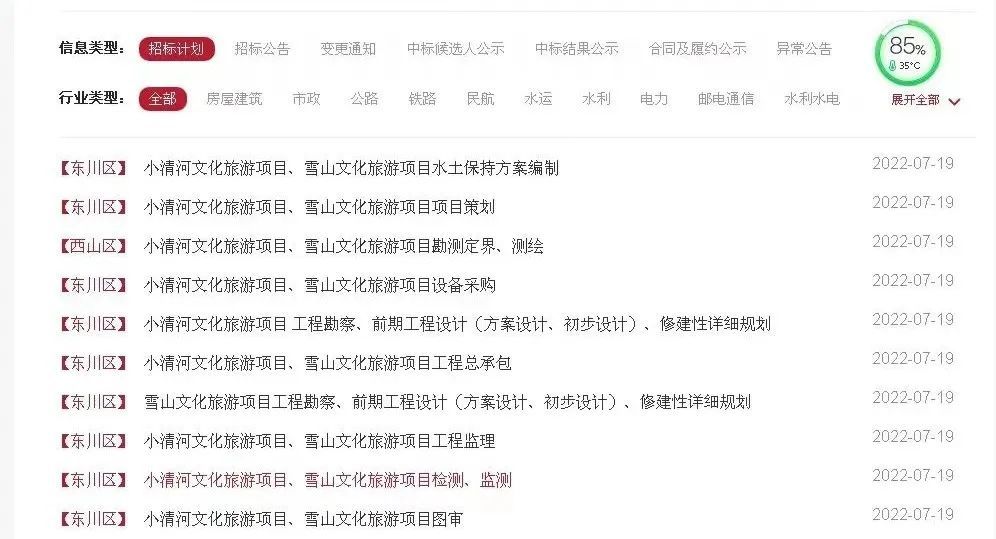 Tendering Plan (from Yunnan Public Resources Trading Platform)
< p>Including overall planning, survey, design, general contracting, etc. It is estimated that the tender announcement will be released in August, with a total investment of up to 3 billion yuan. This indicates that Kunming will have another fun place in the future.
1. The project bidder is Kunming Investment and has signed a cooperation agreement in May
According to the bidding plan, the Xiaoqinghe Cultural Tourism Project in Dongchuan District, Snow Mountain Culture The bidder of the tourism project is Kunming Communications Dongchuan Investment Co., Ltd. According to public information, the company was established in June this year, and Kunming Construction Investment is its major shareholder.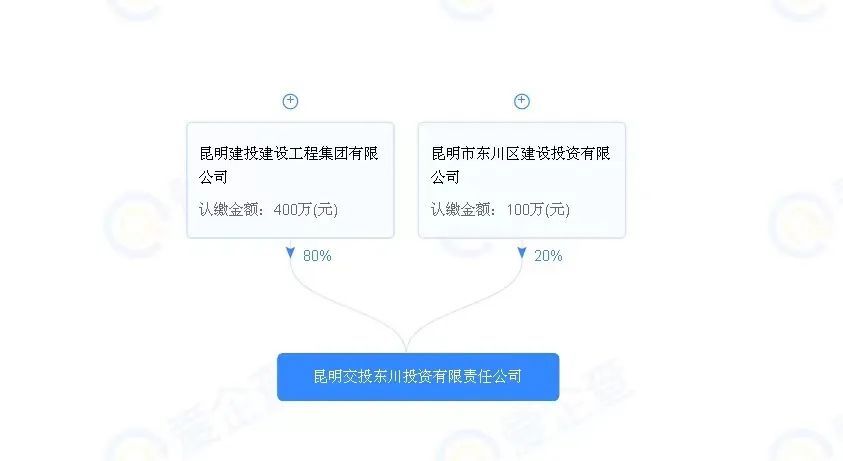 Equity Penetration Chart
May 19, Kunming Jiantou signed a cooperation agreement with the Dongchuan District Government on the Xiaoqinghe and Snow Mountain cultural tourism development projects. The total investment of the project is 3 billion yuan, which is mainly used for the first-phase investment and construction of the Xiaoqinghe Cultural Tourism Project and the Snow Mountain Cultural Tourism Project. The content includes tourism development, hot spring health care, river ecological management, etc.
On June 12, Kunming Investment visited Dongchuan again and signed a framework agreement on the cooperative development of Xiaoqinghe and Snow Mountain cultural tourism projects with the Dongchuan District Government. The cooperation content mainly includes the overall planning, project planning and design, project establishment, overall development, general contract management, project implementation, project operation of Xiaoqing River water entertainment, surrounding hot spring health care projects and Snow Mountain cultural tourism development projects.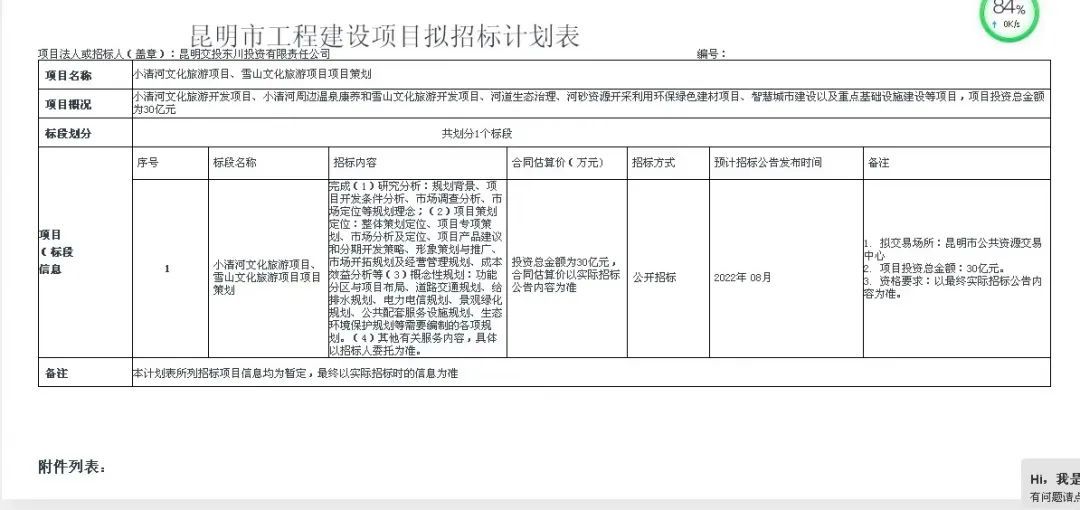 It is expected to start bidding in August
It is understood , the project is currently carrying out preliminary work. After the project is completed, it will promote the urbanization process of Dongchuan District, drive industrial transformation and upgrading; increase the income of residents in the area and increase employment opportunities; at the same time, it will consolidate and improve the effectiveness of poverty alleviation and promote rural revitalization and development.
Kunming has already planned to develop tourism resources around Dongchuan. The Implementation Outline of Kunming's Construction of a Regional International Center City (2017-2030) proposed to build a Kunming-Xundian-Dongchuan tourism corridor radiating Chengdu-Chongqing. Build a number of tourist attractions and resorts rich in cultural heritage.
2. The planning and construction of "One Heart, One Corridor and Five Groups"
Xiaoqinghe Project is 160 kilometers away from Kunming City, and the driving distance is about 160 kilometers. 2 hours. The project is about 2 kilometers away from Tangdan Toll Station of S19 Gongdong Expressway.
The planning area is located in the northwest of Dongchuan City, mainly in Tangdan Town, including Tongdu Street and part of Wulong Town. The planning scope covers Sahai Village, Zhonghe Village, Paper Factory and other areas in the Xiaoqing River Basin. It is bounded by Anshun Bridge in the south and Xintang Highway in the north, with a planned area of ​​6.07 square kilometers.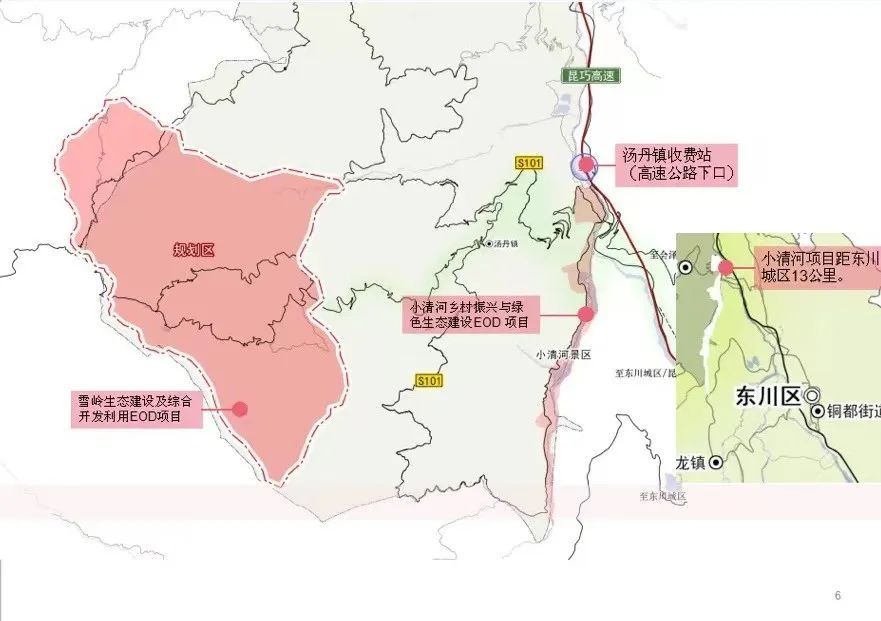 Planning map of Xiaoqinghe Project
Xiaoqinghe Project will adopt The planning and layout of "one heart, one corridor and five groups". in:
"One Heart" is the comprehensive service center of Tangdan Culture and Tourism. It will rely on the existing public space of Sahai Village, integrate tourists' tourism needs and future development needs, and rely on good terrain conditions and gateway location advantages to build the current stage of Xiaoqinghe Scenic Spot Tourism Service Center, as Scenic reception service distribution center. Relying on the existing leveled site and waterfront ecological landscape resources, it will create a leisure cultural tourism business and a water-friendly entertainment format, and create a highland for Tangdan cultural experience.

Xiaoqinghe planning layout
"One corridor" is Aiming at the natural conditions of the Xiaoqing River rafting section, such as the channel, drop, flow rate, and the regional cultural development of the ancient copper transport road, create a river-type rafting with thrilling, adventurous, and distinctive cultural themes, implanted with cultural elements of the ancient copper transport road, colorful ecology Sightseeing as the highlight, creativity
"Passionate fast drift", "Leisure slow drift"
and other themed products.
"Five groups" refers to the five groups to be built by the project, including Wugui Mountain Flower Sea B&B, themed hot spring wellness, waterfront camp vacation, beach sports and recreation, and colorful hometown experience.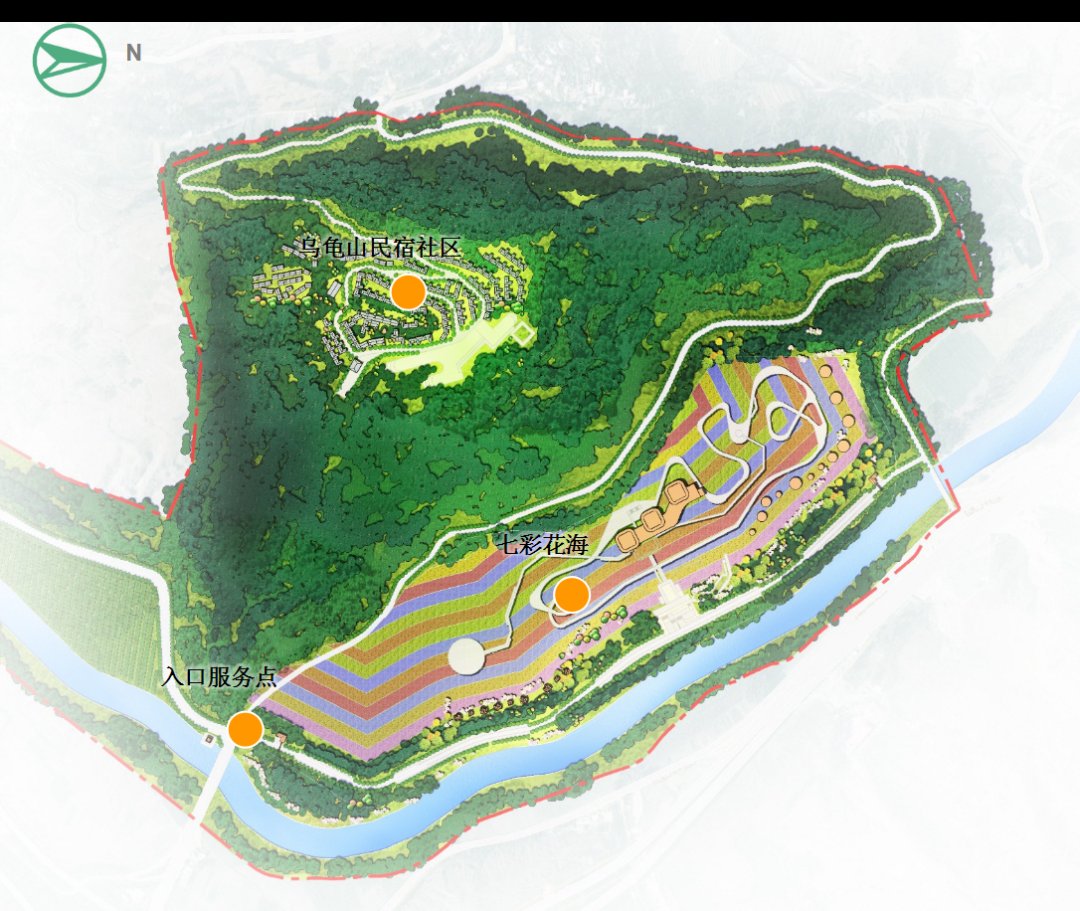 Flower Sea B&B group plan
In the future, tourists will Xiaoqing River can not only soak in hot springs, watch the colorful flower sea landscape, terraced fields, but also experience small off-road fields, hydrophilic parks, swing valleys, slide parks and other amusement projects.
3. In the future, tourists can visit the Snow Mountain Cultural Tourism Project through the "Air Sightseeing System"
The Snow Mountain Cultural Tourism Project in Dongchuan District is another major project mentioned in the document. The total planned area is 69.22 square kilometers, including core resources such as Lainiping, Suiyipo, Niudongping, Shuangtangzi, Fairy Pond, Huangshuiqing Grand Canyon, Niudong, photovoltaic power plant, and Xiaohe Reservoir.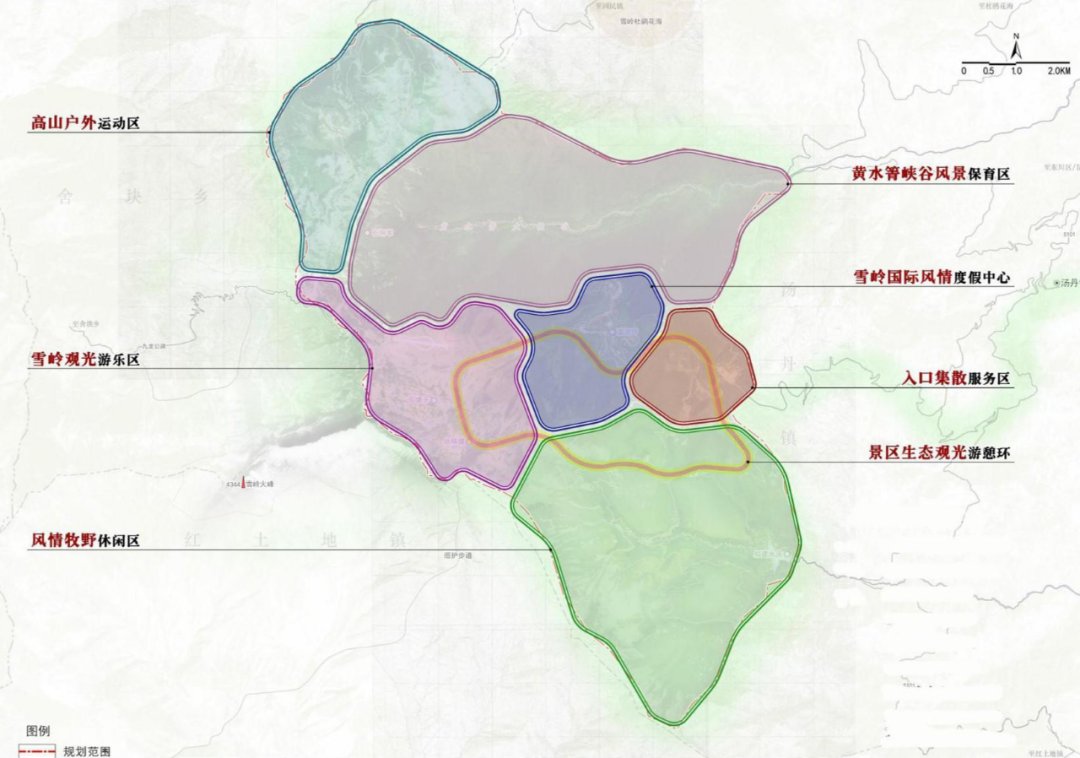 Planning and Layout of Snow Mountain
In the future, tourists can experience it here To the 4344-meter highest peak in central Yunnan, Snow Mountain, Rizhao Jinshan, and plateau farming and animal husbandry sightseeing; experience the ultimate accommodation in Snowfield Hotel and Starry Sky Camp; and experience the ultimate entertainment of skiing, cross-country and extreme sports.
Snow Mountain adopts the planning and layout of "one center, one ring and five districts". in:
"One Heart" refers to the Xueling International Style Holiday Center, which will create a cultural and tourism characteristic holiday center integrating themed shopping, style vacations, performing arts theaters, cultural and creative parks, and theme activities.
"One Ring" will create an ecological sightseeing and recreation ring that integrates the functions of "traffic series, landscape recreation, and cultural experience".
"Five areas" refers to the entrance distribution service area, the snow mountain sightseeing and recreation area, the alpine outdoor sports area, the Fengfeng Muye leisure area and the Huangshuiqing Canyon Scenic Conservation Area.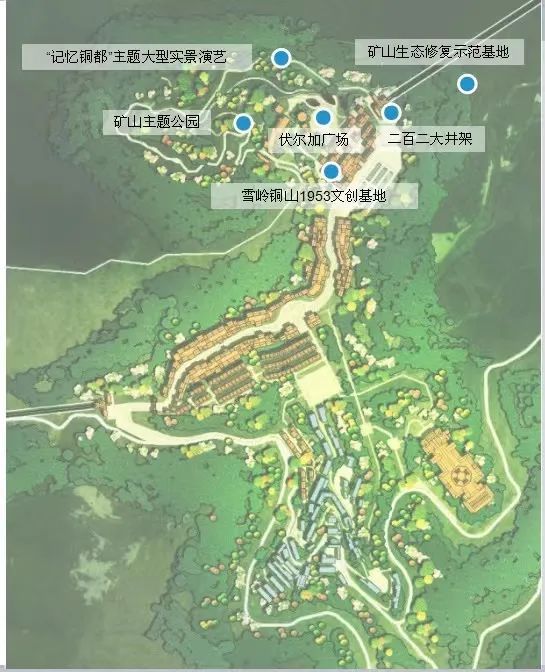 Planning map of mine park
Among them, The Snow Ridge Sightseeing and Recreation Area will build an international ski resort and a Snow Mythology theme park. Snow Myth Theme Park will rely on fairy pond myths and legends and meteorological wonders to create a cultural and creative theme IP with mythology, relying on the lake surface with the help of virtual reality technology and dance acrobatics and other skills to create an immersive somatosensory drama "Snow Mountain Myth".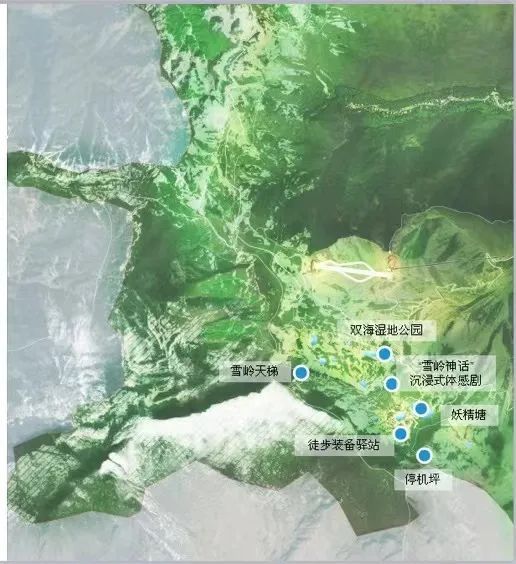 Planning map of Snow Myth Theme Park
It is worth mentioning Yes, the Snow Mountain Cultural Tourism Project will create an "air sightseeing system", where tourists can view the scenery through helicopters, sky ropeways, and cloud sea ropeways.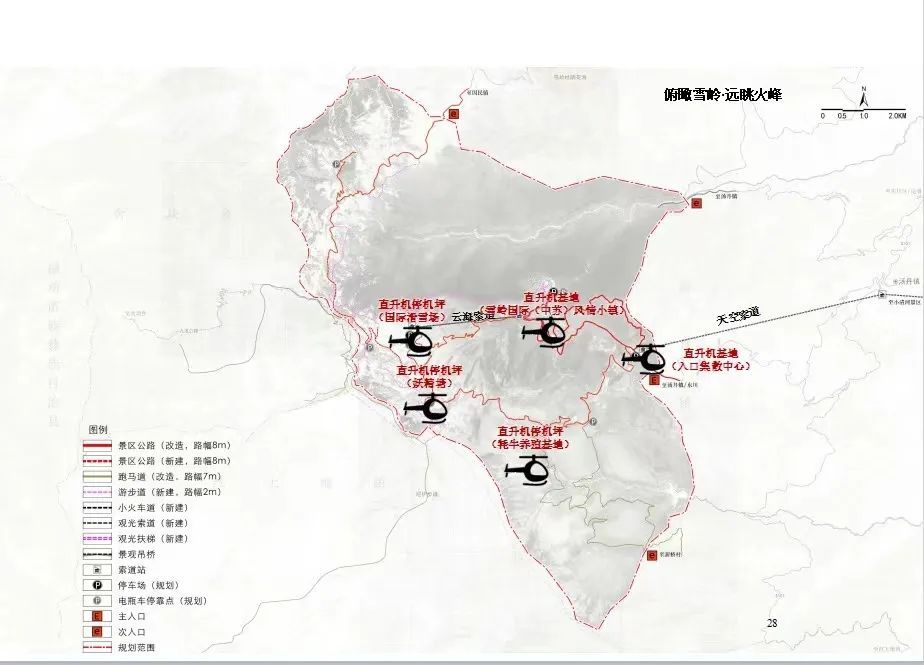 Aerial Sightseeing System
【Buying information is easy to enjoy, fast Come and pay attention to Leju.com]
Article source: Metropolis Times