According to incomplete statistics, there are only about 1,000 professional hair transplant doctors with complete medical qualifications in the hair transplant industry in China. At present, Yonghe Medical has about 300 doctors. From the perspective of the number of doctors, nearly one third of the world has one.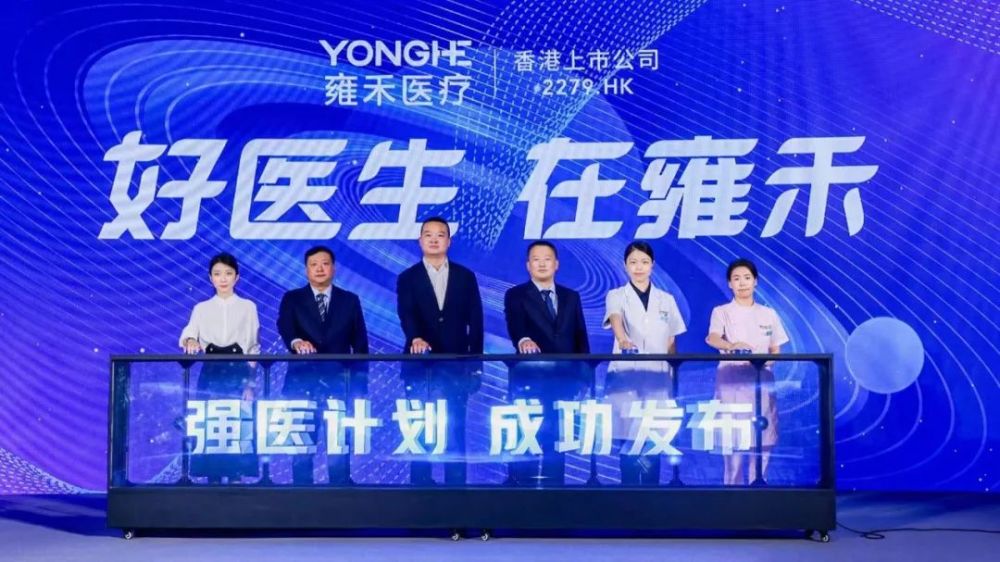 Text | Shi Huai
Anxiety about hair volume and baldness has become a pain for many people, and the hair transplant market has ushered in rapid development. A hair loss population survey released by the National Health and Health Commission shows that there are more than 250 million hair loss populations in my country, and an average of one in every six people suffers from hair loss. Among the people with hair loss, the 20-40 years old accounted for a large proportion. According to CIC data, the compound annual growth rate of China's hair medical service market is as high as 23.5%. It is expected to reach 71.2 billion yuan by 2026.
At the end of 2021, Yonghe Medical (02279.HK) was successfully listed in Hong Kong, becoming the first listed hair transplant company in China. Later, the barley hair transplant hit the Hong Kong stock IPO, and the chairman of Biliansheng also said that the company was planning to go public.
At the same time, the competition in the industry has intensified, and hair transplant institutions are mixed, resulting in chaos and development difficulties in the industry. How to solve various problems in the development of the hair transplant industry, at the "2022 Yonghe Medical Brand Values ​​and New Product Launch Conference" held recently, Yonghe Medical COO (Chief Operating Officer) Xu Yang put forward a Yonghe perspective for the healthy development of the industry. Solution: A good hair transplant lies in a good doctor. Yonghe Medical hopes to use more and better medical resources, especially doctor resources, to solve the industry development dilemma.
The hidden worries under the prosperity of the hair transplant industry
On the black cat complaint platform, consumers have nearly 300 complaints against hair transplant institutions. The complaints include false propaganda, unsatisfactory effects, induced consumption, and high fees.
The outstanding problems of the hair transplant industry are reflected in several aspects:
One ​​is "Shadow Doctor". That is to say, some doctors who hold a practicing certificate do not perform the surgery in person, and the whole process is replaced by a nurse, and the doctor is just a decoration. Such "shadow doctors" pose a great risk to consumer safety.
The second is "surgical packaging". Hair transplant technology is not complicated, nor is it sophisticated technology. However, many private hair transplant institutions package different methods of hair transplant into seemingly mysterious and high-end "unique skills", inducing consumers to mistakenly believe in some concepts, thereby raising the asking price.
The third is to induce consumption. For example, some institutions attract consumers to the store with low-cost publicity methods such as "1 yuan to plant 200 hair follicle units", but the actual services provided do not match the publicity, or extra high fees are charged during and after surgery.
In addition, many hair transplant agencies are sales-oriented, with many salespeople and no doctor. In these institutions, the guidance and face-to-face consultations are all sales staff. They will spare no effort to promote products and services, and even create "appearance anxiety" to consumers, and then mislead consumers with various unrealistic promises. Blind and impulsive consumption.
From the current market situation, what the hair transplant industry lacks is neither market space nor technology, but norms, integrity and doctors. In particular, the lack of "good doctors" restricts the healthy and healthy development of the industry.
How "good doctor" is defined
The key to the effect of hair transplant is to see a doctor. What skills does a "good doctor" need? It can be analyzed from the two dimensions of hard skills and soft skills.
First of all, the essence of the hair medical industry is "medical care", and there are certain professional thresholds. For hair transplant institutions, the entire process of hair transplant surgery is time-consuming and labor-intensive, and the extraction of hair follicles requires very delicate techniques. The chief surgeon must not only have relevant professional qualifications, but also undergo rigorous professional training and have long-term clinical experience in order to lead the close cooperation of the entire team. If unqualified doctors in informal institutions are not skilled enough or operate improperly, the patient's hair follicles may become infected and the operation will fail.
Hard skills refer to a doctor's professional medical ability. It includes not only the ability of surgical quality and surgical experience, but also the ability of diagnosis and treatment, that is, to provide personalized diagnosis and treatment plans based on the situation of different patients.
The hair medical industry also has a consumer nature. The patients of hair medical institutions are also called "customers" and "consumers", and the service ability is very important. For doctors, soft skills refer to the ability of doctors to serve customers, including medical ethics, patient experience, and communication with patients. Further, doctors should be altruistic, not sales-oriented, but responsible for the treatment effect of patients.
Hard skills and soft skills are indispensable, and they complement each other to reduce conflicts between doctors and patients and bring high-quality medical service experience to patients.
At present, there are very few good hair transplant doctors in the industry, and there are very few hair transplant institutions that are willing to train good doctors. This is the "top problem" that has plagued China's hair transplant industry for many years. Therefore, "good doctor" has always been regarded as the core competitiveness of hair transplant institutions.
According to incomplete statistics, there are only about 1,000 professional hair transplant doctors with complete medical qualifications in the hair transplant industry in China.
Among them, hair transplant doctors who have undergone rigorous training and assessment, can standardize various operations, and have experience in routine hair loss diagnosis and treatment are already the backbone of the industry. There are very few doctors who have rich experience in hair transplant surgery and aesthetics, and who can skillfully operate artistic implants.
Judging from the current hair transplant institutions, the institution with the largest number of registered doctors is Yonghe Medical. According to the 2021 interim report, Yonghe Medical has a total of 246 registered doctors and 919Nurses, a total of 1233 people. According to the 2022 semi-annual report, Yonghe Medical already has 291 registered doctors. In 2020, Yonghe Medical has only 117 doctors, and the number of its doctors is increasing rapidly.
Which measures of Yonghe Medical to cultivate doctors are worth learning from the industry?
It is reported that in order to solve the problem of scarcity of doctors, as early as 2011, Yonghe Medical established a hair transplant technology research institute, and gradually established a standardized education and training system for hair transplant doctors.
First of all, Yonghe Medical only recruits "registered doctors" with "relevant practice experience", and these doctors basically have 5 years of practice experience in public hospitals. Qualification compliance is the basic threshold for doctors.
Secondly, after entering Yonghe, new doctors must start from the study of hair transplantation theory and undergo systematic training through multiple stages such as simulation exercises, surgical observation, and surgical assistants.
Again, new doctors must pass both theoretical and practical assessments before they can start clinical practice under the guidance of their instructors.
Through this complete system, Yonghe Medical has established the largest professional medical care team in the industry.
At the same time, Yonghe Medical has also continuously upgraded the "goodness" of doctors.
In 2019, Yonghe Medical put forward the concept of "good hair transplant lies in a good doctor", and "good doctor" includes not only "good doctors in surgery", but also "good doctors in outpatient clinics".
For this reason, Yonghe Medical implements the "doctor outpatient system", which establishes the basic principle of "doctors in person, and non-medical personnel cannot substitute for doctors", emphasizing that doctors must make professional After diagnosis, follow-up treatment can be initiated. This broke the norm for salespeople to receive visits.
For Yonghe Medical, "good doctor" has become a value on the road of development.
Strong Doctors Program: Good Doctors Up AgainLevels
At the "2022 Yonghe Medical Brand Values ​​and New Product Launch Conference" on September 21, Yonghe Medical officially announced its values: a good doctor, in Yonghe. And officially launched the "Strong Medical Plan" to conduct in-depth exploration of the healthy development of the industry.
"Strong Doctor Program" is an upgrade of Yonghe Medical's "Good Doctor" system. By strengthening diagnostic capabilities, strengthening technical capabilities, strengthening industry-university-research capabilities, and strengthening the construction of the doctor system, we will continue to improve the level of doctors' medical services.
One is to strengthen diagnostic capabilities.
In the field of hair loss diagnosis and treatment, Yonghe Medical requires the full implementation of the "integrated diagnosis process", and outpatient doctors must achieve "two clear" and "two capable", namely: first, It can clearly diagnose common skin and hair problems, and clearly provide treatment plans that match different hair loss groups and periods. Second, it can operate hair transplant surgery and mesodermal treatment, and can provide comprehensive diagnosis and treatment plans.
For example, if the patient's health does not allow hair transplantation, the doctor will use various non-surgical methods such as drug therapy, laser physiotherapy, and medical rehabilitation, and strongly recommend that the patient not undergo surgery.
Second, strengthen technical capabilities. In the "Strong Medical Plan", Yonghe Medical clearly requires surgeons to develop high-standard and comprehensive technologies in the fields of male "three-distribution" implantation, aesthetic implantation (hairline implantation, eyebrow implantation) and other fields Upgrade certification.
When talking about how to achieve results through technical capabilities, Yonghe Medical COO Xu Yang said that for hair loss, the most direct solution is hair transplant. Currently, 70% of hair problems have passed Hair transplant is solved, so the quality of hair transplant surgery is the key. Due to the high degree of homogeneity of hair transplant surgery, standardized assessment can be achieved, so Yonghe Medical evaluates each operation of the doctor to let the doctor know the quality of the operation and the areas that need to be improved. Rank and implement the last-place elimination system.
Third, strengthen industry-university-research collaboration. In the field of academic exchanges, Yonghe regularly organizes academic conferences and builds academic platforms, so that its medical team maintains frequent communication with industry experts, so as to learn from the advanced experience of the hair industry and continuously improve the medical standard.
For example, the 2022 diagnosis and treatment training seminar held by Yonghe Medical invited experts and professors from Peking University People's Hospital and Beijing Tongren Hospital to discuss integrated diagnosis and treatment, hair transplant aesthetic design, consultation of difficult cases, etc. issue.
Fourth, strengthen the construction of the doctor system. In 2022, Yonghe Medical established the "Grading Evaluation System for Hair Transplant Doctors", which divides doctors into four doctor levels: business director, business director, director Yong Xiang, and director Yong Xiang, representing academic ability, surgical clinical experience and personalization. design level.
The doctor's grading evaluation system clearly lists four major evaluation indicators, and only the operation quality is subdivided into 24 evaluation latitudes. Among them, medical quality accounts for the highest weight, reaching 50%, followed by years of experience, with a weight of 20%, and medical qualifications and service capabilities also account for 15%.
In this regard, Xu Yang said, "Grading reflects the value of doctors, and at the same time, it can satisfy the needs of society and customers to recognize doctors, select doctors and evaluate doctors, which is the most fair. way."
Bring more "good doctors" through the "Strong Doctor Program", and use "good doctors" to bring "good hair transplants" and even "good hair", Yonghe Medical hopes to use solid talents The echelon supports the rapid expansion of the industry. While raising the industry threshold, it reduces the breeding space for industry chaos and brings about the healthy development of the industry. Yonghe's "prescription" may bring about a completely new hair medical industry.