Nowadays, local tours and surrounding tours have become popular choices for vacations. Camping has gradually become a fashionable outdoor leisure activity for young people, and there is a huge camping economy hidden behind it. Among them, camp tents have become one of the categories with the fastest sales growth on e-commerce platforms.
iiMedia Ranking recently released "Top 20 Chinese Outdoor Tent Brands in 2022". This list adopts the iiMeval big data evaluation model to calculate the assignment value. It is generated by analyzing and calculating the comprehensive strength of the company, online e-commerce platform sales, the whole network media communication situation, and user word-of-mouth research, combined with the evaluation of professional analysts. The brands on the list this time include Camel, Mugao Di, Explorer, Decathlon, Wolf Walker, Pathfinder, NatureHike, Himalaya, North Face, RXW, Beishan Wolf, Antarctic Man, Donkey Shield, Vidiri, Primitive Man, Arctic Wolf, Black Deer, Dragon Walker, TAWA, Wolf Claw.

Camel won the laurel crown, Mu Gao Di and Explorer ranked second and third respectively
In this list, Camel is far ahead with the Gold List Index of 91.04, and Mu Gao is the second Di and the third-placed Explorer Gold List Index were 83.96 and 82.64, respectively.
Since Camel entered the professional outdoor field, its professional and dedicated concept and the pursuit of perfect product design have accumulated a large number of users for the brand. According to public information, on the day of "Double 11" in 2021, as of 23:59, the Camel brand has won 11 Tmall category sales champions, of which tent sales won the corresponding category single product champion.
Mu Gao Di – professional outdoor travel equipment. Since the Cold Mountain Tent in 2003, Mu Gaodi has adhered to the concept of "camping professionalism". After ten years of development, Mugaodi has designed and developed professional equipment for various outdoor sports such as outdoor adventure, hiking, travel, camping, trail running, etc., and continues to innovate and launch nearly 1,000 new products every year.
Explorer is affiliated to Shaoxing Shangyu Camper Outdoor Products Co., Ltd., focusing on creating an outdoor light luxury life. In 2003, we began to contact tents. In 2006, we officially established the first tent factory. In 2010, we launched the Explorer brand and started the brand road.
"local tours" and "surrounding tours" are very popular, and the camping economy takes off
According to iiMedia Research (iiMedia Consulting) data, both the core market size and driving market size of China's camping economy have shown an upward trend year by year. In 2021, the core market size of China's camping economy will reach 74.75 billion yuan, a year-on-year increase of 62.5%; the driving market size will be 381.23 billion yuan, a year-on-year increase of 58.5%. It is estimated that the core market size of China's camping economy will rise to 248.32 billion yuan in 2025, driving the market size to 1,440.28 billion yuan.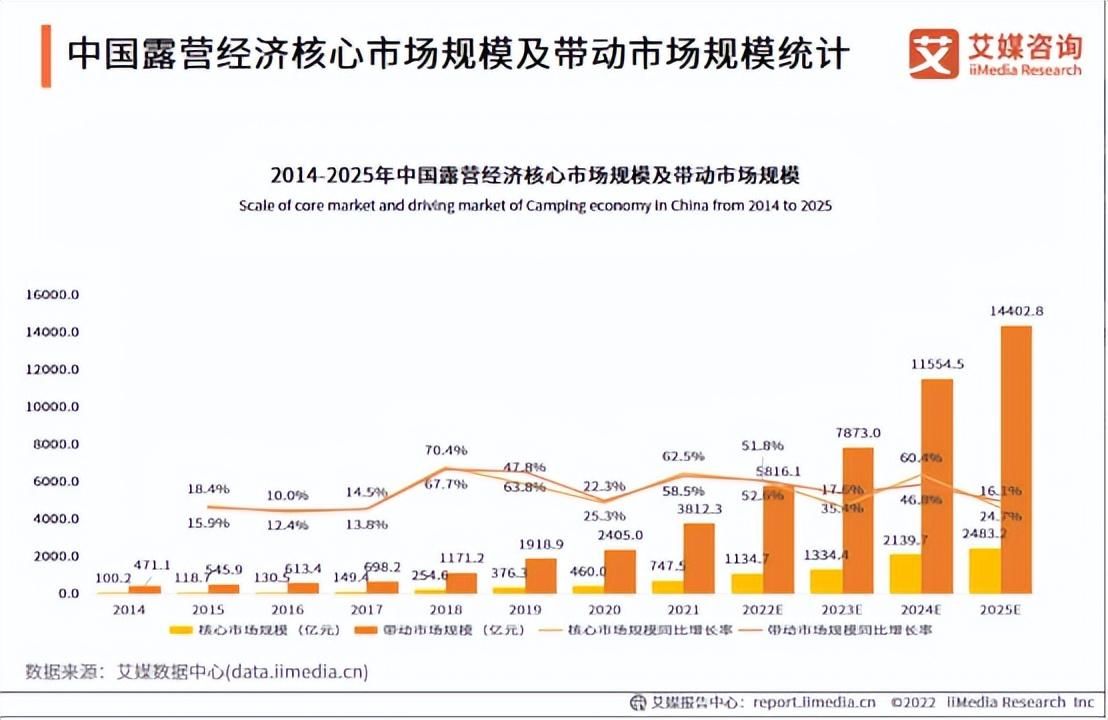 Over 70% of Chinese camping consumers Purchased tents
According to data from iiMedia Research, among the selection of camping equipment, consumers who purchased tents accounted for the largest proportion, reaching 71.8%. . And more than half of consumers have purchased moisture-proof mats, sleeping bags and tent lights. It is worth noting that 21.3% of camping consumers have purchased exquisite camping equipment, such as star lamps and kerosene lamps.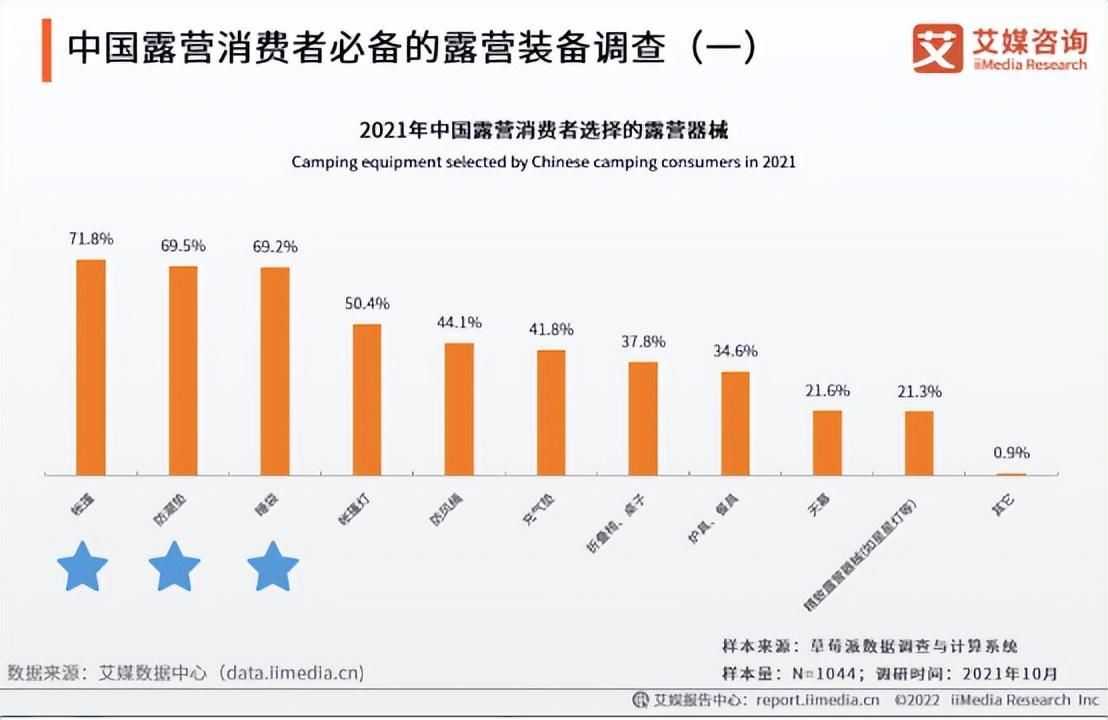 camping industry becomes new consumption growth
Camping, as a new type of tourism, is in line with the current situation of tourism development affected by the epidemic, and caters to the rapid development of self-driving tourism and tourism in China. Self-service travel market demand. Under the background of consumption upgrading and the strong support of relevant national policies, the camping industry will become a new consumption growth point. In the future, with the development of the camping industry, more specialized and diversified products will be applied to tourism development, promoting the camping industry and driving the rapid development of the industry.