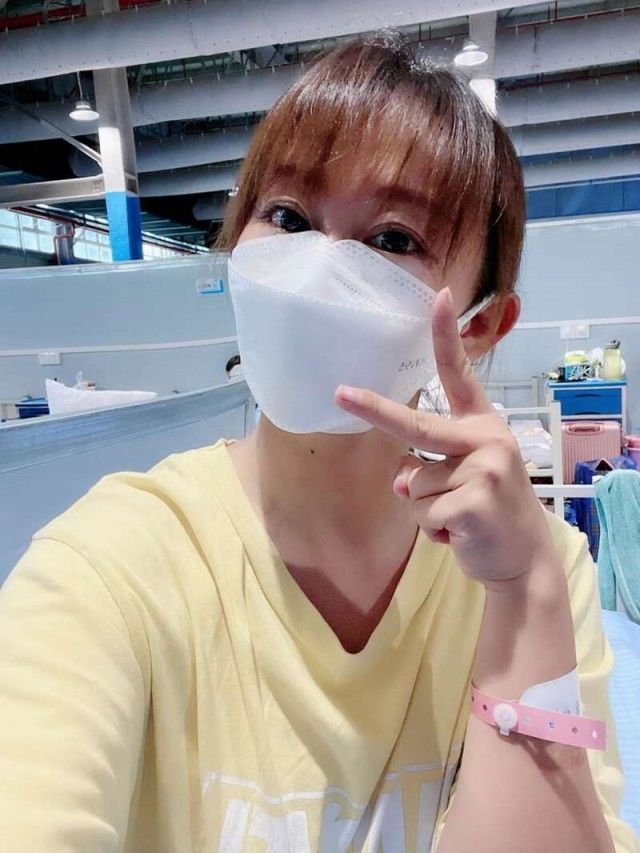 Fan Fan at the makeshift hospital in Jiyang District, Sanya City. Photo courtesy of the respondent
China Youth Daily client, Haikou, August 10th (Li Zhengyan, China Youth Daily, China Youth Daily reporter Ren Mingchao) Fan Fan (pseudonym) born in the 90s is an authentic Harbin girl, cheerful, smiling and dancing. Because of the repeated epidemics in Harbin, a few months ago, she came to Sanya single, ready to start a new life.
On August 1, the first case of this round of the epidemic occurred in Sanya. From August 2 to 4, Fan Fan, who lives on Shengli Road in Sanya, went to participate in the nucleic acid test. "The nucleic acid results were normal for the first two days. I called in the early morning of the 5th and said that my nucleic acid test was positive." Fan Fan said that at that time My heart skipped a beat.
At 6:00 a.m. on August 5, a medical staff came to collect nucleic acid, and the test result was still positive. On August 6, Fan Fan was notified that he would be taken to the Fangcang shelter hospital in Jiyang District, Sanya City. The whole city of Sanya also started temporary global static management from 6:00 that day.
As an emergency project in Sanya, Jiyang District Fangcai Hospital was completed and delivered at the end of June, with a total construction area of ​​27,800 square meters and 1,828 beds. Fan Fan did not expect that he escaped the epidemic in Harbin, but still became the first "guests" of Sanya Fangcai Hospital.
Fan Fan started to pack his luggage after receiving the phone call to inform him that he was going to the cabin, "I guess they wouldn't come so fast, so I packed up slowly. I brought a lot of things with me. In addition to daily necessities, I also brought Masks, and even snacks." Fan Fan said, he took a picture of his packed luggage to show his friends, and was joked that this was going to a makeshift hospital or a vacation.
"I got into the car at 9:00 p.m., and the medical staff also picked up other people. A total of 12 people arrived at the makeshift hospital at 2:00 in the middle of the night, and everyone checked in at 4:00 in the morning." Fan Fan said, in addition to the pick-up process Except for not getting out of the car or going to the toilet, the whole process went smoothly.
On the second day of staying in the cabin, a Chinese doctor diagnosed everyone. Fan Fan said, "The doctor showed us the tongue, prescribed some traditional Chinese medicine, and physically cooled some people with fever."
During the days in the cabin, Fan Fan would not only do some work online, but also chat with friends and follow dramas. "My friends gave me a lot of encouragement, and now I don't feel that nervous at the beginning." Fan Fan said.
August 9 was Fan Fan's third day in the cabin. On the same day, a total of 1,210 confirmed cases and 736 asymptomatic infections have been found in Sanya. Fan Fan saw that some garbage was piled up in the corridor and was not collected in time. She was worried about the pollution problem, so she went to "Dabai" to ask, and got a reply that she was coordinating and solving it.
On the same day, the first members of the Guangdong Aid Qiong Medical Team entered the Fangcang shelter hospital in Jiyang District. Together with the local medical team in Hainan, they started the treatment in an all-round way. The problems reported by Fan Fan were also effectively solved one by one.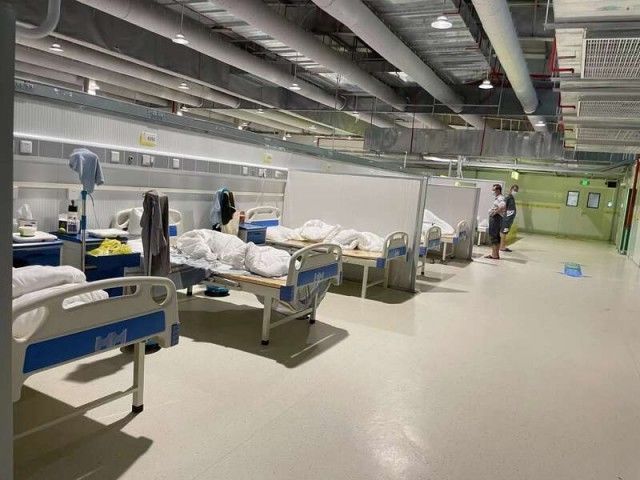 The real scene of the makeshift hospital in Jiyang District, Sanya. Photo courtesy of the respondent
Fan Fan has not shown any symptoms yet. On the afternoon of the 9th, she started a live broadcast. "What does the cabin look like?" "It's exactly the same as the one on TV." "Is there a VIP room?" "No, it's all the same here." Facing the questions from netizens, Fan Fan replied one by one in front of the camera, "Everyone is very friendly. Concerned about our condition in the shelter."
Compared with herself now laughing and talking, Fan Fan said that she was still very nervous after the single-tube collection was confirmed to be positive. During the phone call with the staff who did the flow adjustment, she repeatedly asked, "I won't be recruited, right?" The staff on the other end of the phone smiled and advised her not to be nervous.
"It mainly affects the friends around me. It got better later on. After all, it has been three years since the epidemic, and I was normal once. I was a volunteer when I was in Harbin, and I felt that the virus was not so scary." Fan Fan said , My three friends are now in isolation in the hotel because they are in close contact. They have done several nucleic acid tests, and the current results are all negative.
There are 18 beds in the cabin where Fan Fan lives. According to her observation, there are not many beds left, and everyone's symptoms are relatively mild. "Everyone wears masks, except when they eat, they don't take them off when they sleep. I even wear masks when I'm making masks, and I'm not used to it without a mask," Fan Fan said.
At 7 p.m. on August 9th, Fan Fan did a nucleic acid test. In the middle of the night, "Da Bai" began to clean up the rubbish in the corridor. Fan Fan recorded it with the camera and posted it on the Internet to like them. "Sanya has never experienced an epidemic of this scale, and the response speed has been very fast."
Recalling the experience during this period, Fan Fan felt that his heart was "funny". She has been working and living in Harbin. Due to the frequent local epidemics, the tourism industry she is engaged in has been significantly impacted. According to her statistics, she only works for 3 months in 12 months a year. So she started planning to go to another city.
Fan Fan chose two places with sea, Qingdao, Shandong and Sanya, Hainan. Finally, in February this year, she came to Sanya with her luggage. "At that time, she thought of going to a far place."
Fan Fan came to Sanya to work in a surf club. In March this year, Sanya experienced an epidemic, and Fan Fan only started to return to normal work at the end of April. "In the first wave of August, I became positive, and my friends joked that the virus was chasing me," Fan Fan said.
After Fan Fan, who was alone in Sanya, moved into the cabin, his family in Harbin was very worried. Fan Fan said, "Old Fan sent me a message saying that he would come back to me after leaving the hospital, and my father would support him without a job. It was very warm to read the message."
At 16:30 pm on August 10th, Fan Fan's latest nucleic acid result showed that it was negative.