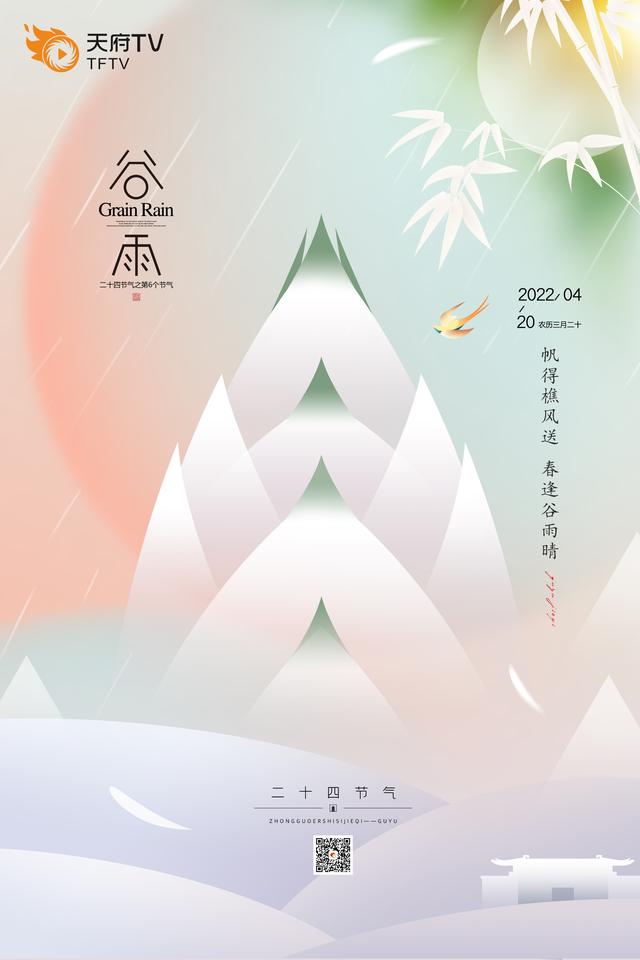 Today's Grain Rain.
Grain rain is the last solar term in spring. "Qingming breaks snow, Grain rain breaks frost", as soon as Grain Rain arrives, the temperature rises significantly, and the rainfall increases day by day. At this time, the first seedlings in the fields and new crops need the moisture of rain, so it is said that "spring rain is as expensive as oil".
In the Ming Dynasty, there was a book about plants, called "Quanfangpu", which said: " The fifteenth day after the Qingming Festival is the Grain Rain, the rain is the harmony of heaven and earth, and the grain is born from the rain."
Grain rain means "rain produces hundreds of grains." From this day onwards, the rainfall increased and the weather was mild. The rain fell on the soil and grains grew out of the soil. The earth is silent, silently promoting the cycle of life.
Three Hours of Guyu
The first one is born, and the second Ming Dove flicks its feathers, and Dai Sheng surrenders to Sang for the third time.
The duckweed begins to grow: the rainfall increases before and after the Grain Rain, and the duckweed begins to grow.
Secondly, the dove flicks its feathers: the dove is the cuckoo. At this time, the cuckoo chirped, reminding people to start planting in the field.
Three times the hoopoe descends to the mulberry: the hoopoe is also known as the cockscomb, at this time the mulberry tree , the hoopoe began to be seen, this is a signal that the silkworm baby is about to grow
The Poetry of Gu Yu
Master Xie Zhong sent tea
Tang Qiji
Before the spring valley rain, And hand picking fragrant cigarettes.
Green is tender and difficult to fill the cage, clear and easy to Wantian.
And recruit neighbors, try cooking Luohuaquan.
Early and far away, we are sent to each other, and there is no coming again every other year.
Laoputang
Tang·Cao Ye
Shao Ping took over my house in melon land, and hoeed by hand when Gu Yu was dry.
Yesterday, when the spring breeze was not there, I fell out of bed and read the remnants of books.
The day before Grain Rain
[Qing] Zhu Zhongmei
Xiaoyuan burned incense and teased the green yarn, and spread the book to note Nanhua at will.
The spring shirt is still timid when it is not cut, and it is slanted at the beginning of the afternoon dream.
Outside the lake, only weak willows can sleep, who will pay for new tea before the rain.
Zhonghuai's veins are not free, just look at the hairspring decorated with falling flowers.