On April 19, an official letter signed as Midea Group's China region circulated on the Internet.
The official letter shows that all categories of Midea will be withdrawn from the GOME Jinan branch from now on, and all GOME Jinan branch Midea Group will be stationed in China as a shopping guide, and all categories will be temporarily shipped to the GOME Jinan branch.
GOME responded that "a solution is being negotiated".
The incident started on April 15, 2022 when employees of the Jinan Gome branch physically assaulted Midea employees.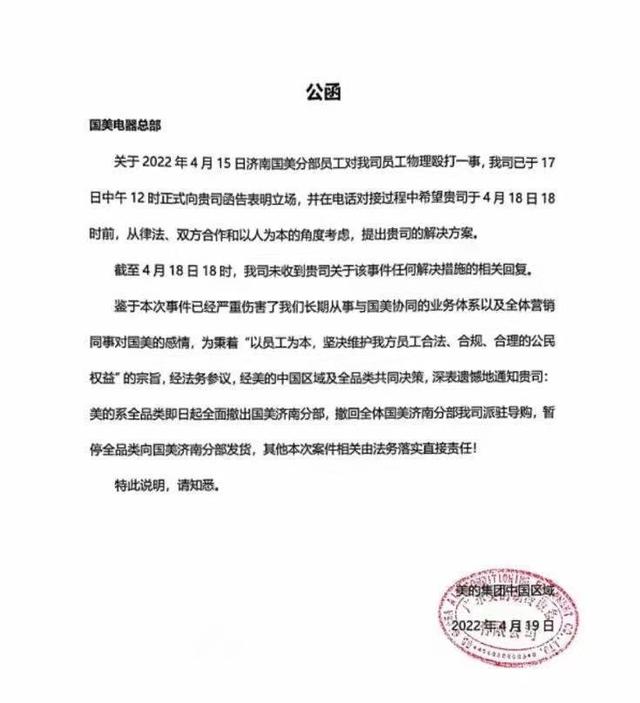 The official letter shows that Midea's China region has officially stated its position to Gome at 12:00 on the 17th, and hoped that during the phone call Before 18:00 on April 18, GOME proposed a solution for GOME from the perspective of law, bilateral cooperation and people-oriented.
As of 18:00 on April 18, Midea's China region has not received any reply from Gome on any resolution measures for the incident.
The official letter stated that in view of the fact that this incident has seriously hurt the business system that Midea has been engaged in for a long time in collaboration with Gome in China and the feelings of all marketing colleagues for Gome, in order to adhere to the principle of "employee-oriented, resolutely safeguard our company" The purpose of the legal, compliant and reasonable civil rights and interests of all employees", after legal consultation, and through the joint decision of Midea China region and all categories:
"Midea's all categories will be fully withdrawn from GOME Jinan Branch from now on. , withdraw all GOME Jinan branch Midea's shopping guides in China, suspend the delivery of all categories to GOME Jinan branch, and the legal affairs will be directly responsible for other matters related to this case."
At present, in Gome "I'm really happy" In the APP", Midea products can still be found in Jinan stores such as Gome Experience Store (Jinan Bayi Store) and Gome Experience Store (Jinan Gome Ximen Electric City).
On March 31, Gome announced its 2021 annual report. This is the first transcript handed over by the founder and core soul of Gome, Huang Guangyu, after returning to take charge of the company.
The financial report shows that Gome Retail will achieve sales revenue of about 46.484 billion yuan in 2021, a year-on-year increase of 5.36%; the net profit attributable to the parent is 4.402 billion yuan, and the loss narrows by 37.06%.