This article is from: Guangming.com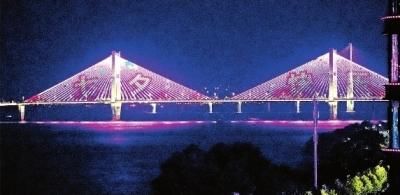 August 4th, the Qixi Festival theme light show was staged on the Second Yangtze River Bridge.
Photo by He Xiaogang, Changjiang Daily reporter
Changjiang Daily News (Reporter Huang Lijuan, Correspondent Baishi) This year, young tourists pay more attention to various traditional cultural experiences during the Qixi Festival, such as "garden fairs" and "Qiaoqiao Festival". " and other festival themes rich in traditional Chinese culture have attracted the attention of tourists. On August 4, on the occasion of the Qixi Festival, Tongcheng Travel released the "2022 Qixi Festival Travel Consumption Report", showing that in the week before the 2022 Qixi Festival, the popularity of "Qixi"-related tourism increased by 304%. Parent-child tourists account for more than half of the Qixi Festival tourists, and scenic spots such as cultural relics, ancient towns and gardens have become popular choices for people to experience the traditional Qixi Festival.
This year's Qixi Festival, many scenic spots and hotels will extend the relevant activities to the two weekends before and after the festival, making local tours and surrounding tours the mainstream of travel. According to the big data of Tongcheng Travel, in the week before the Qixi Festival, the search volume of hotels increased by 21% month-on-month, the search volume of homestays increased by 55% month-on-month, and the search volume of various scenic spots increased by 67% month-on-month.
This year's Qixi Festival, garden party, Qiqiao Festival, etc. have become the most concerned travel keywords for young tourists. Many traditional culture-related festival-themed activities such as pot-throwing, needle-throwing skills, cultural markets, and Hanfu garden fairs launched in major destinations and scenic spots have attracted many young tourists to go out and experience. Among various scenic spots, cultural relics and ancient garden towns have become popular types of scenic spots for the Qixi Festival. Night markets, night cruises, night scenic tours and various performances are the main choices for people to visit during the Qixi Festival. Taking advantage of the "Qixi + Weekend", major scenic spots in Wuhan have also launched related themed activities and preferential benefits. Mulan Prairie fireworks are added for love. After 20:30 on Thursday, Friday and Saturday, the music fireworks show ignites love, and heart-shaped fireworks "assist". As of August 7, the original price of 170 yuan per night ticket for Wuhan Maya Beach is only 120 yuan per ticket. Caidian Huabohui Scenic Spot will pre-sell night tickets for "Zhiyin Shengyan · Huabohui" from August 3 to 5, with a limited time special offer of 69 yuan per person.
With the enrichment of cultural consumer products, the number of tourists traveling on the Qixi Festival has changed compared with previous years. According to data released by Tongcheng Travel, parent-child tourists accounted for 52% of the people who traveled on Qixi Festival this year, which is the mainstream customer group for Qixi Festival travel. The "Report" analyzed that this year's Qixi Festival is the summer vacation, and many parents choose to accompany their children to review historical knowledge and experience traditional culture during the festival. In contrast, couples accounted for only 11% of the Qixi Festival tourists, the lowest in the past years.