Editor's note:
With the advancement of medical technology today, biological agents have been put into clinical application and become "hot" in many departments. Do you know these "new friends"? Have you ever been confused by those catchy and seemingly random Chinese names paired with similar-looking English names? This article will take you to uncover the mystery of the naming of biological agents. I hope everyone can see that biological agents can be "as the name implies" from now on.
What are biologics?
Biologics are recombinant products that target some special antibodies or cytokines by applying genetic bioengineering technology, and are widely used in rheumatoid immune and inflammatory diseases, such as rheumatoid arthritis, psoriasis, Atopic dermatitis, etc. Compared with traditional drugs, biological agents have precise targets, rapid onset of action and relatively few side effects. According to immunogenicity, biological preparations can be divided into mouse monoclonal antibody, human-mouse chimeric monoclonal antibody, humanized monoclonal antibody, and fully human monoclonal antibody. The mouse monoclonal antibody is extracted from the mouse, completely encoded by the mouse gene, and has strong immunogenicity. The human-mouse chimeric mAb is composed of murine variable region (about 35%) + human constant region (about 65%). Further, the key recognition domain of the murine monoclonal antibody variable region was replaced with a human antibody, that is, about 5% murine + about 95% human, resulting in a humanized antibody. Fully human monoclonal antibodies are completely encoded by human genes, with low risk of producing anti-drug antibodies and good efficacy, but not fully human monoclonal antibodies are absolutely superior to humanized monoclonal antibodies.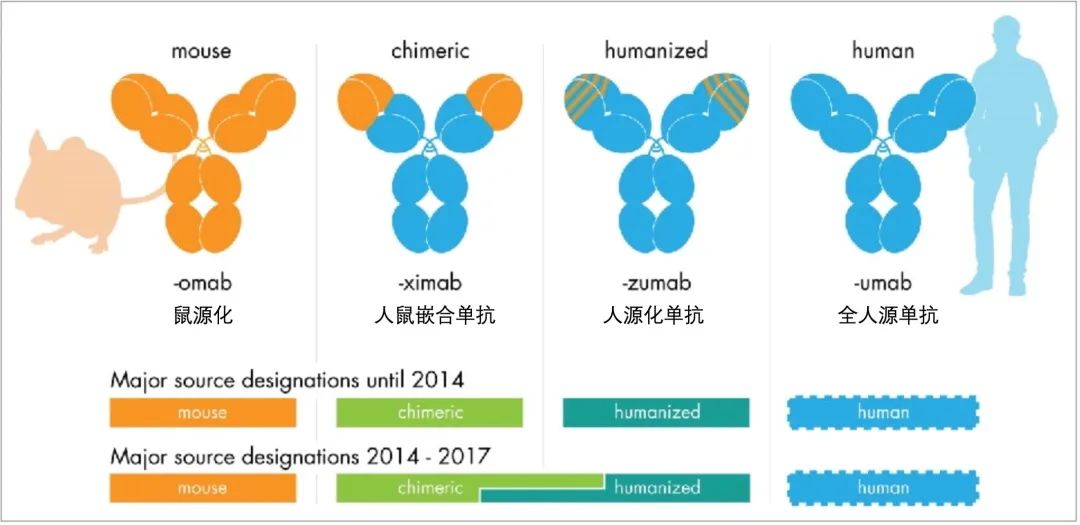 Figure 1 Immunogenicity and nomenclature of biologics (source: reference [1])< >
What are all the weird names?
As shown in the picture above, when you see some affixes, you can probably get some information about biologics (where, -mab stands for monoclonal antibody ). Before 2017, the naming rule formulated by WHO's International Non-proprietary Names (INN) Working Group is that the drug name consists of 4 parts, namely free name + target + antibody type + mab.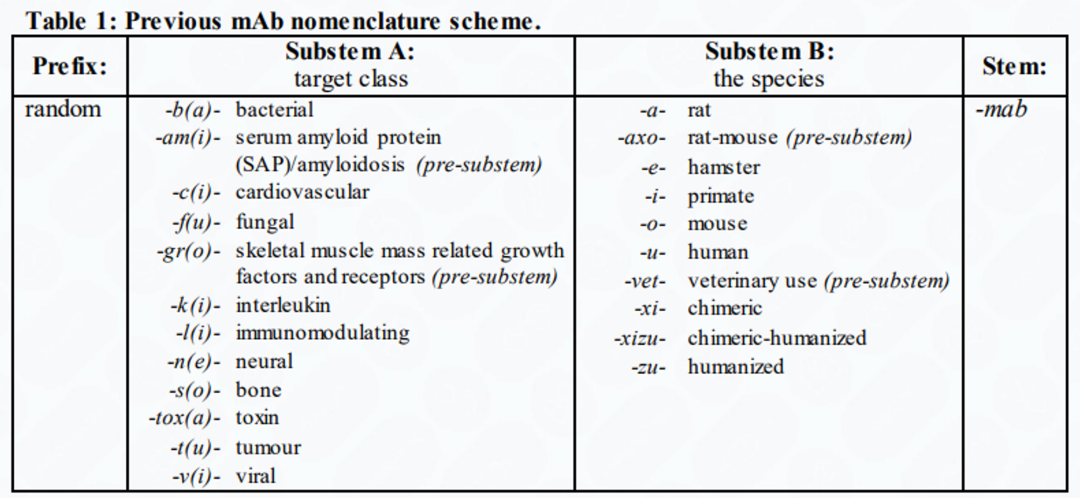 For example: ) = Ri (freely named) + tu (tumor target) + xi (human-mouse chimera) + mabIn 2017, due to clinical findings that the degree of immunogenicity and humanization are not consistent It is not directly related, so it was decided to cancel the substem B, that is, the part of the antibody type.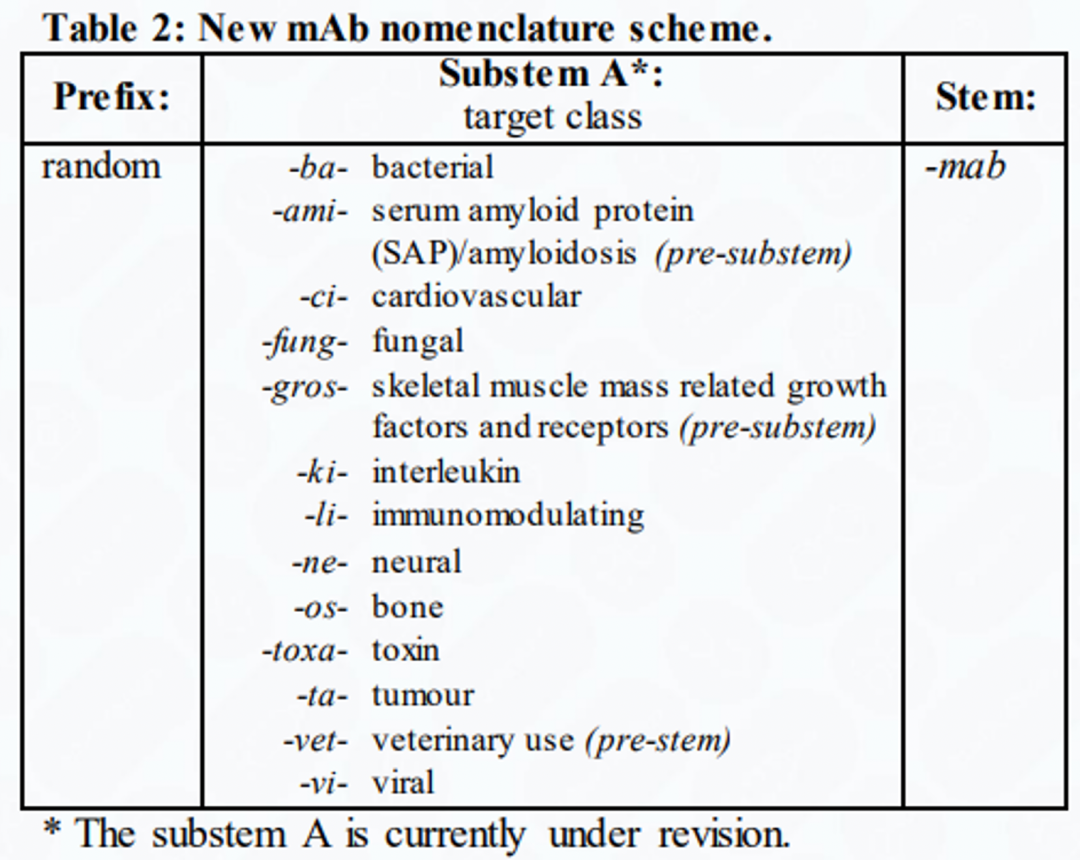 November 2021, further subdivided into: >
-tug=unmodified immunoglobulin

-bart=artificial antibody

-mig=multiple immunoglobulin

li>

-ment=antibody fragments
Common biologics are Which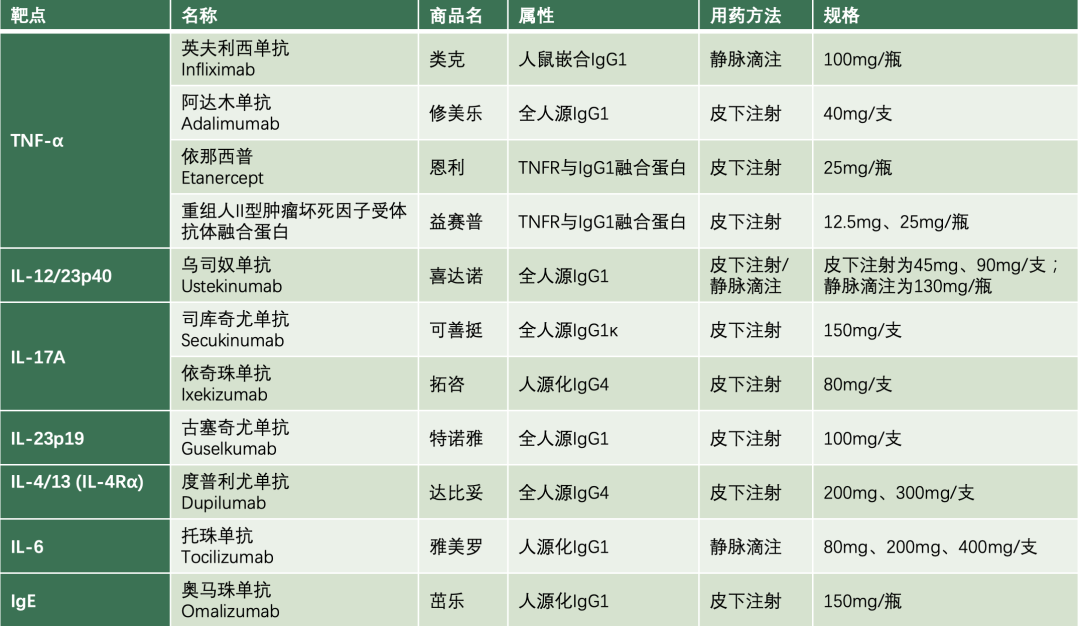 Precautions for use of biological preparations p>For different diseases, the indications of different biologics are different and will not be discussed in detail here. Usually, prior to biologic therapy, attention should be paid tothe presence or absence of infections (such as tuberculosis, HBV), malignant tumorsand other diseases. Those who are planning to take TNF-α inhibitors should pay attention to whether they have cardiac insufficiency. Those who are planning to use IL-17A inhibitors should pay attention to whether they have a history of inflammatory bowel disease or family history, and systemic fungal infection. The use of biological agents in patients with active tuberculosis is prohibited. For patients with inactive tuberculosis and latent tuberculosis infection, biological agents should be used with caution. If necessary, preventive anti-tuberculosis treatment is recommended before treatment.
References
[1] Parren P W H I , Carter P J , Plückthun, Andreas. Changes to International Nonproprietary Names for therapeutics 2017 and beyond: of mice, men and more[J]. mAbs, 2017, 9(6):00-00.
[2]Jones T D , Carter P J , Plückthun, Andreas, et al. The INNs and outs of antibody nonproprietary names[J]. Mabs, 2016, 8(1):1-9.
[3] Dermatology Branch of Chinese Medical Association, Dermatologist Branch of Chinese Medical Doctor Association, Dermatology and Venereal Disease Professional Committee of China Association of Integrative Medicine. Guidelines for the treatment of biologics for psoriasis in China (2021)[J]. Chinese Journal of Dermatology, 2021, 54(12):15.
[4]Bayer V . An Overview of Monoclonal Antibodies[J]. Seminars in Oncology Nursing, 2019, 35(5):150927.
Author: Xiaoguo Pai Cao
Reviewer:Wang Yanan, Department of Dermatology, Peking Union Medical College Hospital
Editor: Vanlaming Blue
(The cover image is from the Internet, invaded and deleted)

cla ss="content_title" height="300″ layout="responsive" sizes="(min-width: 320px) 320px, 100vw" src="https://mmbiz.qpic.cn/mmbiz_png/NYaKk9ypN6zohWrTTqh2JG1CZ54kfkzibtNyNFOW5ZnK0iaos9SbbMEAvbRpA2SUv6aDLPBtset0ASh"width"width" "600">