(Observer Network News) According to a report by the New York Post 4 on 28, health authorities in Wisconsin, USA are investigating 4 cases of unknown childhood hepatitis, One of the children died after suffering severe liver damage in what reports say may be the first death associated with such a case in the United States.

Screenshot from New York Post report:Wisconsin investigates 4 cases of unexplained childhood hepatitis, including 1 death
Wisconsin is reportedly the fourth region in the U.S. to report the hepatitis disease after Alabama, North Carolina and Illinois.
The U.S. state health department is asking local physicians to pay close attention to the rare childhood liver disease and report information to the agency in a timely manner.
It is understood that the World Health Organization announced on Saturday that more than a dozen countries around the world have reported 169 cases of acute hepatitis in children, including 114 cases in the UK.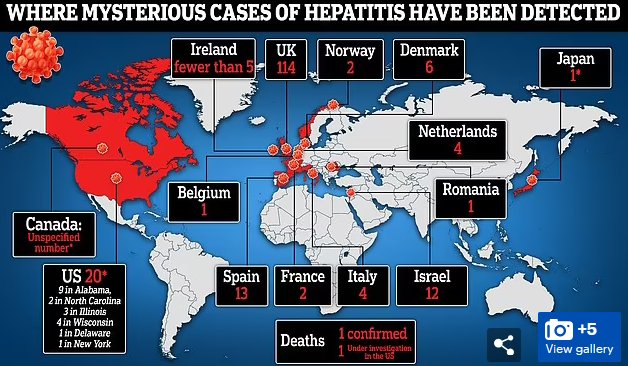 Since October last year, nearly 200 children in as many as 14 countries around the world have been infected with the disease. Picture from the British Daily Mail
The WHO said patients ranged in age from one month to 16 years old and said common pathogenic hepatitis such as hepatitis A and B had been ruled out.
In addition, a more common virus, adenovirus, was found in 74 cases, and 20 patients were also infected with the new coronavirus.
The CDC recommends that doctors test for adenovirus in young patients with symptoms of the disease, including fever, fatigue, loss of appetite, nausea, vomiting, abdominal pain, dark urine, light stool, joint pain and jaundice.
Notably, the CDC's review of Wisconsin Hospital records found 4 patients with significant liver damage and adenovirus infection, some of whom were children infected with 41< /span> type adenovirus. The virus causes an acute infection of the digestive system, and the state has seen no new cases outside of the original infected population.