▎WuXi AppTec Content Team Editor
Voyager Therapeutics announced today that Pfizer has licensed a novel adeno-associated virus (AAV) capsid generated by its TRACER capsid discovery platform to enable targeting of undisclosed potential gene therapy programs for rare neurological disease targets.
TRACER's technology platform developed by Voyager is a broadly applicable RNA-based screening platform for rapid and efficient discovery of cells that effectively cross the blood-brain barrier (BBB) ​​and are AAV capsids with enhanced central nervous system (CNS) tropism in (including non-human primates). These capsids are more specific, require lower doses, and have less off-target risk than traditional AAV serotypes in non-human primates. TRACER-produced capsids exhibited higher and broader gene expression in the CNS, including generally inaccessible brain regions, compared to conventional AAV capsids. For example, when administered intravenously, TRACER produces a capsid that increases transgene expression 1,000-10,000-fold in a wide range of brain regions compared to traditional AAV9 vectors. In addition, compared with AAV9, another AAV capsid that was initially screened has a stronger ability to transfect myocardium while not targeting the dorsal root ganglia, which will help reduce the toxicity of this capsid.
Voyager is expanding its library of optimized AAV capsids with a selection of capsids enhanced for any desired tropism. In addition to the currently available capsids with enhanced tropism for the CNS and cardiac muscle, it is expected to produce capsids with enhanced tropism for skeletal muscle, eye, liver and other tissues to help its partners in gene therapy Programs are able to treat a variety of CNS and other disorders. To date, Voyager has established several collaboration agreements to license its next-generation TRACER capsids.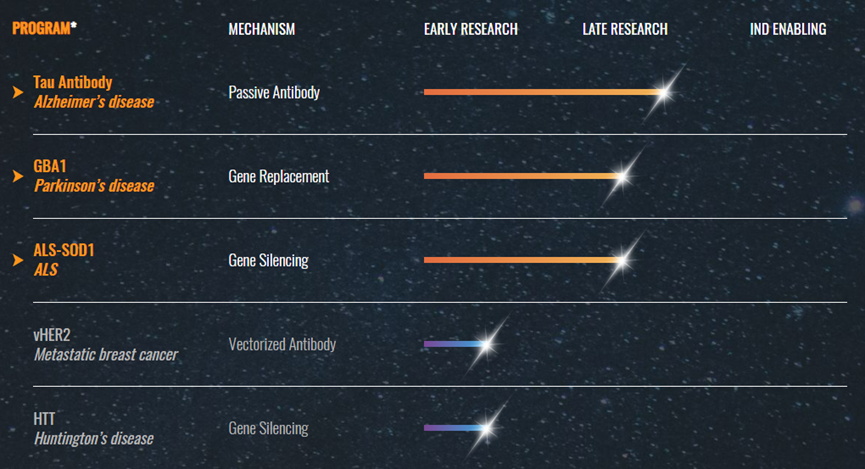 ▲Voyager Therapeutics' project pipeline (picture from Voyager Therapeutics official website)
According to the original announced in October 2021
License Agreement
Voyager had previously received an upfront payment of $30 million. In addition, Voyager will be eligible to receive up to $115 million in development, regulatory and commercialization milestone payments, and $175 million in sales milestone payments, in addition to tiered royalties on associated net sales.
Voyager's CEO, Dr. Alfred Sandrock said, "The partnership with Pfizer is the backbone of our two-pronged strategy. Leveraging our next-generation capsids will both help enable our partners' gene therapy The project will also help advance the development of Voyager's highly differentiated pipeline of drug candidates in GBA1 Parkinson's disease, SOD1 ALS and other neurological diseases."
"We are pleased with the progress we have made with Voyager to date and are impressed with the potential of its TRACER platform to help enable next-generation AAV gene therapy." Senior Vice President and Rare Diseases, Pfizer "We are excited to continue evaluating the role of this capsid in providing new treatment options for patients with certain rare neurological diseases," said Chief Scientific Officer Dr. Seng H. Cheng.
As WuXi AppTec's CTDMO focused on cell and gene therapy, WuXi Bioscience is committed to accelerating and transforming the development, testing, manufacturing and commercialization of gene and cell therapy and other high-end treatments. WuXiXi can help global customers bring more innovative therapies to the market as soon as possible for the benefit of patients. If you have relevant business needs, please click the picture below to fill in the specific information.