This article is reproduced from: China Economic Net
China Economic Net Beijing, July 26th (Reporter Guo Wenpei) The twelfth "World Hepatitis Day" is coming On the occasion, the 2022 World Hepatitis Day Publicity Conference will be held in Beijing on July 24 in a combination of online and offline methods. Experts at the meeting pointed out that my country has made remarkable achievements in preventing new infections of viral hepatitis and has the objective conditions to eliminate hepatitis. However, due to the large base of chronic carriers who have been infected with hepatitis virus before widespread vaccination, this has led to challenges in eliminating the harm of hepatitis. Therefore, adults are advised to test for hepatitis B and C as soon as possible.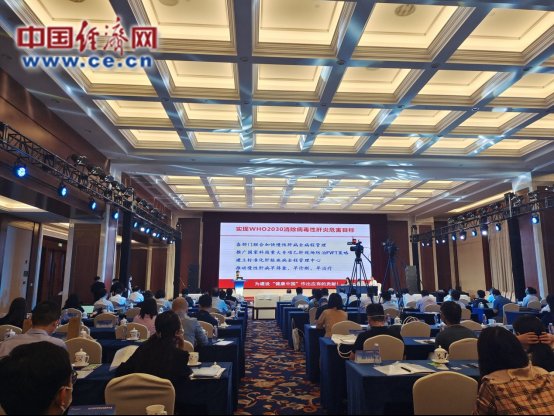 World Hepatitis Day 2022 Publicity Conference. Photo by China Economic Net reporter Guo Wenpei
Effective prevention: my country has the objective conditions to eliminate hepatitis
Viral hepatitis is caused by hepatitis virus It is an infectious disease with liver inflammatory lesions as the main clinical feature, which has the characteristics of strong infectivity, complex transmission routes, widespread prevalence and serious harm. The prevalence of viral hepatitis is one of the important public health problems in the world, and it is also the most frequently reported Class B infectious disease in my country.
"Eliminating the harm of viral hepatitis in China is the long-cherished wish of generations." Wang Yu, chairman of the China Hepatitis Prevention and Control Foundation, introduced that since the 1970s, my country has formed a government-led, socially mobilized, medical Health and biopharmaceutical enterprises are fighting on the whole front. In the past few decades, they have made great achievements in hepatitis B immunization and blocking the transmission of hepatitis B virus, and successfully prevented 28 million people from becoming chronically infected with hepatitis B virus.
According to Shen Hongbing, deputy director of the National Bureau of Disease Control and Prevention, my country's viral hepatitis prevention and control work has achieved positive results. The hepatitis C cure rate has reached 95%. Hepatitis B patients who receive standardized treatment can achieve clinical cure, effectively delaying and blocking the disease. prevent the spread and development of the disease. After years of efforts, the positive rate of hepatitis B virus surface antigen among people under the age of 5 in my country has dropped to 0.32%, effectively controlling the epidemic trend of viral hepatitis.
Talking about the current status of hepatitis prevention and treatment in my country, Wang Yu said that in recent years, a large number of innovative biomedical products have been continuously used for the diagnosis, treatment and prevention of hepatitis and the diseases caused by it. Cirrhosis and liver cancer full disease treatment. At present, taking direct antiviral drugs for 12 weeks, the cure rate of hepatitis C can reach 95%; although anti-hepatitis B drugs cannot completely cure hepatitis B, adherence to standardized antiviral treatment can effectively delay and block the course of the disease, and some hepatitis B patients can also To achieve clinical cure and stable disease. At the same time, with the significant reduction in the prices of anti-hepatitis B and hepatitis C drugs, the cost of disease diagnosis and treatment has been partially resolved through social medical insurance, and some provinces have included chronic hepatitis in the outpatient special chronic disease management, greatly reducing the burden of hepatitis B patients receiving treatment. The objective conditions for eliminating hepatitis are already in place.
Action to Eliminate Hepatitis Harm: Improve Detection Rates, Mobilize Patients to Get Treatment
"China has achieved great success in preventing new viral hepatitis infections. The world-renowned achievements have successfully prevented new hepatitis B infection among young people in this generation, basically cut off the transmission of hepatitis C through blood, and greatly reduced the incidence and death of liver cancer and liver cirrhosis in the future. However, everyone must realize that China The burden of viral hepatitis in China is still relatively heavy, with nearly 100 million chronic hepatitis B and C infections, accounting for more than a quarter of the world. China's liver cancer burden accounts for more than half of the world's burden." said Qiao Jianrong, Charge d'affaires of the World Health Organization in China. If more proactive and stronger prevention and control measures are not taken, my country will face the disease burden caused by hepatitis B and C for a long time. It is estimated that in the next 20 years, 8 to 10 million people will die due to liver cancer, which will directly affect the realization of healthy China.
According to the data released by the conference, in 2020, 830,000 people died of liver cancer worldwide, of which 391,000 were in China, accounting for 47%. If no effective intervention measures are taken, this situation will continue for decades, and a large number of cases of liver cirrhosis and liver cancer will bring a heavy burden to the patient's family and society.
Regarding the burden of viral hepatitis, Wang Yu analyzed, "This is mainly due to the large base of people who have been infected with hepatitis virus and become chronic carriers before widespread vaccination. The most urgent task at present is how to treat such
Wang Yu further explained that the antiviral drugs that have been marketed in recent years have not been fully used, and people infected with hepatitis B and C viruses continue to develop liver cirrhosis and liver cancer, causing serious harm. The health of our people. In this regard, it advocates "everything should be checked and treated", and adults should be tested for hepatitis B and C as soon as possible, and those infected will take the initiative to seek medical treatment and receive standardized hepatitis diagnosis and treatment and health management.
Qiao Jianrong also said: "We must speed up the pace of action, take proactive measures, find more infected people and patients, provide timely treatment, and expand the coverage of testing and treatment."
< /div>