Changjiang Daily, Wuhan Client, April 19 (Reporter Wang Chunlan, Correspondent Xue Yuan) Neuroblastoma is the most common extracranial solid tumor in infants and children with a high degree of malignancy. The long-term survival rate is less than 50%, so it is also known as the "king of children's tumors". A reporter from Changjiang Daily learned from Wuhan Children's Hospital that the hospital tried innovative immunotherapy drugs for the first time for an 8-year-old child. The first course of treatment has been completed, and the child's condition is stable.
According to reports, the child, Mengmeng (pseudonym), was diagnosed with high-risk neuroblastoma at the age of 4. After that, he received conventional treatments such as chemotherapy, surgery and radiotherapy, and his condition was relieved. Unfortunately, at the age of 6, the child's condition relapsed, and the tumor in the brain pressed against the optic nerve, causing blindness, and had to undergo chemotherapy and surgery again.
This year, Mengmeng is only 8 years old. She has already undergone two major operations, but the lesions still remain and the risk of recurrence is high. At the end of 2021, a targeted drug for neuroblastoma will be launched in my country, which can trigger the immune mechanism of specific targets, thereby exerting an anti-tumor effect. In March this year, the Department of Hematology and Oncology of Wuhan Children's Hospital issued the first new drug prescription for Mengmeng.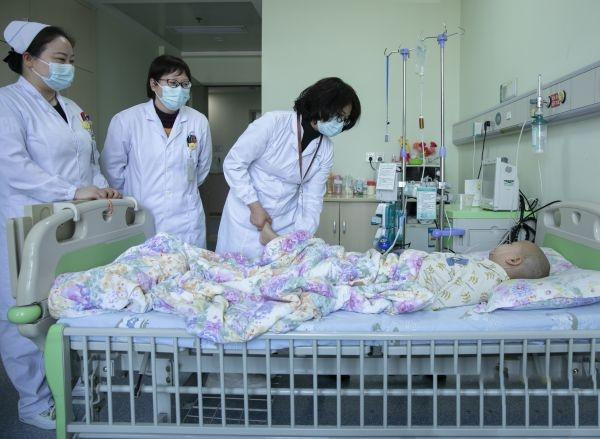 During the first course of infusion of the child Mengmeng (pseudonym), Li Hui, chief physician of the Department of Hematology and Oncology, checked the treatment status. Photo by correspondent Zhang Guoguo
According to reports, there are 5 courses of immunotherapy with this drug, and the drug needs to be infused 24 hours a day for 10 days during hospitalization. Adverse reactions of the drug include fever, pain, capillary leak syndrome, and hypoxemia. Serious complications can even endanger the life of the child.
Therefore, in order to ensure the safety of the child's medication, the medical staff of the Hematology and Oncology Department of the hospital closely monitored the child's physical changes throughout the process. Fortunately, Mengmeng only had a mild adverse reaction of fever. She has completed the first course of treatment and was discharged from the hospital smoothly. The follow-up is in good condition. She will need 4 further courses of treatment.
This is the first case of the hospital using this targeted drug to treat high-risk neuroblastoma. According to Li Hui, chief physician of the Department of Hematology and Oncology, neuroblastoma accounts for 8% to 10% of malignant tumors in children. Half of the children are already at high risk when they are diagnosed. In addition, even after comprehensive treatment, the prognosis of children with high-risk neuroblastoma is still poor, and the long-term survival rate is less than 50%, and more breakthroughs in treatment are still needed.