On the evening of August 9, flight MU5225, operated by China Eastern Airlines A320, arrived at Haikou Meilan International Airport with the second batch of Shanghai Aid Qiong medical team members and 3 tons/244 pieces of luggage. Previously, China Eastern Airlines had flown two charter flights, respectively transporting the first batch of 210 Shanghai-aided Qiong nucleic acid testing team members and 44.5 tons of medical supplies to Hainan.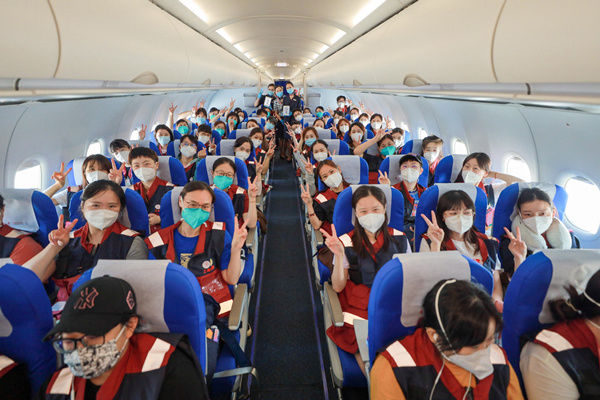 On August 9, China Eastern Airlines A320 flight MU5225 transported the second batch of Shanghai Aid Qiong medical team to Haikou Meilan International Airport.
It is understood that the second batch of Shanghai medical staff to aid Qiong is mainly from Shanghai Ninth People's Hospital and Maternal and Child Health Hospital. Many of them are young people born in the 1990s. After arriving in Haikou, they will be based on local prevention and control work. Arrangements to support the frontline of the fight against the epidemic.
In order to ensure the efficient and smooth boarding of medical staff, the Pudong Passenger Service Center of China Eastern Airlines Ground Services Department arranged a special person to connect with the medical team leader, communicated and coordinated with the airport in advance, and arranged for flight MU5225 to stop at bridges T1-15 nearby, opening up an exclusive Fast track security check. The ground service department of China Eastern also opened the check-in procedures for medical staff at 6 special counters on Island D of Pudong Airport, and dispatched additional on-site personnel to guide the medical staff team to board the plane, and completed all ground support procedures in just 2 hours. At 15:11, flight MU5225 took off from Shanghai Pudong Airport and flew to Haikou.
On the flight, the crew of China Eastern Airlines also paid tribute and thanks to the medical staff who helped Hainan. The crew woven silk scarves with "doll bears" and gave them to the medical team leader, wishing them a safe return, and looking forward to picking them up back to Shanghai as soon as possible , and expressed the most sincere respect to the medical staff! (Eastern Airlines / Wentu)