The author of this article: Fang Jingyu
Recently, the China CDC published an opinion piece on China CDC Weekly entitled Perspectives: Vaccinate with Confidence and Finish Strong.
The article mentions that "a timely second booster dose is almost certain for a safe and lasting end to the pandemic".
Vaccination, last 10% is key
The authors of this opinion piece include Lance Rodewald, Senior Advisor, China CDC; Wu Dan, Associate Researcher, Immunization Planning Center, China CDC; Yin Zundong, Director, Immunization Planning Center, China CDC; Feng Zijian, deputy director of the Center for Prevention and Control.
The article pointed out that in the past two and a half years, a number of vaccines in China have been authorized by WHO for emergency use, more than 5 billion doses of new crown vaccine have been produced, and more than 1.3 billion people in China have been vaccinated vaccine.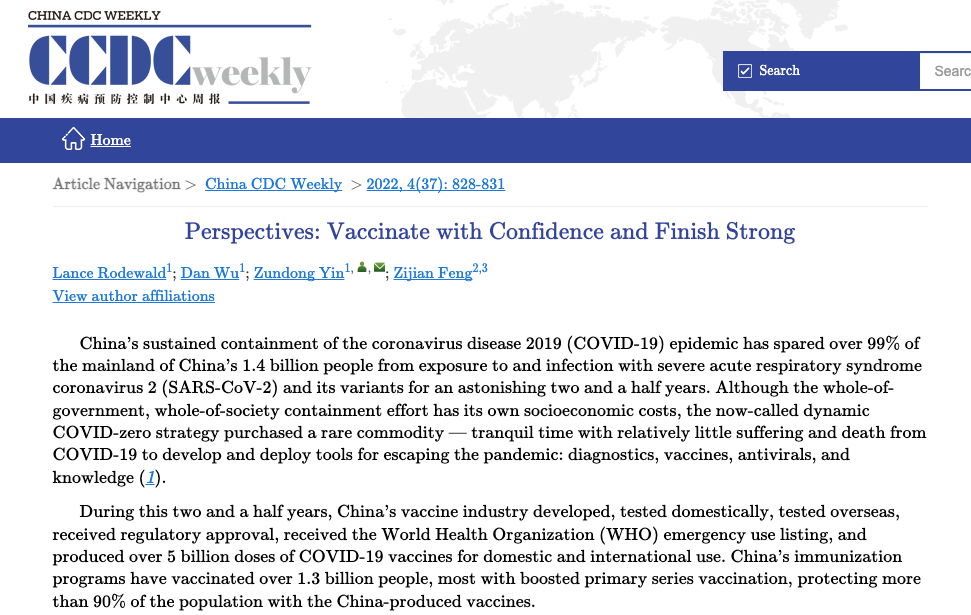 CCDC article screenshot
The article argues that the vaccine is a key factor in ending the COVID-19 pandemic, with the last 10% being the hardest to reach of any vaccination.
During the COVID-19 pandemic, the bottom 10% of the population is also the group most in need of protection, because many of these groups are those with underlying diseases and the elderly who, if infected, are affected by COVID-19 maximum.
Since COVID-19 cannot develop herd immunity through any current vaccine or natural infection, everyone must be vaccinated to form individual protection.
How to advance vaccination of the last 10% of the population, the article makes different recommendations for different subjects.
For example, healthcare practitioners should ensure that patients are vaccinated, especially those with underlying medical conditions; families need to ensure that parents and other elders are also vaccinated; immunization programmes need to make efforts to consider all unvaccinated , people who have not yet received a booster shot; as there is currently no evidence to support pregnancy as a contraindication to vaccination, and more than two-thirds of countries recommend vaccination for pregnant women, regulators and vaccine manufacturers should work to eliminate contraindications to vaccination during pregnancy , as soon as possible so that pregnant women can also be vaccinated against the new crown infection.
In addition, the article cites a number of studies at home and abroad, as well as data on epidemics in Ruili, Jilin, Hong Kong, Shanghai and other places to demonstrate the safety and effectiveness of the new crown vaccine produced in China, especially Enhance the effectiveness of needles.
On the topic of "whether a fourth dose of the new crown vaccine is necessary", the article pointed out: "In order to end the pandemic safely and for a long time, the timely introduction of the second booster dose is almost a Certainly".
Fourth vaccination in multiple locations around the world
Does COVID-19 require a fourth shot? Some countries have already explored and tried.
On January 3, 2022, the Israeli Ministry of Health approved the fourth booster dose of COVID-19 for people over 60 years old and immunocompromised people who have already received the third booster dose, and It is stipulated that the interval between the third and fourth injections should not be less than 4 months.
On March 29, 2022, the U.S. FDA also urgently authorized two vaccines as the fourth dose for use in people over 50 who have already received a booster shot and those over 12 who are immunocompromised . Data show that less than 4 months after the FDA approved the fourth dose, 16.8 million elderly people have chosen to receive the fourth dose.
Affected by the prevalence of the Omicron BA.4/5 strain, the UK Joint Committee on Vaccination and Immunisation (JCVI), which had previously stated in January that "a fourth dose is not needed", It was announced on July 15 that people over the age of 65, people at high risk of new crown infection, and front-line medical staff are recommended to receive the "autumn booster shot", which is the so-called "fourth shot".
And in Hong Kong, China, the Hong Kong SAR Department of Health approved the fourth dose of vaccination for people over 12 years old on August 4. Among them, immunocompromised people over 12 years old and people over 50 years old can choose to receive the fourth dose 90 days after the third dose, and people aged 18-49 can choose whether to vaccinate the fourth dose 180 days after the booster dose according to their personal needs. Needle.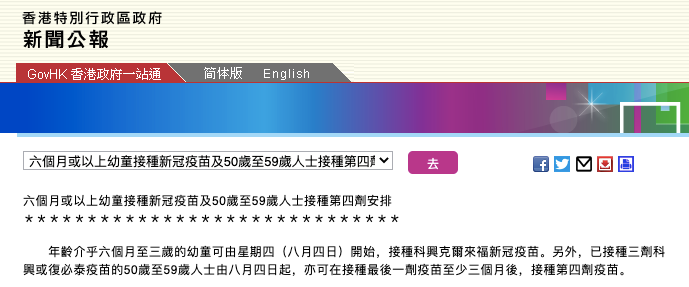 Hong Kong Special Administrative Region Government Press Release
It is worth noting that the fourth dose of the new crown vaccine approved in Hong Kong includes the inactivated vaccine, and the threshold for the fourth dose is also relaxed to all adults. To date, the vaccination rate of the fourth dose among Hong Kong people aged 12 years and above has reached 6%[3].
New study: Fourth needle can addStrong Protection
What is the effect of the fourth needle?
A retrospective study shows that in people over age 60 who received at least three doses of the vaccine, a additional fourth dose can reduce the risk of COVID-19 compared with three doses. The risk of illness is reduced by 55%, the risk of severe new coronary pneumonia is reduced by 62%, and the mortality rate related to new coronary pneumonia is reduced by 74%[4]. This protective effect was evident 7 days after vaccination and was further enhanced 14 days after vaccination.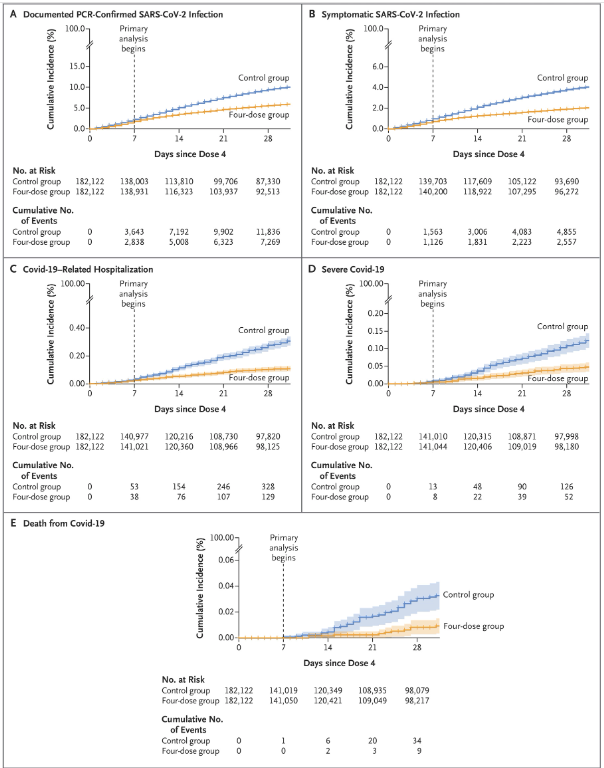 Statistics of the fourth vaccination against various types of new coronavirus infections (Source: Reference 4)
And in a "Fourth Shot Protective Efficacy" study[5] conducted by the Israeli Ministry of Health for health care workers, the fourth shot of both vaccines could protect against The level of 2019-nCoV neutralizing antibody increased by 9 to 10 times in the second 3 weeks, and the neutralizing titer of live virus increased by about 10 times. live virus neutralization titer.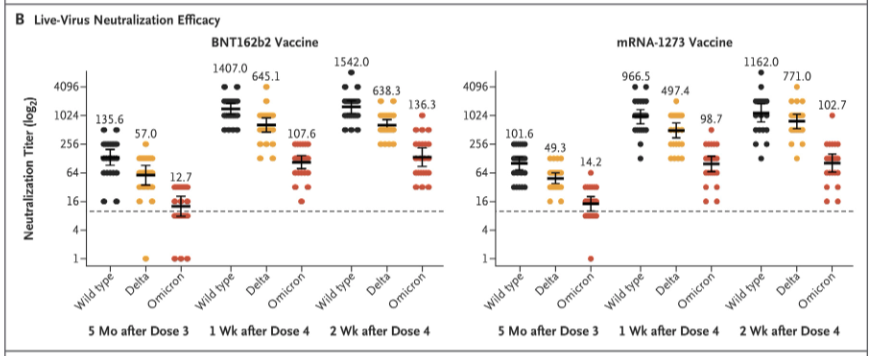 Live virus neutralization experiments showed that the fourth injection significantly increased the neutralizing antibody titers of subjects against various new coronavirus strains, especially Omicron strains (Source: Reference 5)
Another study in immunocompromised people also found that an additional booster dose can further induce immunity against the new coronavirus.
In a study of 18 previously vaccinated organ transplant patients with booster shots[6], additional doses The vaccine booster produced (or maintained) high titers of 2019-nCoV neutralizing antibodies in 14 patients, and 2 of them were successfully obtained by additional vaccination when the booster still failed to induce an immune response. Antibody positive conversion.
The vast majority of patients in this study were taking antimetabolites that suppress both T- and B-cell function to prevent rejection, and none of the patients developed a high-efficiency immune response to standard vaccination schedules, This study demonstrates the importance of booster vaccination in special populations.
However, there are still some controversial voices in the academic community on the topic of "is the fourth needle necessary?"
Some scholars believe that although the fourth dose of vaccination has brought about an improvement in the protective effect, it is also necessary to consider the huge cost of vaccination and the potential risk of side effects of the vaccine.
Between January and March of this year, in Israel, where the fourth dose was first introduced, a research team used the Israeli Ministry of Health database to assess the prevalence of the fourth dose in people over 60 years of age. The protective efficacy was evaluated [7], and the results showed that the fourth injection began to show the ability to prevent new coronavirus infection and severe new coronary pneumonia in the second week after inoculation. Reduce the risk of infection by 50% and reduce the risk of severe new coronary pneumonia by 71%.
After this, however, while the fourth shot was still more effective in preventing severe COVID-19, protection against COVID-19 infection began to wane, until vaccination In the 8th week after that, the effect of the fourth dose to prevent new coronavirus infection was basically the same as that of only three doses of the vaccine. And in terms of absolute benefits, the fourth dose of vaccination can only reduce the number of severe cases per 100,000 people by 3.6 cases per day, which is significantly lower than the absolute benefits of Israel's previous booster vaccination (that is, the number of severe cases per 100,000 people per day is significantly lower. The number of cases decreased by 7.5 [8]).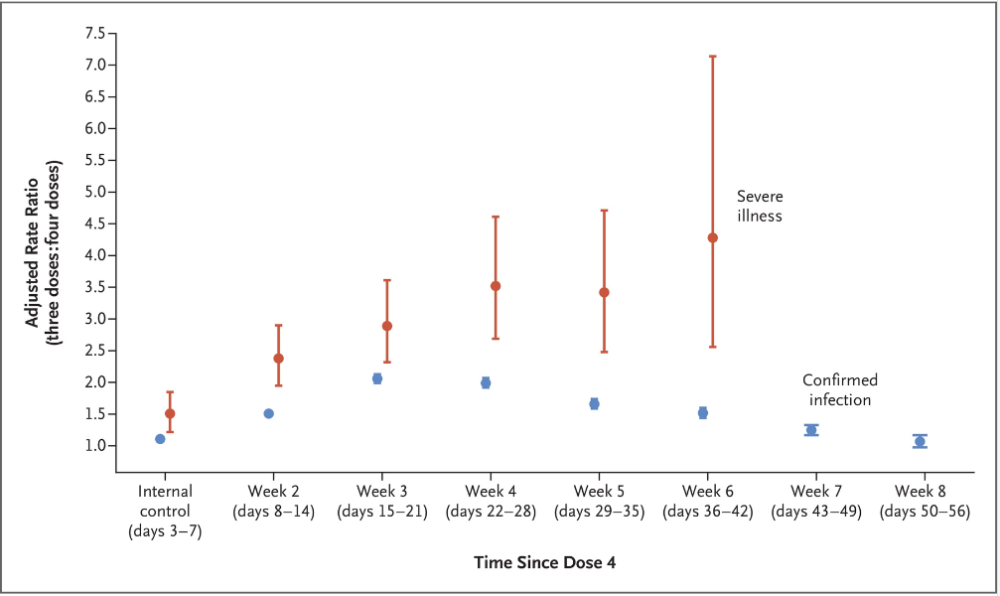 The trend of the protective effect of the fourth dose of vaccine against new coronavirus infection (blue) and severe new coronary pneumonia (orange) over time (Source: Reference 7)
Some studies suggest that homologous boosting may have a "ceiling effect" that is, after a dose that maximizes the immune response, continued vaccination The same vaccine will not result in a meaningful boost of the immune response.
A preliminary study of the fourth dose of the CoronaVac inactivated vaccine by the Pontifical Catholic University of Chile[9] also found that four doses of the inactivated vaccine produced sufficient levels of neutralizing antibodies, but The specific neutralization ability of vaccinated plasma against Delta and Omicron strains was not significantly different from that of the three-shot inactivated vaccine.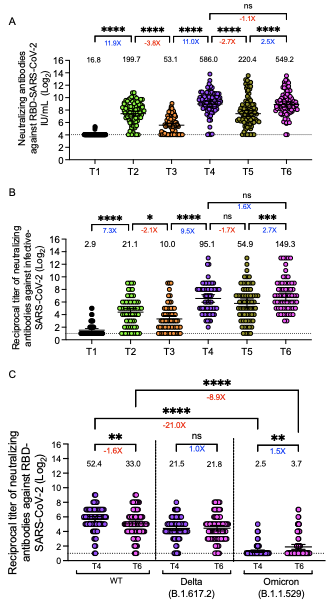 After the fourth dose of CoronaVac inactivated vaccine, the neutralizing antibody level (A) and the Delta (B)/Omicron (C) strain-specific neutralizing ability of the recipients (Source: Reference 9)< /p>
Some scholars said in an interview with Nature[11] that to fight the new crown epidemic, it is necessary to develop a product that has "long-lasting protective effect and can effectively fight against a variety of existing and new strains" new vaccine.
The emergence of multivalent vaccines may well be a new hope for meeting this need.
On September 16, NEJM announced the interim data of a phase II-III study of a BA.1 bivalent vaccine [12]. After receiving the BA.1 bivalent vaccine as a booster, the Geometric Mean Titer (GMT) of neutralizing antibodies against Omicron BA.1 was 2372.4 (95% CI: 2070.6-2718.2), compared with The geometric mean titer of neutralizing antibody after receiving conventional vaccine booster was 1473.5 (95% CI: 1270.8-1708.4). At the same time, the binding antibody responses of various other variants of the BA.1 bivalent vaccine (Alpha, Beta, Gamma, and Delta) were also higher than those of traditional vaccines, and their safety and reactogenicity were similar to those of traditional vaccines.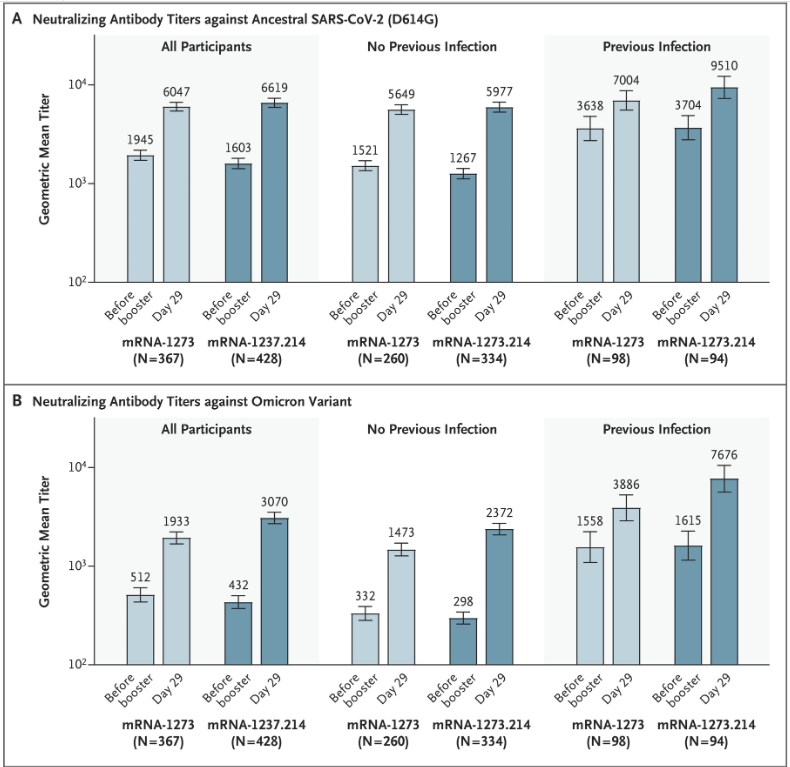 Image source: Reference 12
"Everyone wants to return to normal life, vaccination is the key." China CDC's opinion article published in China CDC Weekly wrote, "Although the last 10% is the most difficult to achieve, but A successful outcome will be worthwhile and the key to a smooth escape from the pandemic." (Planning: z_popeye | Producer: gyouza)
Acknowledgments: This article has been professionally reviewed by Professor Li Bin, Chairman of the Science Popularization Committee of the Chinese Society of Cell Biology and Shanghai Institute of Immunology, Shanghai Jiaotong University School of Medicine
Source of title map: Screenshot of China CDC Weekly Report
References:
[1]Natarajan K, Prasad N, Dascomb K, et al. Effectiveness of Homologous and Heterologous COVID-19 Booster Doses Following 1 Ad.26.COV2.S (Janssen [Johnson & Johnson] ]) Vaccine Dose Against COVID-19-Associated Emergency Department and Urgent Care Encounters and Hospitalizations Among Adults – VISION Network, 10 States, December 2021-March 2022. MMWR Morb Mortal Wkly Rep. 2022;71(13):495-502. doi: 10.15585/mmwr.mm7113e2
[2]Hause AM, Baggs J, Marquez P, et al. Safety Monitoring of COVID-19 mRNA Vaccine Second Booster Doses Among Adults Aged ≥50 Years – United States, March 29, 2022 -July 10, 2022. MMWR Morb Mortal Wkly Rep. 2022;71(30):971-976. doi: 10.15585/mmwr.mm7130a4
[3] Centre for Health Protection, Department of Health, Hong Kong Special Administrative Region Government. Coronavirus Disease 2019 – Update on Hong Kong. [2022-9-23] https:https://www.coronavirus.gov .hk/sim/index.html
[4]Magen O, Waxman JG, Makov-Assif M, et al. Fourth Dose of BNT162b2 mRNA Covid-19 Vaccine in a Nationwide Setting. N Engl J Med. 2022;386( 17):1603-1614. doi: 10.1056/NEJMoa2201688
[5]Regev-Yochay G, Gonen T, Gilboa M, et al. Efficacy of a Fourth Dose of Covid-19 mRNA Vaccine against Omicron. N Engl J Med. 2022;386( 14):1377-1380. doi: 10.1056/NEJMc2202542
[7]Bar-On YM, Goldberg Y, Mandel M, et al. Protection by a Fourth Dose of BNT162b2 against Omicron in Israel. N Engl J Med. 2022;386(18) :1712-1720. doi: 10.1056/NEJMoa2201570
[8]Bar-On YM, Goldberg Y, Mandel M, et al. Protection of BNT162b2 Vaccine Booster against Covid-19 in Israel. N Engl J Med. 2021;385(15) :1393-1400. doi: 10.1056/NEJMoa2114255
[9]Melo-González F, Méndez C, Peñaloza HF.
Humoral and cellular response induced by a second booster of an inactivated SARS-CoV-2 vaccine in adults. medRxiv. 2022.08.22.22279080; doi:10.1101/2022.08.22.22279080
[10]Offit PA. Covid-19 Boosters – Where from Here? N Engl J Med. 2022;386(17):1661-1662. doi: 10.1056/NEJMe2203329
[12]Chalkias S, Harper C, Vrbicky K, et al. A bivalent Omicron-containing booster vaccine against Covid-19[J]. New England Journal of Medicine, 2022.
p>
Lilac Garden is a professional platform for medical practitioners, with the mission of "helping Chinese doctors". Download the "Lilac Garden App" to discuss cases with peers, study open classes online, use clinical decision-making tools such as medication assistants, and find reliable medical positions in Lilac Talents.