April 15
carrying goods such as Dell computer spare parts
China-Vietnam cross-border direct train (Chengdu-Anyuan)
Slowly out of Chengdu International Railway Port
This is the first China-Vietnam train from Chengdu
The whole journey is about 1841km, leaving the country via Pingxiang
The overseas section is about 130km
It is expected to arrive at the Vietnam Security Station in 7 days


< img class="content_title" height="300" layout="responsive" sizes="(min-width: 320px) 320px, 100vw" src="https://p26.toutiaoimg.com/large/tos-cn-i-qvj2lq49k0/a5af8f89cec84507b0a85c0b9a7f85a1" width="600">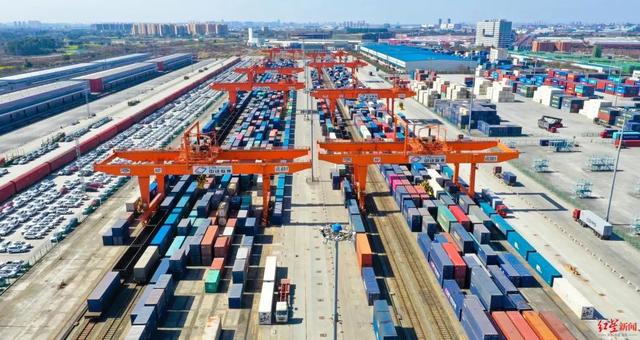 ▲Photo according to Chengdu International Railway Port
Since this year, under the background of industrial recovery and accelerated "dual circulation", the export trade of various manufacturing enterprises has made steady progress, Growth against the trend, but affected by the global epidemic, the international supply chain continues to be tense. In order to meet the transportation needs of customers, the Chengdu International Train has changed the previous mode of transportation by rail and sea, and adopted railway transportation throughout the whole process. The goods can be delivered to Vietnam only by changing rails at the Sino-Vietnamese border.
The launch of this program Boost the two-way trade of Dell computer parts in the European and Southeast Asian markets through the China-Europe train and the new land-sea channel, creating a new international trade channel. "After the opening of the China-Vietnam cross-border train (Chengdu-Anyuan), the freight time from Chengdu to Vietnam has been shortened by 2-3 days, which not only avoids the risk of maritime transportation, but also reduces the transportation cost of enterprises. Expanding the Southeast Asian market has provided strong support." said the relevant person in charge of Dell.
Sino-Vietnamese "iron iron" "Intermodal transport" is an innovative measure to stabilize the supply chain of intelligent manufacturing in the normalization of epidemic prevention and control. It will help multinational trading companies to increase channels, create good transportation links, and bring more benefits and convenience to shippers.
It is understood that this year From January to March, nearly 300 new land-sea passages in the west of Chengdu International Railway Port were opened, a year-on-year increase of 99.28%. Chengdu International Railway Port, as the assembly center of China-Europe freight trains and the assembly center of the new western land-sea passage, has actively integrated into the domestic and international "dual circulation" in recent years, sung the "Tale of Two Cities" of Chengdu and Chongqing, and fully implemented the provincial party committee's "four-direction expansion, global opening" development strategy , is making every effort to build a core carrying area of ​​the international supply chain economy that runs through Europe and Asia and reaches the world, and accelerates the construction of the main hub of dry ports facing the pan-European pan-Asia and the Belt and Road.
Source: Chengdu Publishing