The Chinese Valentine's Day is approaching. Although this year's Qixi Festival is a working day, it still cannot stop the outbreak of the romantic economy. "Romantic Tanabata couples date meal for two" "Scenic Tanabata Festival exclusive two-person package"… Merchants in the catering, hotel, tourism and other industries have launched exclusive services on the theme of Tanabata through the Internet platform to attract consumers to book in advance.
Meituan's data shows that the recent Qixi Festival-themed dine-in packages and scenic spot tickets have increased by 368% and 440% respectively compared with the same period last year, and hotel packages have increased by 120% compared with the weekdays. Advance reservations for Chinese Valentine's Day food seats The volume also increased significantly year-on-year.
In addition to spending the day together, many young people have changed the way of buying luxury gifts directly, and have chosen to make a gift in advance to express their unique feelings. Meituan data shows that the order volume of DIY workshops before the Qixi Festival increased by 92% year-on-year.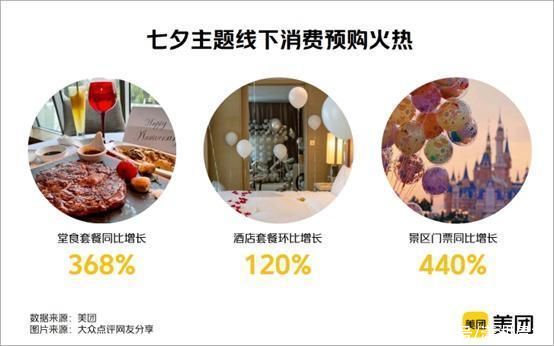 Changsha Qixi Festival orders increased by more than 100%
"Each Qixi Festival will have a meal with my partner every year. Dinner is celebrated, but the favorite restaurant often needs to queue up, and the sense of ceremony of the festival will be greatly reduced." Mr. Liu said. In order to ensure the certainty of the Qixi festival ritual, more and more people choose to book in advance to ensure the orderly progress of the day's planning. The data shows that the number of orders for restaurants that have been booked in advance for the Qixi Festival this year has increased significantly year-on-year. Among them, Harbin, Kunming, Shenyang, Nanjing, Jinan, Chongqing, Changsha, Xiamen, Wuhan, Hefei and other cities lead the growth rate and all exceed 100%.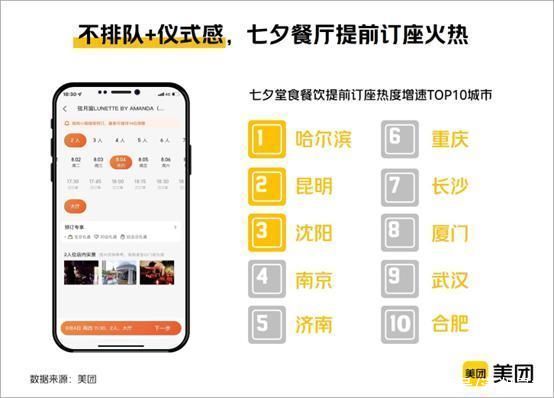 In addition to meeting the booking needs, the merchants have also made great efforts in menus and services, and launched various special packages for Chinese Valentine's Day through the Internet platform to attract customers in advance . Meituan data shows that recently, the order volume of Qixi Festival-themed dine-in packages has increased by 368% compared with the same period last year, and the increase has continued to rise as the date approaches. Among them, Wuhan, Beijing, Shenzhen, Kunming, and Chongqing have become the top five in terms of order volume, which shows that the "romantic" consumption of residents in the new first-tier cities is even better.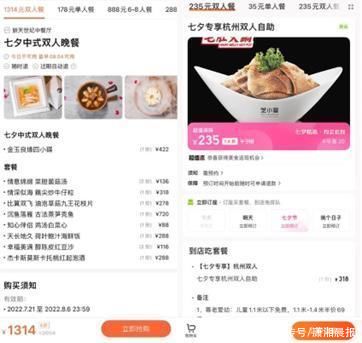 In addition, Black Pearl Restaurant has become one of the popular options for this year's Qixi Festival. Meituan data shows that "black pearl" has recently become one of the most popular search terms on the platform, and the search volume has increased by 54% year-on-year. Shanghai, which has the largest number of black pearl restaurants, recently saw a 195% month-on-month increase in searches for "black pearl".
The executive chef of Shanghai Black Pearl Two-Diamond Restaurant Le Meridien (Shanghai Center) said that since its opening, the annual Qixi Festival is almost full, and this year's special circumstances have made everyone more eager for the ceremony For a moment full of excitement and surprises, all seats on Qixi Festival have been fully booked 10 days in advance.
Packaging wine for dinner, the sales of hotel package products increased by 120% month-on-month
The Chinese Valentine's Day has become the choice of many couples to spend a romantic night in the hotel. According to data from Meituan, the number of accommodation bookings on Qixi Festival is expected to increase by 40% compared with the daily rate, which is expected to usher in a small peak of accommodation this year. Hotels all over the country have launched various themed packages related to Qixi Festival, which package and sell the room decoration, dinner, flowers, red wine, travel photography and other romantic experiences and housing. On the Meituan platform, the sales of hotel package products increased by 120% month-on-month.
For example, Shangri-La Hotel, Haikou has launched a romantic package for 1,888 yuan on Meituan, which includes experiences such as "room + 2 adults' executive courtesy + wine and milk bubble bath + travel photography". According to Qing Haohong, the hotel's marketing manager, half of the guests who booked on the night of the Qixi Festival chose to book a package. "For the Qixi Festival, we launched a package product two weeks ago, which is not only very cost-effective, but also provides a better service experience for guests staying in Horizon Club rooms. In addition, in terms of Qixi Festival marketing, we also launched a hot package at the end of July. Balloon themed afternoon tea, very suitable for couples to date and punch cards."
It's time to express love, and hand-made gifts unleash new vitality of romantic economy
In addition to companionship on Qixi Festival Spending together and giving gifts to each other are also essential elements for couples to express their feelings and convey romance. Today, more and more consumers are no longer buying finished products directly. Choosing to give a hand-made gift can not only avoid the high cost, but also reflect the unique intention.
Among them, the popular DIY handmade project "Tufting" ("tufting") this year, that is, using a tufting gun to make carpets, cushions, bags, etc. with personalized patterns, is very popular among young people. It is popular with couples crowd. Meituan platform data shows that in July 2022, Tufting's online search popularity has soared by 93 times compared with November last year, and the number of online group purchase orders experienced by Tufting has also soared by 40 times.
In addition, there are also many people who hope that the Chinese Valentine's Day can make their relationship go further. On the Meituan platform, the search volume for keywords such as "confession planning" and "marriage proposal arrangement" increased by 61% year-on-year in the week before Qixi Festival. As a local traditional festival, Tanabata contains rich cultural heritage and cultural memory behind it. It can be seen from this year's consumption data that the Qixi Festival is not only more and more valued and loved by everyone, but also spawned many new gameplays and tricks, injecting new vitality into the recovery of consumption.
Xiaoxiang Morning News reporter Li Shu intern Qin Yun
News clues breaking news channel: Download the "Morning Video" client from the app market, enter the "Morning Help" topic; or call Chen Video Press hotline 0731-85571188.