This article is reprinted from: China News Network
According to the news released by @Nanjing on July 22, Nanjing notified the handling of the incident of Xuanzang Temple's memorial tablet offering:
Instruct the Xuanwu District Ethnic and Religious Affairs Bureau to replace the post of the main person in charge of Xuanzang Temple by fax (commonly known as Li Yijiang); order Xuanzang Temple to stop daily activities, and immediately rectify it together with relevant departments .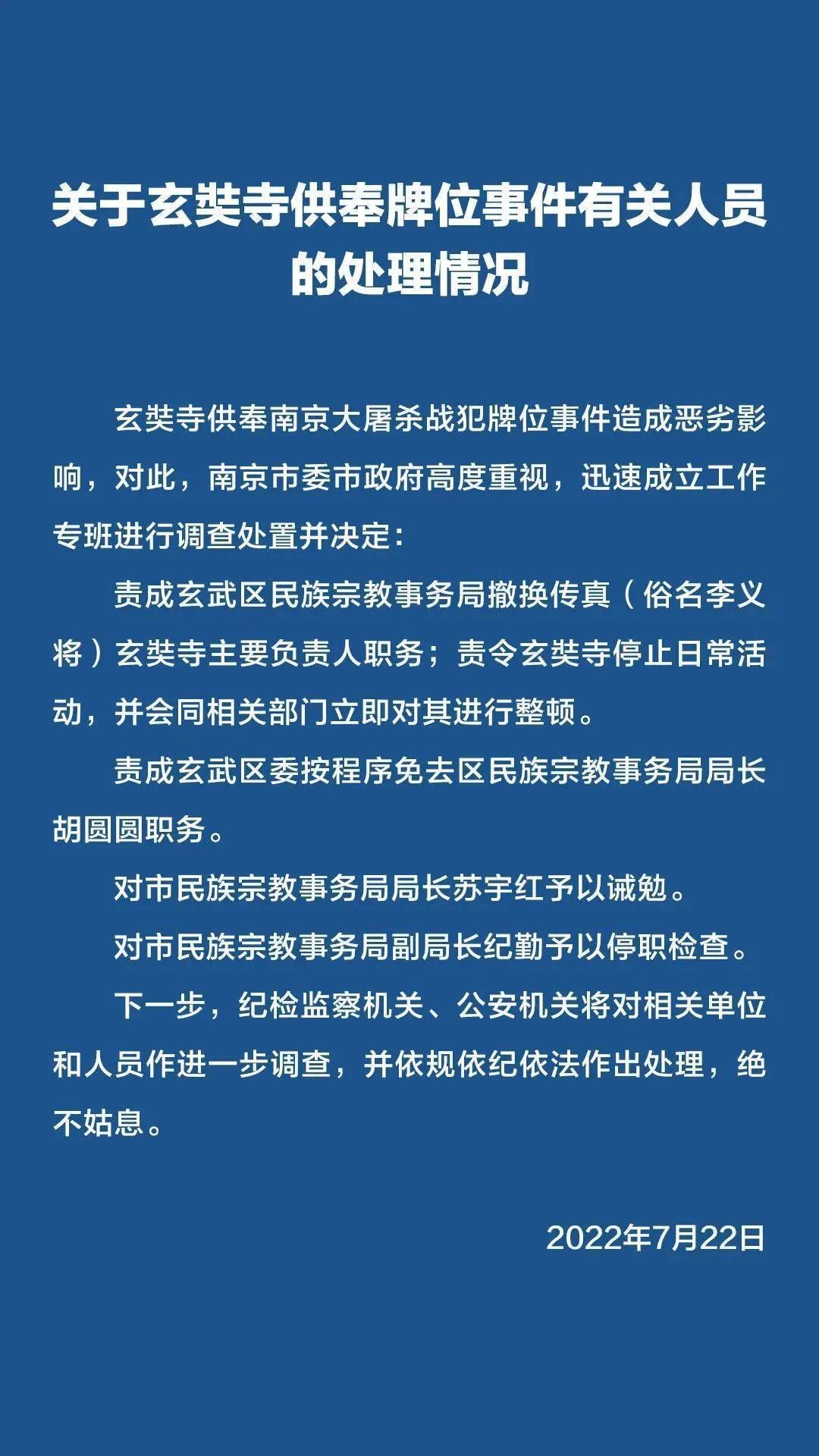 Previously reported:
Recently, some netizens said that the Xuanzang Temple in Jiuhuashan Park, Nanjing, enshrines the tablets of Japanese war criminals.
The pictures posted on the Internet show that on the tablets enshrined in the temple, there are written words such as "Tomada Nakajunkichi", "Tomaya Shoufu", "Tomomatsui Ishigen", "Tomada Takeshi", etc. typeface.
The four Japanese war criminals who invaded China were all participants in the Nanjing Massacre.
Ishigen Matsui isone of the main war criminals of Japan's invasion of China, class-A war criminals,is the "Nanjing Massacre" The principal offender, the commander of the Central China Front . Gu Shoufu is a class B war criminal and former commander of the 6th Division of the Japanese Army. Noda Takeshi was a war criminal in the "Hundred People Killing Competition". Tanaka Jun Yoshizen massacred more than 300 people.
In response, the official Weibo account of the Nanjing Xuanwu District Ethnic and Religious Affairs Bureau issued a briefing on the 22nd saying: In February this year, after the temple found out about the situation, it has been corrected. In response to the above situation, the bureau decided to rectify the temple. We will investigate the behavior that hurts national feelings to the end, and the relevant investigation and handling will be announced in a timely manner.