Medical Community Evening News, don't miss every medical hotspot.
Ineffective epidemic prevention and control, 5 clinics were punished
Recently, Shandong Yantai Huangbohai New Area Health Supervision Institute organized law enforcement officers and hospital infection experts to conduct special supervision and inspection of epidemic prevention and control in medical institutions in the area, focusing on pre-examination triage, four types of drugs Supervision and inspection were carried out in terms of management and treatment of fever patients. During the inspection, it was found that some medical institutions did not have sufficient epidemic prevention and control measures. Law enforcement officers conducted investigations on relevant units in accordance with the law. The list of medical institutions in question is as follows:
Some nucleic acid point testing personnel in Shenyang are owed wages?
Local Health Board Response
Recently, some netizens in Shenyang, Liaoning Province broke the news that some local nucleic acid sites posted a notice to "stop testing", and the reason for the strike of the testing staff was suspected of being owed wages. Zhang Han (pseudonym) is one of them. When the epidemic situation in Shenyang was more severe this year, she took up her job and became a nucleic acid detection "big white". "At that time, the Shenhe District Health Bureau entrusted Shenyang Shengjing Service Outsourcing Co., Ltd. (hereinafter referred to as Shenyang) Shengjing) announced the position of recruiting nucleic acid samplers on the recruitment platform, and we signed a temporary employment agreement with Shenyang Shengjing."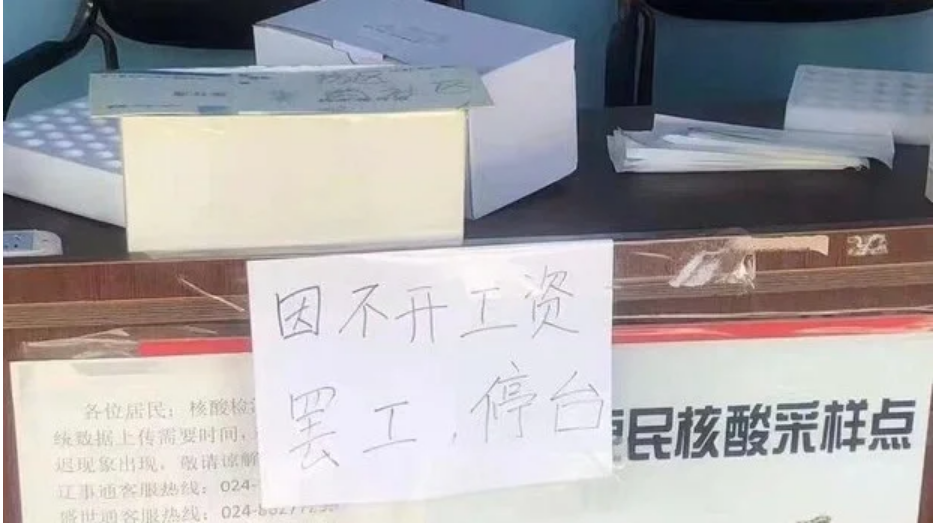 Picture from Tianmu News
According to Zhang Han, dozens of nucleic acid samplers in Shenhe District were owed wages. She said: "The salary for June and July has not been received. I asked Shenyang Shengjing, and their staff responded that the money was not paid from the bureau."
On July 23, a reporter from "Tianmu News" called the office of the director of the Shenhe District Health Bureau of Shenyang City, and the staff responded: "It should have been the government's financial department that was late for a few days. On the 22nd, the financial department has already allocated the money, and the money is directly remitted to Shenyang Shengjing Service Outsourcing Co., Ltd. without going through the bureau." (Tianmu News)
The nation's first primary hepatobiliary hospital listed
Guangdong Dongguan Nancheng Hospital held a ceremony at the Human Gallstone Museum on July 23, officially adding the "Dongguan Hepatobiliary Hospital" brand, becoming the first grass-roots hepatobiliary hospital in the country. At the ceremony, two academicians of the Chinese Academy of Engineering, Zhong Shizhen and Zhong Nanshan, congratulated Dongguan Hepatobiliary Hospital on its inauguration in the form of video and congratulatory letters, and hoped that the hospital will continue to serve as a benchmark for the transformation and development of grassroots hospitals. (China News Network)
The hospital responds to the patient taking the test order and the nurse plays with the mobile phone
Recently, Ms. Liu from Jincheng, Shanxi filmed a video saying that when she took her child to the Gaoping People's Hospital to get a laboratory test, a nurse lowered her head and played with her mobile phone and ignored it. In response, the staff of the laboratory department of the hospital responded that the intern of the department who was filmed playing with the mobile phone was off work at the time. The department has held a meeting to inform that it is strictly forbidden to play mobile phones in the department in the future. (Boiling Video)
20-year-old boy in nursing home for 10 years,
Study for medical school
20-year-old Gong Kui is from Zhongjiang County, Deyang City, Sichuan Province. He has lived in a nursing home for 10 years. In his 20 years of life, he watched his relatives leave him one by one. Complete your studies with financial aid, government aid, and the help of caring people. This year's college entrance examination, Gong Kui achieved a good score of 571 points. The second day after the college entrance examination, he chose to work in an auto repair factory to raise tuition. On July 24, he inquired and learned that he had been admitted to the clinical medicine major of North Sichuan Medical College. As for why he chose to study medicine, Gong Kui said frankly that studying medicine is to hope that he can serve the society in the future, to be grateful to those who helped him, and to continue his love. (Red Star News)
Relevant areas in Shanghai will be launched
"3 Days 2 Tests" Nucleic Acid Screening for All Staff
The Office of Shanghai New Coronary Pneumonia Epidemic Prevention and Control Leading Group announced on July 24 that in order to continue to consolidate the results of epidemic prevention and control, and to detect and control the risk of the epidemic as soon as possible, it has decided to conduct investigations into Huangpu District and Xuhui District. District, Changning District, Jing'an District, Putuo District, Hongkou District, Yangpu District, Minhang District, Baoshan District and all the streets (towns) with positive infection track in other administrative districts to carry out nucleic acid screening for all staff, from July 26 to July On the 28th, "2 inspections in 3 days" (that is, two nucleic acid tests completed within 3 days, at least 24 hours apart). (Published in Shanghai)
BIG! The first domestically produced anti-COVID-19 oral drug was approved
On July 25th, the State Drug Administration officially approved the application of Henan Zhenzhen Biotechnology Co., Ltd. to apply for the addition of indications for the treatment of new coronavirus pneumonia, a class I innovative drug, Azvudine. It means that the first small-molecule oral innovative drug for the treatment of new coronavirus pneumonia in China has been officially approved. (Henan Daily)
First case of co-infection with COVID-19 and monkeypox found in US
According to the "New York Post" report, a man named Thompson in California, USA, was infected with the new coronavirus and monkeypox virus at the same time, which is also the first case of the new crown and monkeypox virus in the United States. . In an interview, Thompson said the co-infection of the two viruses caused him to suffer so much that he not only had a fever, difficulty breathing, and chills, but also had to endure physical pain and skin damage. He said: "At the worst time, I can hardly get out of bed, and I can't even drink water." (Overseas Network)
Source: Comprehensive compilation by the medical community
Editor in charge: Zheng Huaju
Proofreading: Zang Hengjia